Panasonic LUMIX FX75
Panasonic has announced pricing for the recently-introduced Panasonic LUMIX FX75, a new super-slim digital camera that features a 24mm ultra-wide-angle F2.2 LEICA DC VARIO-SUMMICRON lens. The FX75 will be available in mid-July 2010 in black and silver models for a suggested retail price of $299.95.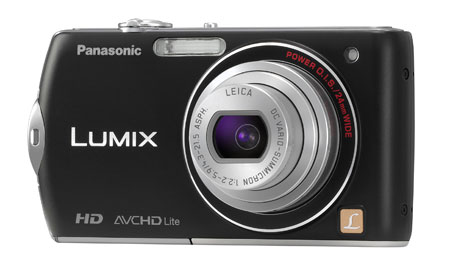 The new Panasonic LUMIX DMC-FX75 has a 5x optical zoom and can record High Definition video in the AVCHD Lite format. The stylish LUMIX FX75, a 14.1-megapixel digital camera is one of Panasonic's high-performing hybrid models, and using the AVCHD Lite format, allows almost double the recording time in HD quality compared with the conventional Motion JPEG format. To complement the high-quality video, the LUMIX FX75 also features Dolby Digital Creator to record high quality audio. For those users who are recording HD video to view on a computer screen, they also have the option to record in Motion JPEG, as well as WVGA (848x480) and VGA (640x480).
The LUMIX FX75 adopts full touch-screen operation, which allows for Auto Focus (AF) to quickly be set to the subject by simply touching the large 3.0-inch 230,000-dot LCD. Also, the user can click onto a subject with a single touch, and the FX75 then tracks the subject with the AF tracking feature – even when moving. The touch-screen operation is fluid and smooth – whether in record or playback mode. While recording, once the frame is composed, users can simply touch the area they want focused before pressing the shutter button. In playback mode, users can drag the image across the screen with their finger to browse the collection of photos, as though it is a page in a book.
For more information on the Panasonic LUMIX FX75 digital camera and the complete LUMIX line, please visit: www.panasonic.com/lumix.

LATEST VIDEO