The Panasonic Lumix DMC-G5: A 16MP Micro Four Thirds Camera
When creating their mirrorless camera system, Panasonic wisely, I think, chose the Micro Four Thirds format rather than designing an all-new proprietary lens mount. The system includes two dozen or so Lumix lenses, including conversion lenses, along with adapters for Leica R and M mount lenses, Four Thirds digital SLRs, plus the ability to use lenses from Olympus, Sigma, and Tamron. The Micro Four Thirds system is here to stay and the Lumix DMC-G5 seems a perfect way to jump on board.
What's New?
The G5 has a 16.05-megapixel Live MOS a.k.a. CMOS sensor and a redesigned Venus processing engine. The camera lets you shoot in different image formats at various resolutions, including 4:3 (16MP), 3:2 (14MP), 16:9 (12MP), and 1:1 (12MP). A new Electronic Shutter mode offers (relatively) silent operation that's useful when shooting in areas where silence is golden. The G5's controls are well placed, letting you concentrate on making images instead of wondering where everything's located. A four-way rocker switch on the camera's back gives you quick access to ISO, AF, white balance, or self-timer/burst modes but the camera's designer made the inscriptions gray-on-gray so they can be difficult to see.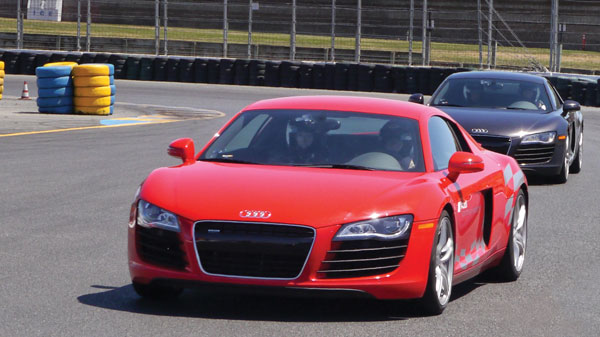 Panasonic calls one of the G5's new controls a "lever" but it's more like a sliding switch and is located near the shutter release, allowing direct adjustment, via customization, of zoom (for power zoom lenses), exposure, aperture control, and to enlarge images during playback.
3D Noise Reduction
Sensitivity adjustments range from ISO 160 up to 12,800, so naturally noise can be a concern at higher settings. That's why the camera's 3D Noise Reduction (NR) system detects smooth areas or edges and adjusts NR from strong in smooth areas to mild on edges; the multi-process noise reduction process detects brightness in each part of a photo and reduces noise in multiple steps. All of these methods are useful for the G5's small (17.3x13.0mm) imaging chip.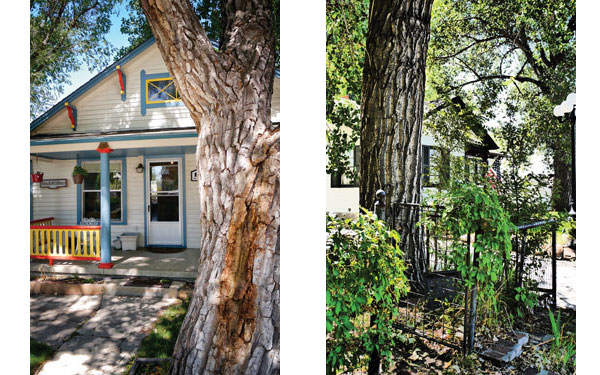 The G5 can capture images in Raw, JPEG, or Raw+JPEG format with a choice of different JPEG sizes. Panasonic uses the RW2 format for Raw capture and as of this writing neither the latest version of Lightroom or Adobe Camera Raw reads the G5's Raw files, but that's sure to change by the time you read this. Inside the box, Panasonic provides a CD with Mac OS and Windows versions of PHOTOfunSTUDIO and SilkyPix software that easily read the camera's Raw format.
Finders
With any mirrorless camera the big question is LCD or viewfinder and the G5 answers with "both." A 3" (3:2 ratio) LCD screen rotates 180 degrees, tilts 270 degrees, and offers approximately 100 percent field of view. There's also a 1,440,000-dot LVF (Live View Finder) with 100 percent field of view and instead of having to remember to turn either the viewfinder or LCD off or on, an eye sensor automatically switches between the two.
AF starts as soon as you look into the viewfinder. I've never been a fan of electronic viewfinders mainly because of the "jiggly" pixels you see when using them, but the G5's EVF is almost as smooth and bright as an optical finder, although slightly more contrasty. That extra contrast bump can be a distraction and keep you from seeing the tonal range that's being captured, but on bright days or when it's not possible to shoot in the shade you've got no other choice. I found myself going back and forth between the two viewing methods, which meant that the eye sensor allowed me to keep shooting and not break my rhythm.
AF Modes
Like the others cameras in the Lumix G series, the G5 uses Contrast AF that's accurate, especially when shooting with a fast lens and full-area. Touch AF makes it possible to set the focus on any point. The camera's high-speed Light Speed AF locks onto a subject, making it possible to capture fast-moving subjects, especially when combined with a burst shooting mode that's capable of 6 frames per second. I noticed how well this system worked when photographing cars at speed on Sonoma Raceway.
The G5 has five different AF modes, one of the most interesting being Spot or "Pinpoint" mode that lets you focus on one (maybe tiny) spot and, to verify, the camera briefly zooms into that exact spot so you can be sure to get what you want. Shoot landscapes? There's a Level Gauge to keep those horizon lines straight.
Scene And Effect Modes
Like filters and effects? In addition to Expressive, Retro, High Key, Sepia, High Dynamic, and Miniature Effect modes, the G5 has increased its Creative Control options to 14, adding Soft Focus, Dynamic Monochrome, Impressive Art, One Point Color, Cross Process, Low Key, Toy Effect, and Star Filter. The camera also has more than 20 Scene modes, including (no kidding) Cute Dessert, Glistening Water, and Vivid Sunset Glow. My advice: try 'em, you might like 'em, all the while remembering Farace's Law that "all effects are subject dependent."
In iA (Intelligent Auto) mode the camera will recommend filters depending on the scene it detects. I prefer to make up my own mind about effects but if you're new to digital effects you might try it for the surprise value. The camera's iA Plus mode lets you adjust defocused areas in the background, exposure compensation, and white balance for flexible control while activating shoot-assist functions such as AF Tracking, Intelligent ISO Control, Intelligent D-range Control, Face Recognition, and Intelligent Scene Selector.
All This And Video, Too
Not only does the G5 produce great-looking still images, but it can also record high-resolution 1920x1080 60p videos in AVCHD Progressive (MPEG-4) or MP4 formats. In addition to full-time AF when shooting video, its Touch AF allows focus to be shifted and the G5's AF Tracking can lock onto a subject to focus, even if it's moving. The camera features a dedicated video record button atop the camera body so you can start recording video while shooting still photographs without changing settings. You can even take still photos while recording video by simply hitting the shutter button.
Levels from the built-in microphone are adjustable (Lv1/Lv2/Lv3/Lv4) and noise from background wind can be minimized using the camera's Wind Cut function. There is no external mic connection. The Extra Tele Conversion function extends the zoom range without image quality deterioration.
In The Field
The Lumix DMC-G5 retains the mini-SLR form factor of its predecessors and it fit comfortably in my (US Medium) hands. Within the mirrorless camera universe, it's mid-sized and neatly slotted between the small (Nikon 1 series) and the large (Pentax K-01) and I found that the G5 has been designed with a good balance of size, feel, and ergonomics.
One of the strengths of the Lumix Micro Four Thirds system is the extensive array of available lenses, supplementary lenses, and lens adapters that make it a true system, not just a couple of one-for-every-market-segment bodies with a few lenses tossed in. In addition to the Lumix G Vario 14-42mm f/3.5-5.6 kit lens, Panasonic loaned me the following lenses: a Lumix G 20mm f/1.7 ASPH, a Lumix G Vario 45-200mm f/4.0-5.6 Mega O.I.S. (image stabilized), and a Lumix G Vario 14-45mm f/3.5-5.6 Mega O.I.S. Why two lenses with almost identical—14-42mm vs. 14-45mm—focal lengths? In fact, there are three.
The Lumix system offers three lenses in the 14-45mm focal length range, including the Leica D Vario-Elmar 14-50mm Mega O.I.S., Lumix G X Vario PZ 14-42mm Power O.I.S., and Lumix G Vario 14-45mm Mega O.I.S. The G Vario 14-45mm Mega O.I.S. lens is bigger, costs more, and lacks the power zoom feature, but I liked the few extra millimeters of focal length for still photography.
Because of the power zoom feature and the ability to program the G5's "lever" to control zoom, the G X Vario PZ 14-42mm Power O.I.S. lens is handy for shooting video and is the only way to get smooth jerk-free zoom shots.
I didn't test the Leica variant but based on my previous experiences with Leica lenses I'll bet it's nice. It's also lighter in weight than the G X Vario PZ 14-42mm Power O.I.S. lens, and, not surprisingly, costs a few more bucks.
One of the first things I noticed in my fieldwork was the light weight of the body and 14-45mm lens, which is one of the G5's most appealing features. With standard kit lens, the camera weighs in at just over a pound. I started by using many of the camera's built-in special effects and, as previously mentioned, the G5 has many, with my favorites being One Point Color and Impressive Art, which produces an amped-up HDR-like effect.
I took a trip to the Forney Transportation Museum (www.forneymuseum.com) in Denver to explore the G5's low-light capabilities. To maximize the possibilities I traded the flexibility of a zoom lens for the fast aperture of the 20mm f/1.7 ASPH prime lens. It's so small that it could easily be considered a pancake lens, making it the perfect companion to the G5 for low-light street photography where the G5's unobtrusive nature combines with the compact size of the lens to make it a non-threatening picture taker. I wanted to see the G5's performance at its maximum ISO setting of 12,800 and found it outperformed the last Micro Four Thirds camera that I tested—the Olympus E-P3. That's not to say that the images I made at 12,800 were noiseless, far from it, as this camera does have a small imaging chip, but take a look at the test images and read the captions for details.
I later found the G5's tilt-swivel screen was great for letting me hold the camera over my head to see what I wanted instead of guessing, and even allowed me to use the zoom lens to crop the photograph exactly the way I wanted.
Battery Life
Using the same heavy-duty lithium-ion battery as the high-end Lumix GH2, the G5 has a rated battery life of 320 shots and you should be able to match or exceed that with smart battery management. After my first full charge and using dumb battery management, I was only able to get a little more than half that amount. Mea culpa: I am an inveterate chimper and had a tendency to leave the G5 on. I could, of course, turn it off or use its manual LVF/LCD button to turn on the less power-draining EVF, but I didn't.
Tip: Buy an extra battery or two ($47.95 each) because the G5's LCD touchscreen, EVF, and motorized lens operation make it more battery dependent than some other Micro Four Thirds cameras.
Conclusions And Recommendations
Because of its many capabilities and the depth of control provided by these and other features, the Lumix DMC-G5 is the most complex camera that I've tested since Nikon's D800. Yet it's also as simple to use as a point-and-shoot camera; just put it in Program mode and you'll be able to make great-looking photographs. To get the most out of the G5, read the 56-page Basic Owner's Manual and after you're comfortable with the basics, dig into the in-depth User's Guide that's found on the software CD.
The G5 is a well-crafted, delightful to use, spunky little camera whose wide-ranging imaging capabilities combine to make it a lot of fun. Using the imaging chip from Panasonic's upscale GH2 model, it has the ability to produce lovely-looking 11x14 prints with image quality that would make digital SLRs of just a few years ago envious. In the rest of the world—mostly Asia—the ratio of mirrorless cameras to digital SLRs is almost fifty-fifty, but here in the U.S.A. the percentages strongly favor traditional SLRs. I believe that cameras like the G5 are going to change that ratio.
Lumix In 3D
With a 35mm equivalent of 68mm, the Lumix G 12.5mm f/12 is the world's first interchangeable 3D lens. The fixed aperture lens has two optical systems installed within the lens mount, creating stereo images from the left and right lenses to produce 3D images without distortion or time lag between left and right images, even with moving objects. It's a fixed focus lens with a minimum near focus capability of 1.97 feet. The 3D images made with this lens can be processed using a 3D image processing system and are easy on the eyes when viewed on 3D televisions or any media player that supports the MPO (Multi Picture Object) format required to capture and view 3D images. As we go to press the future of this amazing lens is uncertain, and given all of the interest in 3D movies and an increase in the availability of 3D television sets, it would be a shame to see it go, unless…it was replaced by an even cooler lens.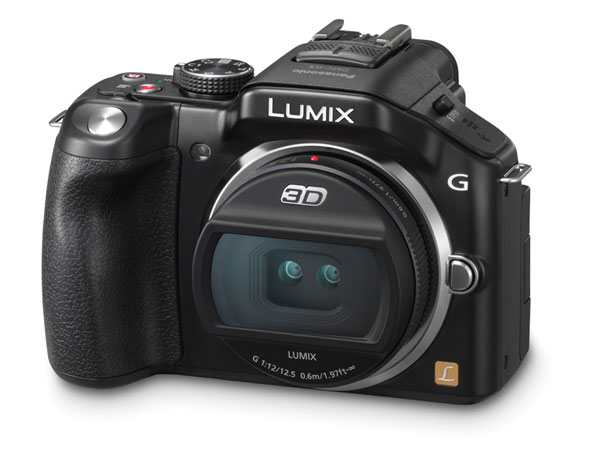 The Panasonic Lumix DMC-G5 has a suggested retail price of $799 with the kit lens ($599, body only). For more information and specs, visit www.panasonic.com/lumix.

FEATURED VIDEO