Panasonic Inspirations Photo Contest Winner: Jim Semonik
Shutterbug and Panasonic are happy to announce the winner of our "Inspirations" Photo Contest, conducted on the web site Galleries at www.shutterbug.com. Jim Semonik, who resides in central New Jersey, submitted his image and won the votes of judges and web commentators alike. Jim's shot was taken in Ft. Lauderdale, Florida. Said Jim, "I saw the boat and took about 60 pictures of it over two mornings -- the first day was overcast the second was perfect. I still have 59 other shots from every possible angle."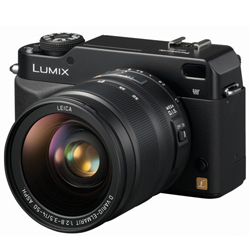 As to his growing love of photography, Jim said, "I had an interest in photography back in the `70s but marriage, daughters (who had a nasty habit of wanting to eat!) put hobbies on hold. Digital rekindled my creative spirit and I have been trying to improve. I started with an HP 2MP camera went to a Fuji 3MP, then 6 MP and finally took the plunge on a Nikon D50. The kids are grown now and I love to travel. I get to see some interesting places because of my job but I fell in love with the Southwest and the Islands. It's probably that mid-life Jimmy Buffett deal!"
Jim can now expand his creative horizons even further with his prize, the Panasonic DMC-L1K digital SLR. The DMC-L1K features analog-like controls that feel comfortable and instantly familiar. You can easily adjust settings with the touch of a fingertip, check them with a quick glance, and set the exposure intuitively. Turn the aperture ring with your left hand (which supports the lens) and operate the shutter speed dial with your right hand (holding the camera body). These two controls adjust the exposure, which is critical in picture quality. For photographers who consider the way a camera feels an important part of photo shooting, the DMC-L1 is a revolutionary digital camera. It's easy to use and feels just right in your hands.
Along with the camera comes the LEICA D VARIO-ELMARIT 14-50mm/F2.8-3.5 ASPH lens. It is constructed with 16 elements in 12 groups, with two glass molded aspherical lenses that feature large diameters and high dimensional precision. Other advanced features include a carefully applied multi-coating to prevent flare and a circular aperture that produces a beautiful dimensional ambience. The focusing system is entirely internal, so the external length of the lens doesn't change during focusing. In addition, the 14-50mm focal length is equivalent to 28-100mm on a 35mm film format. From wide angle to zoom, this lens does it all. You can take incredible portraits and expansive landscape photos. The minimum focusing distance is just 29 cm over the entire zoom range, so you can capture 0.32x close-ups (35mm equivalent).
Shutterbug and Panasonic congratulate Jim Semonik on his image and his photographic accomplishments, and trust he will use the Panasonic DMC-L1K and Leica D Vario-Elmarit lens to continue to make great images.
To view Jim and the other entrants to the "Inspirations" contest visit the Galleries at www.shutterbug.com and learn more about the Panasonic DMC-L1K at www.panasonic.com.

FEATURED VIDEO