Panasonic GF-1 Test: In Brief*
The Panasonic is a very compact camera with an interchangeable lens system based on the Micro Four Thirds system. It offers 12 MP resolution, easy handling for beginners and professional users, a large LCD on the back as electronic viewfinder and HD-video capabilities.
Comments On Image Quality
Color:
The GF1 produces images with a nearly perfect saturation of 101,8 percent. The automatic white balance works well under all lighting conditions and reproduced the GretagMacbeth test chart with nearly perfect neutral settings. Skintones reproduce very well and show only a little shift into greener colors in our standard shot and a little shift into warmer colors in our flash portrait shot. The good colors are based on the very exact automatic exposure settings. The standard portrait shot and the test box shot were done in P-mode and showed a perfect balance of dark and bright areas in these high contrast images. The standard test box was reproduced with natural looking tones in all color areas. The differentiation in red nuances is very good.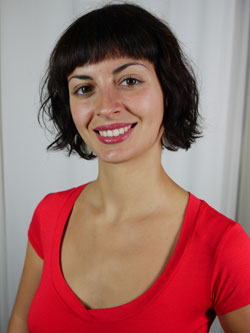 The portrait test shot demonstrates the settings determined by the automatic exposure system and displays rich reproduction of red elements like the fabric of the model's t-shirt. Skintones are fine and even better in the raw-version of the model shot, which was done by using a studio flashlight system.
Sharpness:
The nominal resolution of the Panasonic GF1 is 4000 x 3000 pixels. The test chart was reproduced with a maximum of 2368 lines per picture height and 10 percent over-sharpening. This is a very good result for a 12 MP compact camera and a good result for an SLR system. Test shots were done with the standard kit-lens 14-45mm while the pancake lens system offers images with a slightly lower resolution (ca. 100 lines less). Using raw images of the GF1 will result in sharper images – there is a lot of potential in these files to create very crisp and clear images.
Noise:
Due to the smaller sensor size of the MFT-system (compared to APS-C-sized sensors) the basic level of the luminance noise is a little higher. The y-factor (luminance noise) starts with 0,65 in ISO 100 mode while SLR-cameras with APS-C-sized sensor offer 0,4 to 0,5. Nevertheless the camera uses intelligent filtering and offers clear images up to ISO 400. Images taken with ISO 800 or 1.600 will show a little more grainy results but the color grain looks very natural and reminds us of classical film grain instead of the smeary color blotches of many other digital cameras with noise filtering. So, even GF1-images in highest ISO speed settings can be used for large prints.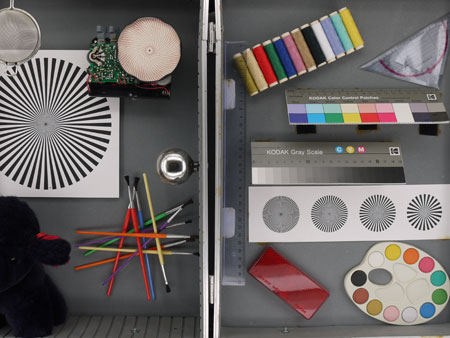 The GF1 offers an absolutely correctly exposed version of our standard test box. All colors look natural, with a lot of details even in difficult image elements like the very dark toy pet in the lower left and the red spool in the upper right. Sharpness is very good.
Dynamic range is very high: 10,5 f-stops are a very good result for an SLR system and even better for a compact camera – the Panasonic is kind of both.
Comments on Handling:
The GF1 is Panasonic's third camera with Micro Four Thirds system (MFT). But while the G1 and the GH1 are apparently orientated on the classical SLR system, the GF1 is a compact camera with an interchangeable lens system (just as the Olympus E-P1). The GF1 has a very robust and massive body, so you will be surprised the first time you take this compact camera in your hands. Combined with the pancake lens system LUMIX G 20 mm / F1.7 ASPH, you will get an extremely compact system with standard focal length. The MFT-sensor is smaller than APS-C-sized sensors and has a form factor of 2x, so the 20mm lens system is a 40mm (35mm film equivalent) lens system. In addition to the pancake lens system we used the 14-45mm standard kit lens for technical tests .The camera offers all standard exposure modes (P, S, A and M) and a lot of scene modes. Standard automatic settings yield nice image results. Handling is easy, just like an entry level SLR system.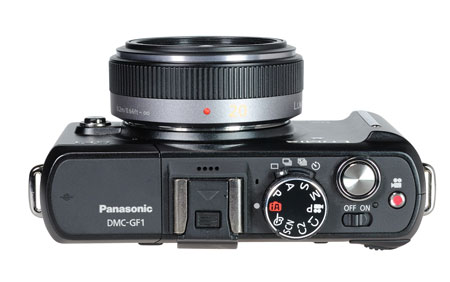 The Panasonic GF1 offers standard modes like P, S, A and M on its mode dial. Beginners will start with the full automatic setting ("iA") which also detects the required scene mode. Professional users can use two customs settings.
The GF1 uses a large LCD on the back as an electronic viewfinder and control system for camera setup. It has no optical viewfinder, but Panasonic offers an optional ELV which is mounted on the accessory shoe. The ELV uses a special interface which is located directly behind the accessory shoe to get its image data. It's a small and recommendable gadget, but not one that yields "cheap" resolution.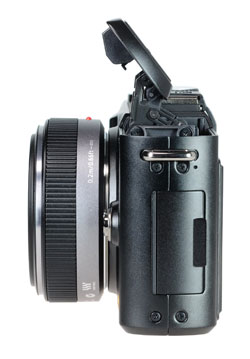 When activated the integrated flash system is flipped up into a very high position to reduce the red-eye-effect. The camera is very compact, especially when combined with the pancake lens system (20mm; 1:1,7).
The GF1 shoots HD-videos with 1280 x 720 pixel resolution and H.264 compression. Therefore Panasonic calls the video format "AVCHD-Lite", because it uses the compression codec of the AVCHD-format but offers lower resolution than AVCHD, which is full HD with 1920 x 1080 pixels. The AF-system and autoexposure are active during video recording (just like a real camcorder). This is a nice benefit compared to other digital cameras with video function.
Pro:
Innovative concept: compact camera with SLR performance
Nice and realistic colors, perfect exposure settings in P-mode
Very compact, easy handling
3"-LCD with 460.000 pixels
HD-video
Con:
Missing optical viewfinder (ELV optional)
Missing swivel-LCD
*Test conducted by Betternet for Shutterbug/TIPA

LATEST VIDEO