Palm Drives, Photo Wallets, And CD/DVD Burners Page 2
JOBO Fototechnic came in with a veritable handful of new PSDs. With USB 2.0 external connectivity, the GIGA Vu PRO offers a built-in card slot for CompactFlash I/II and Microdrive (all other flash card types via adapter) and is available in 40 and 60GB models (priced at $549 and $599, respectively). Add to that a 4" color TFT display and you can view photos (including raw format) and MPEG movies right there or connect to a TV, or listen to MP3s. Power is supplied by an internal li ion battery or AC.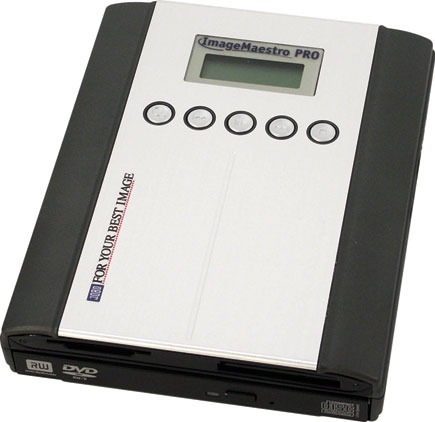 Also new is the GIGA mini external storage device. With optimized photo functions, GIGA mini reads multiple card formats, and comes with 20GB ($299) and 40GB ($349) storage capacity. It can also be used as an MP3 player, and is powered by internal battery or AC. The GIGA 2 is a more economical alternative, at $249, with 20GB hard drive and multi-card reader. The 20GB GIGA X ($199) is the only one of these devices that requires an optional external battery, but otherwise is powered by AC. On the flip side of the technology spectrum is the ImageMaestro PRO ($399), a portable DVD and CD burner and multi-card reader. It can also be used to view JPEG photos and MPEG movies when connected to a TV, and as with the other JOBO devices described here, is USB 2.0 compatible.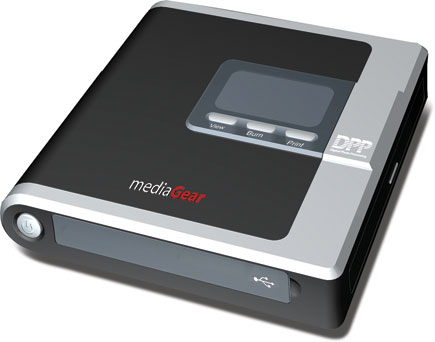 MediaGear showed off the ImageBank OTG, a self-contained PSD which reads and copies images directly from your camera, as well as a computer or thumb drive, via high-speed USB 2.0, at a rate of 6MB per second. A built-in rechargeable li ion battery will run the device for 1.5 hours, enough to store 20GB (40 and 60GB models also available). On the other hand, if you're leaning more toward an all-in-one CD writer and multi-card reader, then take a gander at the ImageBank DPP-TV, which lets you view, edit, and store digital photos, as well as print (when connected to an external printer). Remote control and cables (for TV hookup) included. Operates on six AA batteries or AC.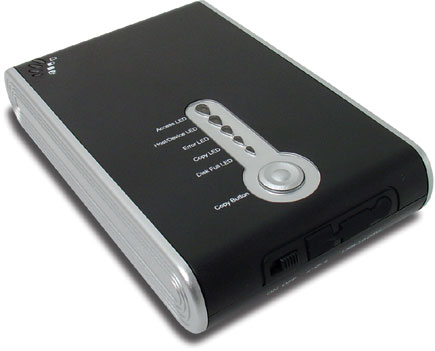 Another tiny PSD is FotoChute, from SmartDisk. This $249 storage device weighs just over 5 oz and measures 3.1x2.7x0.9", easily fitting in the palm of your hand. While the 20GB capacity may not seem like much, it's more than enough to download images directly from your camera or other devices while on the road or at home. High-speed USB 2.0 interface ensures fast transfer rates. On-board display shows status. Operates off internal li ion battery; AC adapter included.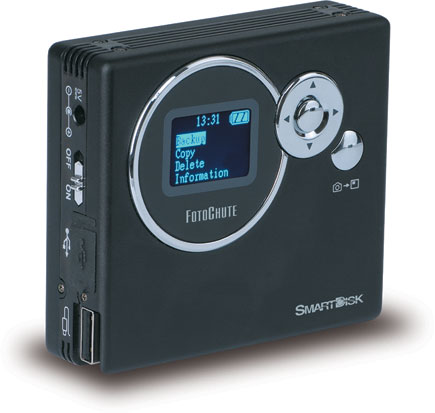 While also serving as a PSD, the MEGA View 566 (from X2) boasts a 3.5" color LCD so it can serve as a portable multimedia player, playing MPEG and other video formats and MP3s. As a photo viewer, it lets you peruse JPEG, GIF, TIFF, and BMP files, and can also display these in a photo album or slide show. This $450 device supports Secure Digital/MultiMediaCard flash memory. The 20GB drive can store 80 hours of video, 10,000 songs, 100,000 digital photos, or 640 hours of recordings of digital voice or from the built-in FM radio--or any downloaded data files when used as a back-up device.

Manufacturers/Distributors' addresses can be found on page 176.

FEATURED VIDEO