Our Five Photo Gadgets & Gizmos: Wonderful Lenses
Lensbaby Spark: This lens is ideal for young enthusiasts, students or beginner photographers who want to break out of traditional photography. The Spark is a fun, affordable way to capture selective focus images with your DSLR camera. It features a unique selective focus optic and a tilting lens body—allowing users to capture creative images in-camera that have a sweet spot of focus surrounded by blur. It is an all plastic (except for multi-coated glass doublet optic) 50mm selective focus lens with a f/5.6 fixed aperture made for use with for Canon and Nikon DSLRs. Spark is compatible with the rest of the optics in the Optic Swap System, and with all Lensbaby 37mm threaded accessory lenses. The suggested retail price is $89.95.
More info on the Spark here.
Canon EF 50mm f/2.5 Compact Macro Lens: Offering top quality optics and focusing from infinity down to 1/2 life size (0.5x) and a 9-element design with a floating optical system. Lightweight and compact, it functions as a general-purpose normal lens. The optional accessory Life Size Converter EF enables focusing down to life size (1:1), and increases working distance. Focal length: 50mm, maximum aperture: 1:2.5, front group linear extension system with AFD. The suggested retail price is $299.99.
More info on the Canon EF 50mm f/2.5 compact macro lens here.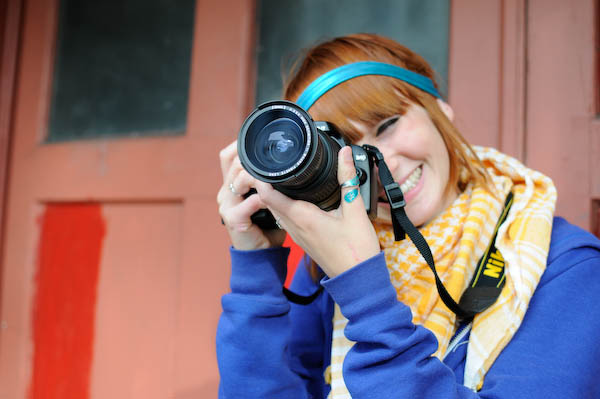 Photojojo's Fisheye Lens Adapter: This adapter is an affordable way to capture 180 fisheye images. Photojojo's Fisheye Lens Adapter simply screws onto the end of your SLR camera's zoom lens and the wide-angle super short focal length twists, distorts, and warps your photos into perfect circles. Crafted from multi-coated high definition optical glass this adapter also creates beautiful bits of lens flare.
Features:
0.35x multiplier for any lens
Comes with a 5 year warranty
Works with any SLR lens: Canon, Nikon, Sony, Pentax, Olympus, etc.
Made from high-definition multi-coated optical glass (so fancy)
Works best with lenses between 14mm and 35mm
Captures onto a square frame (corners are dark)
Fisheye lens with one adapter ring (sizes range from 49mm to 77mm) price ranges according to thread size ($50-$55).
More info on the Photojojo Fisheye Lens here.
1 NIKKOR 11-27.5mm f/3.5-5.6: A go-to lens for Nikon's mirrorless camera system, the 1 NIKKOR 11-27.5mm f/3.5-5.6 is sleek, compact and delivers a versatile 11-27.5mm (30-74mm equivalent on 35mm format) zoom range. It allows users to capture sharp group photos, vibrant wide-angle landscapes and flattering portraits with softly blurred backgrounds—as well as HD videos from any vantage point. It is available in your choice of seven colors: white, black, brown, pink, green, red and yellow. The suggested retail price is $189.95.
Features:
Zoom Ratio: 2.5x
Max Aperture: f/3.5
Minimum Aperature: f/16
Format: CX
Lens Elements: 8
Lens Groups: 6
Optical Conversion Factor: 2.7x
Diaphram Blades: 7
Minimum Focus Distance: 1.0 feet
Measurements: 2.26x1.22 inches
Weight: 2.8 ounces
More info on the 1 NIKKOR 11-27.5mm f/3.5-5.6 lens here.
Sigma 19mm F2.8 DN | A: This is a high-performance wide-angle lens made for use with mirrorless interchangeable lens cameras. It has the equivalent angle of view as a 38mm (35mm equivalent focal length) on the Micro Four Thirds systems and 28.5mm (35mm equivalent focal length) on the E-mount systems. It features three glass mold aspherical lenses (for correction of distortion, color aberration and field curvature). The inner focusing system corrects the fluctuation of aberration to maintain image quality regardless of the focal distance. Sigma's Multi-Layer Coating reduces flare and ghosting and provides sharp, high contrast images even at the maximum aperture. The telecentric optical design improves the image quality throughout the frame. The linear AF motor moves the lens elements directly without the need for gears or the drive of other mechanical parts. This system ensures accurate, quiet autofocusing, making the lens suitable for video recording and still photos. The lens features a rounded 7-blade diaphragm creating a blur to the out of focus areas of the image. The suggested retail price is $199.
More info on the Sigma 19mm F2.8 DN | A lens here.

FEATURED VIDEO