Original Papers Slated for Rochester's PhotoHistory XV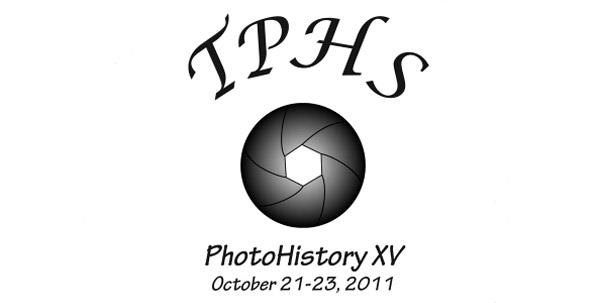 The Photographic Historical Society (TPHS) has announced a program of original papers for PhotoHistory XV, the world's only continuous symposium on the history of photography. The symposium will be held here at George Eastman House, International Museum of Photography and Film on October 21-23, 2011.
Now held biennially, PhotoHistory will include activities spreading over three days including a registration reception on October 21, as participants sign in at Rochester's DoubleTree Hotel. The papers will be delivered from 8:00 a.m. to 5:00 p.m. on October 22 at George Eastman House followed by a banquet and keynote presentation at the hotel that evening. The final day, October 23 will conclude the symposium with a photographic trade show at the hotel attended by dealers and collectors from a broad geographical area.
The symposium speakers and their subjects are:
Jay Allen (Indianapolis, Indiana) — "The Century Studio Camera,"
Todd Gustavson (Rochester, New York)—"500 Cameras,"
Colin Harding (Bradford, England) — "What a Giveaway! Kodak Ltd. Premium Camera Schemes of the 1920-30s,"
David Jentz (Granger, Indiana)— "Cameras That Were High on Everest,"
Gert Koshofer (Bergisch Gladbach, Germany) Banquet Keynote speaker — "150 Years of Color Photography,"
Kaoru Kuraishi (Ibaraki, Japan) — "Pinhole Photography,"
George Layne (Flourtown, Pennsylvania) — "George Eastman's Catalogs,"
Nancy Martin (Rochester, New York) — "Start Cameras Working and Keep Them Working: Kodak's Picture Contest on the Eve of the Great Depression."
Margot Note (New York, New York) — "Speed, Perfection, Cheapness: The Ambrotype's Epoch in Photographic History,"
Sabine Ocker (Gloucester, Massachusetts) – "Your Picture in Gold: The Rare and Beautiful Portrait Orotone,"
Mark Osterman (Rochester, New York) — "Evolution of the Photographic Negative,"
Jeremy Rowe (Mesa, Arizona) — "Stereoscopic Documentation of Territorial Arizona,"
Martin Scott (Rochester, New York) — "Rudolf Kingslake-A Life in Optics,"
Robert Shanebrook (Irondequoit, New York) — "Making Kodak Film, "
Simon Spaans (Delft, Netherlands) — "The History of the Photographic Exposure Meter, 1880-1970,"
Erin Waters (Lancaster, Pennsylvania) — "Interior Life: Victorian Photo Displays."
"Many PhotoHistory participants encouraged us to go from a triennial to a biennial interval, and we have taken their advice." noted Martin Scott of Rochester, president of The Photographic Historical Society and general chairman of PhotoHistory XV. " We look forward to an informative program of original papers, a cordial banquet and a dynamic trade show to share with new attendees and old friends from here and abroad," Scott concluded.
Symposium Contact and Registration Information:
Contact by e-mail: PhotoHistorysymp@frontier.com. Registration forms are available at The Photographic
Historical Society's website: www.tphs.org.
Phone: Marian Early, (585) 232-3380.
Send registration forms & checks ($US) by mail to PhotoHistory XV, P.O.Box 10342, Rochester, NY 14610 USA
A general fee of $95 includes the Friday reception; symposium, box lunch, & trade show admission.
Admission to the Banquet will cost $32.
Free Admission for students:
Students will be admitted free with school ID to the papers sessions and trade show, but they must register in advance.
Symposium Banquet:
The Banquet will be held at 7:00 p.m. on October 22, at the DoubleTree Hotel. Gert Koshofer will continue his presentation on the International History of 150 years of Color Photography with a presentation tailored for an after dinner keynote presentation.
Hotel Reservations: DoubleTree Hotel Rochester, 1111 Jefferson Road, Rochester (Henrietta) NY 14623 USA, (585) 475-1510 or (800) 465-4329.
Google "doubletree rochester ny", enter PHS in the group/convention code window for the special rate of $119 per night.
Photographica Trade Show and Sale;
On Sunday, Oct. 23 from 9:00 AM to 4:00 PM, a selection of photographic equipment, images, books and ephemera will be presented at the DoubleTree Hotel, Rochester. Admission to the show is included in the registration, however the general public will be admitted for $5 during the morning hours and at no charge after 2:00 pm. Dealers may contact Tim Fuss by phone (585) 208-7238 or e-mail at tim@pixel-wave.com.
The Photographic Historical Society, Rochester, NY, is the first organized society devoted to photographic history and the preservation of photo antiques including photographs, cameras and photographic equipment. Founded in 1966, it has a membership of 120 individuals. For more information see the Society's web site at http://www.tphs.org.

LATEST VIDEO

SPONSORED VIDEO
Testing Tamron's SP 150-60mm G2 lens while capturing birds and alligators in Apalachicola, Florida.