Optimum Optical Accessories; Binoculars For Photographers Page 2
The Nikon 7x50 Action VII porro-prism binoculars ($69, street price) are full-size glasses that deliver the ideal specs for most photographers. The 7x50 design provides the right power and bright viewing, and Nikon's "No-Fault" lifetime warranty makes them hard to resist. (Regardless of what happens to the binoculars--even if you carelessly canoe them overboard--Nikon will repair or replace them for just $10 plus the return shipping charges.) The 20mm eye relief means eyeglass wearers will be comfortable, and Nikon's rugged build quality assures you that your grandkids will enjoy your investment in these high-quality, value-priced optics.
Pentax offers the 8x40 XCF wide angle porro-prism binoculars at $79 (street price) as a solid option for photographers. Their claim to fame is a distinctive soft rubber armor exterior finish and exclusive Super Multi-Coated lens surfaces. Field of view at 1000 yards is a generous 429 ft, qualifying them as true wide angle binoculars. And at 1.7 lbs they won't bend your back.
Ratcheting it up a level or two, the Canon 10x30 IS (Image Stabilized) wide angle binoculars are a sure cure for a case of the shakes. If you've ever struggled with conventional binoculars that made the horizon appear to be jumping haphazardly, you'll immediately fall in love with these Image Stabilized binocs. Highly recommended if your application requires you to look through the binoculars at a magnified image for an extended period of time. They're a bit more fully contoured, but surprisingly lightweight at about 1.3 lbs. The street price of $329 (lower with seasonal rebates and promotions) may cause you to look away, but when you consider that binoculars are a lifetime investment, it's silly to be penny-wise and foolish.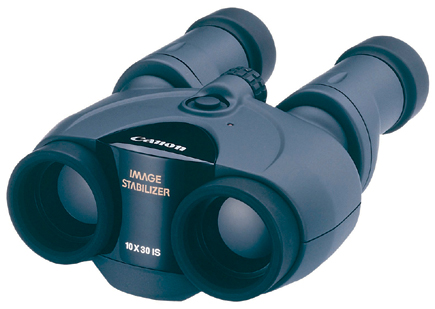 Make A Fashion Statement
Most manufacturers offer at least one exotic-looking model in their line--so you can make a fashion statement or stick with basic black. The Nikon Titanium 7x15T binoculars ($479, street price) are especially handsome, and compact, too. Constructed from durable titanium, they're about 4" long and tip the scales at 6.5 oz. Other manufacturers offer models in other colors, including camouflage. I once had a pair of camouflage binoculars. The pattern was so realistic--I set them down in the woods and never saw them again...
This report shows a small sampling of the extensive line of binocular manufacturers/distributors. To see a more complete line-up, visit the Instant Links section of our website at: www.shutterbug.com/currentissuelinks/.
Manufacturers/Distributors
Canon U.S.A., Inc.
One Canon Plaza
Lake Success, NY 11042
(800) 652-2666
(516) 328-5000
www.usa.canon.com

Nikon Inc.
1300 Walt Whitman Rd.
Melville, NY 11747
(800) 526-4566
(631) 547-4200
www.nikonusa.com

Olympus Imaging America Inc.
3500 Corporate Parkway
PO Box 610
Center Valley, PA 18034
(800) 622-6372
www.olympusamerica.com

Pentax Imaging Company
600 12th St., Ste. 300
Golden, CO 80401
(800) 877-0155
www.pentaximaging.com

LATEST VIDEO