Olympus XZ-1
Developed for the photography enthusiast, the XZ-1 features a super-bright built-in Olympus iZUIKO lens – the first built-in Zuiko lens on a compact digital camera. "The XZ-1 features one of the world's brightest built-in lenses on a digital compact camera to enable you to shoot high-quality still images and HD videos in any shooting environment, including difficult low-light conditions," said Katie Roseman, product manager, Olympus Imaging America Inc. "This camera will give you the versatility needed to take on any challenge without weighing you down."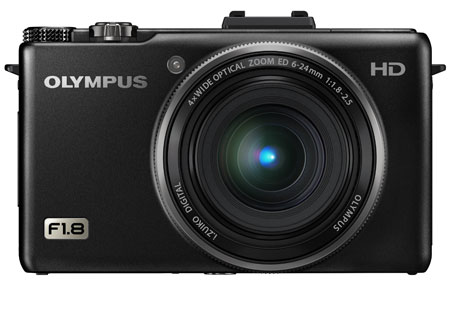 Features include:
* full manual controls in a slim, stylish pocket-sized camera;
* a range of new features offer superior image quality, together with 10 megapixel CCD sensor with the TruePic V Image Processor to produce sharp photos;
* iZUIKO f1.8-2.5 6.0-24mm lens for improved shooting in low-light scenarios, enhancing image clarity and drastically reducing grain. Also featuring Dual Image Stabilization and an AF Illuminator to maximize performance in low-light settings; and
*The XZ-1 offers six Art Filters, each of which uses different settings to create incredible photographic effects that would otherwise require additional lenses, filters or complex editing. Additionally, the Live Guide on-screen setting offers quick tips for shooting different subjects (kids, pets and flowers, for example) assists the photographer with some of the more complex in-camera settings (aperture, shutter speed and exposure compensation, for instance).
Shooting video is as easy with the new Olympus XZ-1 camera. The camera captures all the action in crisp 720p HD video at 30 frames-per-second. The XZ-1's easy-to-reach record button on the back of the camera body makes recording videos a breeze. If you're about to snap a photo and you realize a video would capture the spirit of the scene even better, simply press the record button and instantly you're capturing videos! Easily toggle back and forth between capturing stills and videos by using your index finger to press the shutter button or your thumb to press the record button. Having the ability to shoot still images and videos opens up a world of imaging possibilities.
The XZ-1 pairs a high sensitivity 10 megapixel CCD sensor with the TruePic V Image Processor to produce clear and colorful photos using all the pixel information from each image to provide the best digital images possible. The image processor is noted for accurate natural color, true-to-life flesh tones, brilliant blue skies and precise tonal expression; it also lowers image noise in photos shot at higher ISO settings (ISO 100 to ISO 3200), enabling great results in low-light situations.
The XZ-1 also offers the advanced manual controls that experienced photographers expect from digital SLR cameras. Shoot full manual, and also with a control ring around the front of the lens and the wheel controller on the back, the XZ-1 gives immediate access to the most important manual settings like ISO, aperture and shutter speed to make it easy to adjust the camera on the move. Three levels of exposure control using a neutral density (ND) filter distributes light offering greater flexibility to change the aperture and exposure time in different situations while allowing the photographer to take the best picture in any condition.
The XZ-1 has an easily accessible built-in pop-up flash to illuminate low-light subjects, reduce red-eye and fill in dark areas. The camera also is compatible with a range of optional external flashes, including the Olympus FL-14, FL-36R and FL-50R, so you can dynamically control lighting as your photography skills grow.
The Olympus XZ-1 comes in black and white and will be available in January 2011. It includes the XZ-1, USB Cable, Video Cable, Li-Ion Battery Pack, Li-Ion Battery Charger, Shoulder Strap, OLYMPUS software CD-ROM, Manuals and Registration card.
U.S. Pricing
XZ-1 Street Price: $499.99

LATEST VIDEO

SPONSORED VIDEO
Testing Tamron's SP 150-60mm G2 lens while capturing birds and alligators in Apalachicola, Florida.