Olympus STYLUS TOUGH-3000
Olympus has unveiled the STYLUS TOUGH-3000, a shockproof, waterproof and freezeproof compact camera designed to capture all of life's adventures from the extreme to the everyday.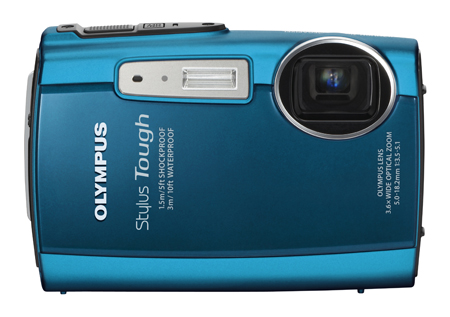 As the first Stylus Tough camera with High-Definition (HD) video, features like Magic Filter that expand your creativity and AF tracking to keep subjects in focus, the STYLUS TOUGH-3000 is the first of several Stylus Tough cameras to be launched in 2010.
The STYLUS TOUGH-3000 also offers a new graphical user interface (GUI) for intuitive operation and new OLYMPUS software for rapid downloading and enhanced photo organization with Geotagging and Face Recognition functionality.
The STYLUS TOUGH-3000 shoots 720p HD videos using a dedicated one-touch button, so you'll always capture the scene. Playback is also a breeze. Simply connect the camera to an HDTV with an HDMI cable, which can be purchased separately at any consumer electronics store. With HDMI Control, you can use your HDTV's remote to control playback functions and navigate the camera's menus from the comfort of your favorite couch.
AF Tracking technology locks your fast-moving subject in focus, and continuously adjusts focus and brightness. This enables you to keep in focus fast-moving and unpredictable subjects like snowboarders on your favorite mountain, tropical fish while snorkeling or children at play anywhere in the great outdoors to capture the perfect shot. There's even a specially designed AF Tracking "Pet Mode" for animal lovers.
In-camera Art Filters debuted on Olympus E-System DSLR (digital single lens reflex) cameras last year. Similar technology, called Magic Filter, has been developed for the new STYLUS TOUGH-3000. The Magic Filter enables the user to enhance and customize images as they're being captured. This translates into more fun and flexibility as customization is no longer limited to using expensive and time-consuming computer software.
The STYLUS TOUGH-3000, available in fun and sporty red, pink, blue and green, can withstand a five-foot drop thanks to the Stylus Tough series' shock-absorbing technology, which minimizes the impact on the lens and circuitry. Stylus Tough series cameras perform as well underwater as they do on land because their lightweight, yet durable exteriors are matched with interior rubber gaskets and O-rings to seal out the elements. The STYLUS TOUGH-3000 can be submerged up to 10 feet underwater. The inclusion of four preset underwater scene modes makes this camera perfect for taking photos while swimming, snorkeling or simply having worry-free fun in the pool. It can also capture HD movies underwater. The camera features a water-repellent lens coating to prevent water droplets from forming on the lens and enabling you to get crystal-clear shots no matter how wet the shooting environment. The STYLUS TOUGH-3000 camera can still perform when the temperature dips well below freezing (14 degrees Fahrenheit; - 10 degrees Celsius). Stylus Tough cameras continue to enable you to capture great images in freezing situations where most traditional cameras would fail.
The STYLUS TOUGH-3000 features a 3.6x wide-angle optical zoom (28-102mm equivalent in 35mm photography, f3.5-5.0). The lens does not protrude from its body so it is further protected from harsh conditions.
Dual Image Stabilization combines two technologies – mechanical Sensor-Shift Image Stabilization and Digital Image Stabilization – to provide one powerful anti-blur solution for capturing great images whether the photographer or the subject is moving. Olympus' mechanical Sensor-Shift Image Stabilization keeps images sharp by adjusting the internal image sensor to compensate for camera movement, even in low-light conditions when shutter speeds are slower. Additionally, Digital Image Stabilization freezes the action with high ISO sensitivity and fast shutter speeds that prevent blurry images often caused by a moving subject.
The STYLUS TOUGH-3000 camera offers a 12-megapixel image sensor enabling consumers to achieve consistently sharp and vivid images when producing large-format prints or cropping/enlarging a portion of an image. In-Camera Panorama mode captures three images and stitches them together to create one amazing panoramic picture. Simply press the shutter button and slowly pan across a panoramic scene. The second and third images will be captured automatically and stitched together with the first image – resulting in one seamless panorama-size picture. To create the ultimate panoramic picture, consumers can use the OLYMPUS Software to stitch up to 10 images together.
The STYLUS TOUGH-3000 will be available in February 2010. It includes: wrist strap, camera WIN/Mac USB cable, audio/video cable, Li-Ion rechargeable battery, warranty card and manual and OLYMPUS Software on the camera.
U.S. Pricing
STYLUS TOUGH-3000 Estimated Street Price: $229.99 (U.S.)

LATEST VIDEO

SPONSORED VIDEO
Testing Tamron's SP 150-60mm G2 lens while capturing birds and alligators in Apalachicola, Florida.