Olympus Compact 20x Optical Zoom SP-565 UZ
Olympus has given the SP-570 UZ -- the world's most powerful ultra zoom digital camera -- an extreme makeover by creating the new SP-565 Ultra Zoom, a smaller and lighter version with the same 20x wide-angle telephoto zoom lens (26-520mm equivalent.) The camera's enhanced Face Detection can now track up to 16 faces within the frame and optimize exposure even when subjects are moving. In addition, the SP-565 UZ ensures sharp, brilliant images with a host of other features:
Dual Image Stabilization combines the benefits of Sensor-Shift Image Stabilization and Digital Image Stabilization to compensate for both camera shake and moving subjects, helping to create beautiful, virtually blur-free images in any situation.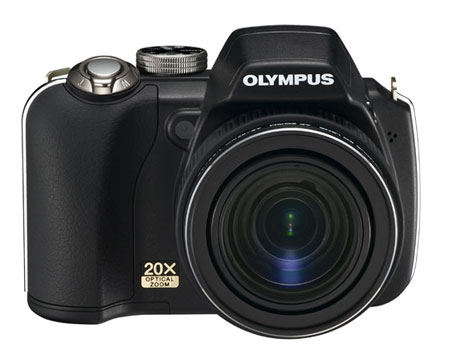 Shadow Adjustment Technology enables users to preview and capture images as the human eye sees them, compensating for difficult lighting situations and maintaining detail in highlights while improving detail in the shadows to produce more balanced photos. Perfect Shot Preview takes the guesswork out of great photography by allowing users to preview and select various photographic effects live on the LCD screen, before snapping the shot.
The f2.8-4.5 lens provides the equivalent of 26-520mm focal length with 100x total seamless zoom (5x digital zoom). By using the toggle lever with one finger, users can get close to the action with the versatile yet compact 20x super telephoto zoom, while the wide-angle (26mm) lens captures more of the subject in each frame. Its super-macro capabilities capture the subtlest details from as close as one centimeter. The compact lens construction combines aspherical and extra-dispersion (ED) lens elements.

Dual Image Stabilization is said to enable users to take crisp, clear pictures in virtually any shooting situation -- adjusting for camera shake and a moving subject. Olympus' mechanical Sensor-Shift Image Stabilization keeps images sharp by adjusting the CCD to compensate for camera shake, which often occurs when zooming in on your subject and in low-light conditions when shutter speeds are slower. Digital Image Stabilization freezes the action with high ISO sensitivity and fast shutter speeds that help to prevent blur caused by a moving subject.

Face Detection tracks up to 16 faces within the frame and automatically focuses (Face Detection AF) and optimizes exposure (Face Detection AE) quickly for sharp, brilliant portrait pictures. Now, your subject's face is in focus whether it is in the center of the target area or not.

The Manual, Aperture Priority and Shutter Speed Priority modes give users versatility and control for optimal performance in any situation. The SP-565 UZ is capable of capturing images at 13.5 frames per second (with a reduced image size of 3 megapixels). The inclusion of Pre-Capture technology, which works in conjunction with High-Speed Sequential Shooting, enables users to capture the action before and after fully pressing the shutter button. Pre-Capture begins working as soon as the focus is locked, automatically archiving 10 frames in the camera's buffer memory prior to the shutter release.

The SP-565 UZ's Shadow Adjustment Technology compensates for extreme contrast where the shadow areas are underexposed and lack visible detail. With the new technology, users can preview and capture images that have the same contrast as seen with the naked eye.

?The SP-565 UZ has 33 shooting modes, including a Multi-Fireworks mode. To capture the most stunning fireworks displays, this multi-exposure feature overlays the fireworks. To activate any of the camera's pre-set modes, simply select the desired mode for portraits, landscapes, night scenes, fast-action and more.

All Olympus digital point-and-shoot cameras accept xD-Picture CardTM media. The SP-565 UZ will also come equipped with an adapter, which will enable microSD memory cards to be used when capturing images.

The SP-565 UZ will be available in October 2008. Estimated Street Price: $399.99 (U.S.)

http://www.olympusamerica.com.


FEATURED VIDEO