Olympus' EVOLT E-500; Ease Of Use And Versatility In An Affordable 8-Megapixel Digital SLR Page 2

Image Quality And Characteristics
This camera provides plenty of capture modes to suit every purpose. My full resolution/SHQ JPEGs exhibit no obvious artifacts at 100 percent magnification. For the ultimate in image quality in cityscape photography, I switched to TIFF but found processing to be very slow. Hence, I preferred to use raw capture for similar quality but faster recording speed. This option provided another benefit: the ability to adjust many aspects of the ORF format file in a computer, using converter software. Sure, it's possible to enhance TIFF or JPEG photos with image-editing software, but the modifications are more effective when made to a raw data file using Olympus Master or an after-market program.
Olympus Master Raw Converter Screen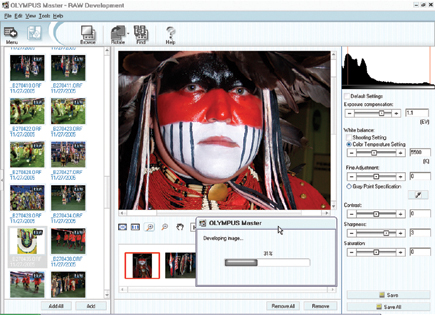 Aperture Priority mode at f/5.6 with 14-45mm zoom; FL-50 flash unit; +0.5 flash exposure compensation; Auto White Balance; ISO 400.
Images made in the camera's default modes (without overrides) exhibit vivid, accurate colors with rich reds and blues and pinkish skin tones. Contrast is high for a snappy effect, though a bit excessive for some scenes on sunny days. The Auto White Balance feature produces accurate, slightly warm, white balance outdoors but was not very effective with artificial lighting. Switching to the Manual White Balance option produced much better results under sodium vapor lamps, although the results were occasionally inconsistent. Thanks to the improved multi-pattern metering system, exposures were usually accurate outdoors, an improvement over the E-300. And yet, images made in dark locations--with or without flash--were often underexposed, easily solved with exposure and/or flash exposure compensation.

Digital noise is very well controlled at ISO 100-400. By ISO 800, a mottled color pattern becomes visible but the images make for nice 8.5x11" prints. At ISO 1600, the colored specks are objectionable. Activating the new high ISO noise reduction filter certainly moderates the mottled pattern, but makes the images soft through blurring. That calls for a lot of sharpening in Photoshop, using some expertise for the best results.

Evaluation: This 8-megapixel digital SLR provides very high resolution with excellent definition of fine detail that's compromised a bit by the in camera sharpening system. For those who plan to make large prints, it's best to set a Low sharpening level while shooting in JPEG or TIFF capture. Later, use Unsharp Mask (or Smart Sharpen) in order to maintain maximum definition of fine detail.

In SHQ JPEGs shot at ISO 100, quality in the 23MB files is exceptional. After increasing file size in Photoshop CS2, and optimizing my best images for printing, I was able to make beautiful 13x17" outputs at 240dpi. Even more impressive results are possible in slightly larger prints, when starting with images made in TIFF or Raw Capture mode. Since few photo enthusiasts shoot at ISO 1600, the high ISO noise problem is not a major issue in my estimation.
Exposure Accuracy In Contrasty Light
SHQ JPEG capture; Low in camera sharpening; at 32mm at f/6.3; ISO 100; adjusted with Smart Sharpen in Photoshop CS2.
Unique Spot Metering Options
As discussed in the text, the EVOLT E-500 offers a surprising number of advanced capabilities for a digital SLR, with numerous fully automatic Scene modes targeting the novice. Review the Specs closely and you'll note some sophisticated functions for experienced photographers. The most noteworthy include the various white balance options, the High Key and Low Key image adjustments, plus two unusual spot metering functions: Highlight Based and Shadow Based. Since the latter are highly unusual, I decided to extensively test these exposure control options.

The Highlight Based feature is intended for use when spot metering from a subject that should be pure white in the final image, such as a white sailboat against a very dark shoreline. When the function is chosen you read right off the bright highlight. The camera automatically increases exposure--by 2 EV in my tests--to ensure that the subject is not rendered as gray. Select the Shadow Based option when spot metering a black subject, such as a dark-toned horse in a snow-covered field. The camera will automatically decrease exposure--by about 2.3 EV--to render the primary subject as deep black instead of gray.

Pros and Cons: The technical concept certainly makes sense. It's the same general approach used by experienced photographers when spot metering a white or a black subject area. In such cases, increase exposure (plus compensation) for whites and decrease exposure (minus compensation) for very dark-toned subjects. Do note, however, that the Highlight/Shadow Based system does not evaluate the exact tonal value of the "target" that it's metering. The default level of compensation (that's automatically applied) is always the same, regardless of the subject and the lighting conditions.

Evaluation: As expected, the Highlight Based spot metering sometimes produced images with excessively bright highlight areas. By the same token, the Shadow Based spot metering sometimes produced blacks without any texture. By my standards, the amount of exposure adjustment employed by the metering system is greater than necessary. A lower level of automatic adjustment would prevent "blown-out" highlights or "blocked up" shadow areas (with a loss of detail). Some fine-tuning might then be required in Photoshop or other software, using Levels, but it's easy to lighten highlight areas, or darken black areas.

It's worth considering the following comment provided by an Olympus rep: "Just as any Automatic mode that applies specific settings for you automatically will not always provide the desired effect, you need to know what you're doing. After testing the Highlight and Shadow Based spot meter, you'll understand its limitations and you'll know when to apply it, using this feature only when it's appropriate: for a still life or studio arrangement, for example."

The extra spot metering options can be useful, but are intended for experienced photographers. If you're still experimenting with exposure control, it's best to start with the conventional spot meter. Start by trying a +1.5 compensation level when metering a white area or a -1.5 compensation level if metering a black area. Later, tweak the exposure with Level in image-editing software, taking care to retain detail in all important parts of the image.
These images provide an indication as to the effect achieved by the Highlight Based spot meter vs. the more typical alternatives. (In each case, I first centered the blossom for focusing and metering and then used AE Lock while recomposing.) As expected, the standard spot meter produced serious underexposure as it would with any camera when metering a white subject. The Multi-Pattern system was slightly more effective. The Highlight Based feature increased exposure significantly, for pure whites, but produced a loss of texture in the brightest area of this particular subject. That would have been easy to prevent, by setting a -0.3 or a -0.5 compensation level in camera. (Aperture Priority mode at f/11; ISO 400; AF 40-150mm zoom; Manfrotto tripod.)
Introducing The EVOLT E-330
Olympus has also announced another EVOLT camera which includes most E-500 capabilities but employs the porro-prism finder with the sideways swinging reflex mirror developed for the E-300. The EVOLT E-330 employs a new Live MOS (or NMOS for Negative Metal-Oxide-Semiconductor) 7.5-megapixel capture sensor and boasts one very significant new feature. It incorporates a second (8-megapixel CCD) sensor that provides a true live view in the articulating 2.5" color LCD monitor before a photo is taken. This allows the user to compose an image and check depth of field for up to 90 minutes. (The Fuji FinePix S3 Pro offers Live Image Mode preview, but it's monochrome and available for a maximum of only 30 seconds.) There's also a second option, Live View Mode B, that operates when the reflex mirror is pre-locked in the up position; that's great for macro photography because there's no internal vibration from mirror action while an image is being captured. Anyone who has refused to buy a digital SLR because it cannot provide full preview on the LCD monitor will love the new EVOLT E-330. (List price: $1099, with 14-45mm lens.)
The Bottom Line
The Olympus EVOLT E-500 is a leading contender in versatility in the "affordable" category. Aside from 8-megapixel resolution, this digital SLR boasts many operating modes plus a vast range of advanced options for controlling exposure, white balance, color space, and other image parameters. It's also very portable, convenient to use, quite fast, and reliable in most circumstances. At the $819 street price, including a 14-45mm and a 40-150mm zoom, this digital SLR is priced to attract the entry-level buyer. But don't let the modest price scare you off; the E-500 is just as suitable for the experienced digital photographer.
Technical Specifications
Sensor: 17.3x13mm CCD; 8 megapixel effective
Lens Mount: Four-Thirds mount; 2x focal length magnification factor
Shutter: Electronic; speeds from 60 seconds to 1/4000 sec selectable; also, Bulb
Capture Formats: Numerous JPEG options, 8-megapixel raw (12 bit) and TIFF; also, raw + JPEG
Exposure Control: Center-weighted; 49-zone multi-pattern; Digital ESP; spot (2 percent), Highlight Based and Shadow Based spot metering; exposure compensation and bracketing; AE Lock
Operating Modes: Aperture and Shutter Priority AE, metered Manual, Program plus 15 Scene Program modes
Capture Modes: Single shot; Continuous framing at 2.5 fps
Flash: Built-in TTL auto pop-up flash, GN 13 in meters
Storage: CompactFlash and xD-Picture Card
Connectivity: USB 2.0 (low speed); video output
Power: One rechargeable BLM-1 lithium ion battery; optional AC adapter
Dimensions/Weight: 5.1x3.7x2.6"; 15.34 oz, body only
Street Price: $649, body only

For additional information on the E-series of cameras, lenses, flash units, and other accessories, visit the Olympus website at: www.olympus-esystem.com. You can also contact Olympus America Inc., Two Corporate Center Dr., Melville, NY 11747; (631) 844-5000; www.olympusamerica.com.

A long-time "Shutterbug" contributor, stock photographer Peter K. Burian (www.peterkburian.com) is the author of several books, including "Magic Lantern Guides to the Maxxum 7D and Maxxum 5D" (Lark) as well as "Mastering Digital Photography and Imaging" (Sybex). He is also a digital photography course instructor with BetterPhoto.com.

LATEST VIDEO

SPONSORED VIDEO