Olympus' E-300 EVOLT
An Affordable 8-Megapixel Digital SLR Page 2
Evaluation: In terms of overall speed and low-light focusing, the E-300 EVOLT is a competent performer that will satisfy most photo enthusiasts. Those who often shoot sports action may need an even faster camera. As with any digital SLR, it's worth buying a high-speed CompactFlash card--such as the SanDisk Ultra II or Lexar 80x WA series--for fast image recording.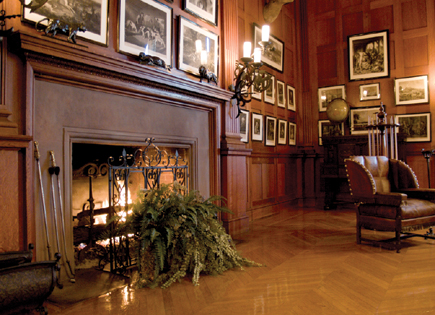 A focus-assist feature is available with the built-in flash or an accessory flash unit but it's necessary only in unusually dark locations. In most indoor shots at the Biltmore Estate, I found that the highly-sensitive autofocus system was reliable--and just as quick--without the focus-assist amenity. (Raw capture; f/3.5 at 1/4 sec; ISO 400.)
Image Quality Factors
The E-300 EVOLT provides a full choice of capture modes to suit every purpose. My full-resolution SHQ JPEGs exhibit few obvious artifacts at 100 percent magnification. For the ultimate in image quality in landscape photography, I switched to TIFF or for greater recording speed, to the raw capture mode. The latter provided another benefit: the ability to adjust exposure, white balance, hue, color temperature, contrast, saturation, and sharpness, before processing and conversion to TIFF. Granted, you can adjust any TIFF or JPEG photo with image-editing software, but the modifications are more effective when made to a raw data file.

The Olympus Master software includes all of the features mentioned earlier for enhancing the raw ORF format files. This is not the most intuitive program on the market, and it is a bit slow to process minor adjustments, but the final conversion to TIFF is remarkably fast. Most E-300 EVOLT owners should be quite satisfied with its features. Others may prefer to use the Adobe Camera Raw converter in Photoshop CS for even greater control over some image parameters.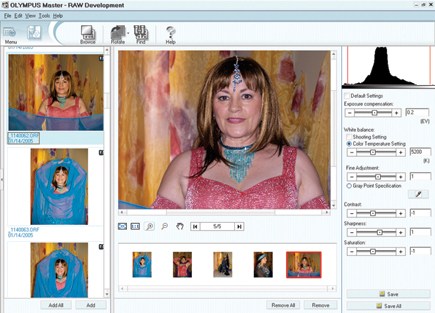 The raw converter feature in the Olympus Master software takes a bit of time to master and it is not the fastest of its type on the market. But it is free (included in the kit) and is quite versatile, offering the most important image adjustment tools.
The camera's default setting for sharpness is quite low, perhaps to avoid accentuating any digital noise pattern. To compensate for the softness, I recommend setting a +1 factor in camera (or with the raw converter software); later, apply a healthy dose of Unsharp Masking in any Photoshop program. Digital noise is well controlled at ISO 100-400; at ISO 800, a mottled color pattern becomes obvious but the images are still useable. At ISO 1600, the colored specks obscure fine details, making this option useful only as a last resort.
Evaluation: Aside from the high ISO issue, my images exhibit great highlight and shadow detail (unless made in very harsh lighting), remarkable color accuracy, attractive skin tones, and very high resolution of fine detail. Especially in ISO 100 images, quality in the 23MB files is exceptional. After increasing file size in Photoshop CS, and optimizing my best images for printing, I was able to make technically excellent 13x17" outputs at 240dpi. By comparison, I found that 6-megapixel cameras produced similar quality in 11x17" prints, giving this 8-megapixel model a slight advantage.
The Bottom Line
The Olympus E-300 EVOLT may not be the prettiest camera in the world, but it's compact, convenient to use, quite fast, and reliable in most circumstances. In my estimation, it should appeal to first-time SLR buyers who appreciate its many Program modes. But this well-equipped model is even more suitable for the experienced digital photographer who does not already own autofocus lenses of some other brand. At a street price of $995, including the 14-45mm zoom, it's definitely a bargain, especially when compared to the $1299 street price of the 5-megapixel E-1 kit.
No other digital SLR in its price range includes as many options for controlling white balance as the E-300 EVOLT. The in camera system is more versatile than the Olympus Master Raw converter software in this respect, allowing virtually any desired effect to be achieved. (A 14-45mm zoom; f/3.8 at 1/15 sec; ISO 400.)
PROS
· Impressive resolution, pleasing color, contrast and flash effects, moderate digital noise at ISO 100-400
· Super Sonic Wave filter highly effective in removing dust from CCD sensor
· Overall speed should satisfy most owners, although burst depth is not great
· Vast range of features for both novices and experts with convenient operation
· Remarkable value for the money
CONS
· In default (fully automatic) settings, some unpredictable exposure and white balance errors as well as overexposure with flash
· Low image sharpness calls for a high level of Unsharp Masking in Photoshop
· Pronounced digital noise at ISO 800 and especially at ISO 1600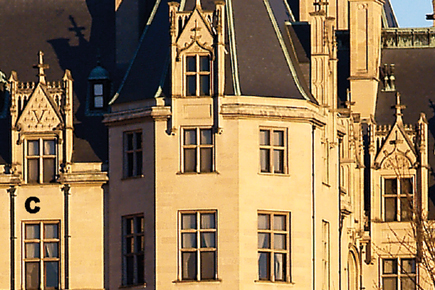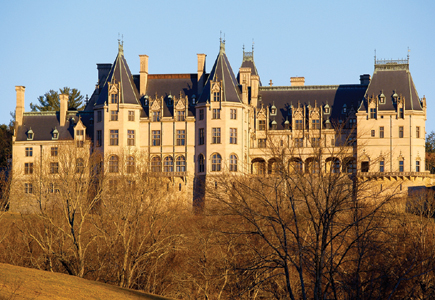 As the small sections of the full-frame photo should confirm, the in camera sharpening level is very low (Photo A). Setting a high level (+2) does produce sharper images (Photo B) but the effect appears artificial. For the best results, I set a +1 Sharpness level in camera and applied just the right amount of Unsharp Masking in Photoshop for any intended print size (Photo C). (Location: Biltmore Estate, Asheville, North Carolina.)
Technical Specifications
Sensor: 17.3x13mm CCD; 8. 15-megapixels effective
Lens Mount: Four Thirds mount; 2x focal length magnification factor
Shutter: Electronic; speeds from 30 seconds to 1/4000 sec selectable; also, Bulb
Capture Formats: Numerous JPEG options, 8-megapixel raw (12 bit) and TIFF; also, raw+JPEG
Focusing: Manual and TTL phase detection AF; three focus points, automatic or manual selection; AF Assist with flash; Single-Shot and Continuous tracking focus; EV 0-19 (ISO 100) detection range; manual focus possible after AF confirmation ISO Equivalent: ISO 100-1600
Exposure Control: Spot (2 percent), Digital ESP and Center-Weighted; exposure compensation and bracketing; AE Lock
Operating Modes: Program, 14 subject-specific Programs, Aperture and Shutter Priority AE, metered Manual
Flash: Built-in TTL flash
Storage: CompactFlash Type I or II
Connectivity: USB 2.0; USB 1.1 compatible; video output
Power: One rechargeable BLM-1 li-ion battery; optional AC adapter
Dimensions/Weight: 5.77x3.35x2.52"; 20.5 oz, body only
Street Price: $995 with 14-45mm zoom lens
For additional information on the E-series of cameras, lenses, flash units, and other accessories, visit the Olympus website at: www.olympus-esystem.com.
A long-time "Shutterbug" contributor, stock photographer Peter K. Burian is the author of two recent books: "Magic Lantern Guide to the Konica Minolta Maxxum 7D" (Lark Books) and "Mastering Digital Photography and Imaging" (Sybex).

LATEST VIDEO

SPONSORED VIDEO
Testing Tamron's SP 150-60mm G2 lens while capturing birds and alligators in Apalachicola, Florida.