Nissin Unveils Three New Flash Units
The Nissin Group has introduced three innovative new models. The flagship model of the Nissin line, the Di866 Professional will now be available for Sony, joining the current Canon and Nikon models. It provides an exceptionally powerful guide number of 60 and sub flash of 12 (ISO 100, 105mm). And for ease of operation, it has a very user-friendly color display, which automatically rotates from horizontal to vertical as the flash is rotated. The six-icon interface represents each of the operation modes -- auto, TTL, manual/av, multi, wireless TTL and custom setting.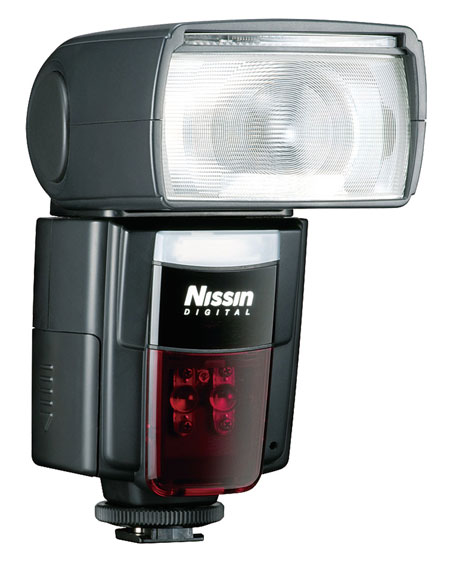 With supporting Sony ADI/P-TTL, the flash is automatically controlled by the camera but the flash exposure value can be compensated. In addition, the external service port includes the USB port for the latest firmware update. Synchronization contact and power pack port extend the usability of connection to different lighting and power systems, making it ideal for professional photography. The new Mark II for Sony will be available late in 2010.
The Nissin Di622 features functions such as wireless TTL remote responses to Channel 1 Group A controlled by the master flash; and slave digital (SD) and slave film (SF) flash system with 6-step power level adjustment.
"My TTL" setting and EV compensation setting enhance photography with custom setting and support for X-contact and external synchronized contact. This flash is compatible with both Canon and Nikon digital SLR cameras and lets you enjoy the advantages of creative flash photography with multiple lightings from the various directions.
MF18 Ring Flash
As the latest advance in ring flash models to meet the special demands of macro shooting, the new Nissin MF18 lens mount adaptor is usable from 49 to 77mm, providing an extraordinary guide number of 16 (ISO 100), with a user-friendly design of auto color display and My TTL custom setting.
The color display automatically rotates from horizontal to vertical as the flash is rotated, and the use-friendly 6-icon interface represents each of the six operation modes.
In addition, it has wireless and high-speed synchro functions to achieve the ultimate in high quality performance. The power pack port extends the usability of connections to different lighting and power systems. With these these significant features,the Nissin MF18 sets a new standard for professional macro shooting.
With its external power pack port, the Nissin MF18 can be used to speed up the recycling time of flashes, and is compatible with Canon E-TTL, Nikon i-TTL and Sony ADI/P-TTL cameras. It will be available in the first quarter of 2011.
Minox USA is the exclusive distributor in the US of these and other innovative products from the Nissin Group.