Nissin Flashes Put Your Digital Photography In The Right Light; This Line-up Of Digital Flashes Sheds Light On An Expanding Universe Of TTL Flash Photography
Wow! That's all I need to say about the new Nissin Di866 shoe-mount flash. This baby has to be experienced to be believed. I was impressed with the other flash units Nissin first sent me, but this new flash sets new standards in technology and user-friendliness. For starters, the Di866 features wireless TTL that lets me take advantage of the latest camera/flash exposure advances. Second, it boasts the world's first and only color display that reorients itself when the flash is flipped over on its side, making it easy to read, any way you look at it. But more than that, there is absolutely nothing cryptic about this display or the control panel: the Di866 is without question a joy to use! It simply works as an extension of the camera, operating seamlessly as a dedicated TTL flash with Nikon or Canon cameras. And there's lots more this flash has to offer, but first…
The flagship in the Nissin fleet is the Di866 Professional (center), flanked by the Di622 (left) and Di466 (right). Note the sub-flash on the Di866. When this flash is set to TTL mode, output is completely controllable on both the main and sub-flash heads.
All Photos © 2009, Jack Neubart, All Rights Reserved
No matter which Nissin flash you choose, operation is simple. The Di622 (left) and Di466 (right) employ status LEDs, whereas the Di866 Professional (center) makes use of the world's first color display to provide effortless control. Note that the flash was set for wireless TTL operation. It can be used in a multi-channel/multi-group setup as master or slave unit.
How We Got Here
Over the years, with the advent of TTL flash and increasingly adaptable shoe-mount strobes, I grew to not only use flash more but to rely on it to deliver the scope and variety of pictures I couldn't dream possible. In fact, I enjoyed working with flash so much that I wrote a book on the subject.

As I grew more comfortable using my shoe-mount strobes in TTL mode, I challenged myself to utilize them in Manual mode as well, which gave me total control over the light when and where needed. True, shooting with manual flash does mean using a flash meter—but not always. With digital cameras, you can learn to gauge the flash exposure by viewing the captured image on the camera's LCD or a computer monitor. I'll still use the meter with manual flash, but more for tricky lighting situations.

Always happy to try new things, I jumped at the opportunity to work with the new shoe-mount strobes from Nissin. A Japanese company, Nissin is celebrating its 50th anniversary this year as one of the oldest flash manufacturers in the world and a pioneer in flash technology.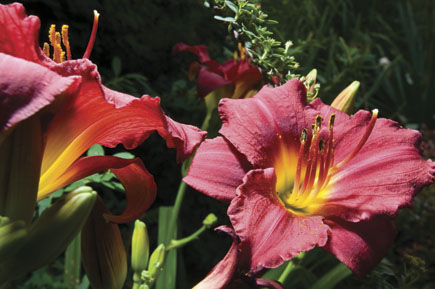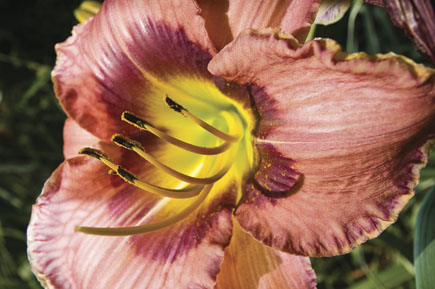 With the Nissin TTL remote cord connecting flash to camera, I held the flash overhead and aimed it down into the flowers, which helped bring out the texture and depth. Then I moved on to a larger blossom, but this time held the flash behind the bloom to give it a definable radiance. With the flash in TTL mode, note that it does not overwhelm the sunlight but provides a natural balance, preserving the shadows formed by the flower's reproductive organs.
It has been far too long since I'd last worked with a Nissin flash unit—a handle mount that served me very well. Today, Nissin has not only reintroduced their strobes into the marketplace, but has done so with a vengeance, refocusing their efforts on shoe mounts. As we all know, the shoe-mount flash is small enough to go with you anywhere—you can stow one in a photo vest pocket, as I often do, and it's versatile enough to light practically any subject.

Nissin Shoe Mounts
Nissin now has four shoe-mount flash units to meet every challenge, level, and price point—from very basic to ultra-sophisticated. The baby in the group is the Di28. The more robust units—the ones I worked with—are the Di466, the Di622, and the flagship and latest model, the Di866 Professional, which adds a whole new dimension to Nissin flash photography. Each of these triple-digit models comes with a shoe stand, which is threaded—and that came in handy so that I could easily mount the flash on a light stand (or tripod).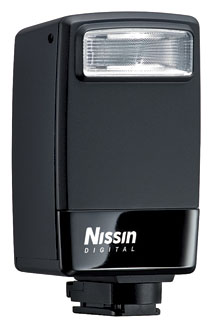 The Nissin Di28 is a compact light that offers TTL control and operates on only two AAA batteries.
Courtesy of Nissin, All Rights Reserved
"Di," if you haven't guessed, stands for "digital," in the sense that all Nissin flash guns support digital cameras and their ultra-modern, microprocessor-based operation—in other words, the flash responds to the camera, waking from Sleep mode when the camera is activated, and otherwise going to sleep when not needed. Digital also means full TTL flash support. And, with the exception of the smallest unit, each Di-series flash gives you wireless operation as well. The Di866 adds total wireless TTL functionality, which includes multiple channels and multiple groups so you can tailor the lighting as needed. One more very important point: in a day and age of continuous changes in technology, each flash provides firmware upgrades so you'll never feel that your flash has become obsolete (downloadable via USB on the Di866).

FEATURED VIDEO