Nissin Di622 Mark II Shoe-Mount Flash: Wireless Flash, New Interface, Enhanced Functionality—Affordable Price
I was quite impressed with Nissin's initial lineup of shoe-mount strobes. The Di866 Professional (now the Di866 Mark II) is quite innovative and versatile in its own right, sporting a full-color menu interface, while providing TTL wireless operation. There's also the Di466 (for Nikon, Canon, and Four Thirds cameras). And the Di622 has been updated to the largely revamped Di622 Mark II, now the subject of this review.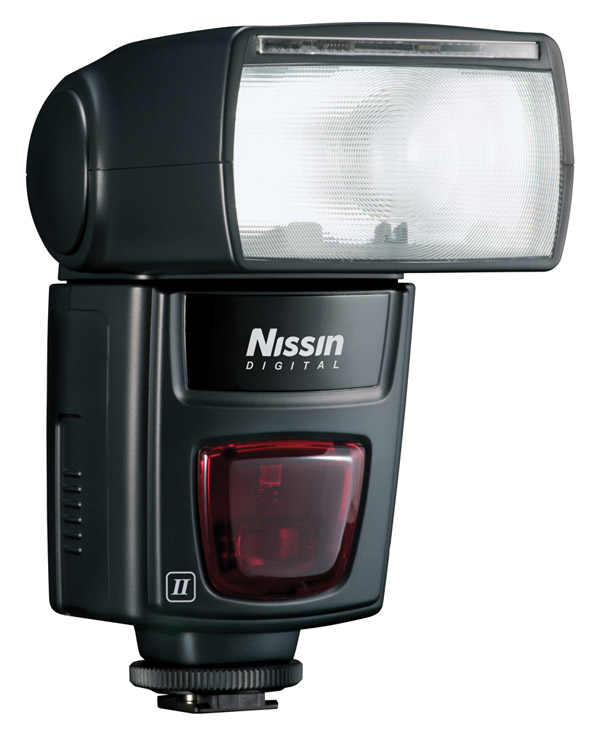 Di stands for "digital," and operation of each Nissin flash primarily centers on dedicated circuitry. In the case of the Di622 Mark II, that's Nikon i-TTL or Canon E-TTL (with a Sony version hitting stores any day now). I worked with the Nikon-compatible version and a Nikon D300.
Di622: New Vs. Old
The Di622 Mark II and the original 622 are each the same size and weight and share a GN value of 145/44 at a 105mm focal length (ISO 100 ft/m) and an auto-zoom range designed to cover focal lengths from 24 to 105mm (full frame). On the face of it, both units appear identical—until you look closer. The new Mark II offers significant enhancements, including on-board flash exposure compensation in TTL mode, in 0.5 EV steps, from -1.5 to +1.5, and TTL wireless remote. In this setting (purple LED), the flash operates as a TTL-driven off-camera slave, although limited to triggering via Channel 1 Group A. That means that output on each slaved Di622 Mark II is identical when triggered by the TTL master trigger (in terms of +/- EV settings). Of course, there are workarounds, such as positioning one flash closer or farther away relative to the subject in a multiple lighting setup, or using the built-in (or optional third-party) diffuser as needed—or using the old standby: draping a couple of layers of white handkerchief over the flash head. Additionally, there are SD and SF manual-output wireless modes.
My TTL Setting
You can now customize TTL output if you feel the flash is consistently outputting too much or too little light. The settings are in 0.25 EV increments, up to +/-0.75 EV. This setting remains in effect until you again change it.
The flash now has an X-sync terminal and a mini-pin terminal so you can connect a radio or other remote triggering system. Also, a central hot-shoe pin has been added for conventional hot-shoe triggering. Speaking of the hot shoe, the fitting has been improved. Previously it was a struggle to mount and, worse, remove the flash from the camera's hot shoe because the fit was so tight. The new flash now slides in and out with just the right amount of resistance to ensure a secure fit.
Sorry to say, there is no firmware upgrade for the original Di622 to give you functionality approaching the new Mark II. And any firmware upgrades for either flash have to be done at the factory, unlike the Di866, which is user-upgradeable.
Bracelet: Lighting From Underneath + On-Camera Bounce
Manual And Manual Wireless Operation
In Manual mode (wired or wireless), the +/- LED indicators on the back of the unit represent ratio steps from 1/32 to full manual power output, in full-step increments (six steps). Manual (red LED) mode is mandatory when the flash is hard-wire synced to the camera. You can also remotely slave the flash in this mode using a connected photo slave, infrared, or radio remote.
Now let's turn to the two manual wireless modes. SD (Slave Digital—green LED) means the flash will ignore the pre-flash when you set the master dedicated flash to TTL operation. The SF (Slave Film—blue LED) setting operates as a traditional slave sync when triggered by any non-TTL flash burst (studio strobe or shoe-mount strobe). I tested each mode (as prescribed) using a Nikon SB-900 seated in the camera's hot shoe and the remote 622 Mark II synced properly to the triggering burst each time. What's more, output from the combination of flashes contributes to the exposure, unless you minimize the triggering burst so that its contribution is negligible.
Mini-Peppers In A Cup: Two TTL Wireless Remotes
In Operation
The Di622 Mark II worked seamlessly with my Nikon D300. When zooming the Nikon 18-200mm VR lens in or out, the flash head automatically adjusts, although in discrete steps, rather than continuously. In practice, this did not noticeably affect performance, with one notable exception, namely when engaging the diffusion panel. When the lens was set to a focal length shorter than around 24mm, the zoom head did not auto-adjust to a wider position, resulting in vignetting. I should also add that this flash does not support auto-adjustment for the sensor.
The flash normally enters sleep/standby after a prescribed period of inactivity (programmed at the factory), thereby preserving the batteries. Press a button on the camera or the flash and the flash awakens. Moreover, with the flash in TTL or Manual (red LED) mode, shutting down the camera initializes naptime. However, the flash does not go to sleep in TTL wireless mode. Beyond that, 30 minutes of inactivity in TTL or Manual mode shuts the flash off, while it takes 60 minutes in any wireless mode.
My pet peeve: the flash re-initializes all user settings when turned off and back on (except for the My TTL Setting). So, if you've worked hard to establish lighting ratios between two remote Mark II units, make sure not to switch either flash off. However, EV adjustments remain in place while you switch modes or when the unit enters standby.
The responsiveness and consistency of the Nissin Di622 Mark II, on and off camera, impressed me, while color balance was a tad on the cool side. Granted, I would have preferred being able to set each of the two units I worked with separately, as Group A and Group B, so I could more easily control output on each in a multi-flash setup, but I made do. In one shot I even used both shoe-mount flashes plus the camera's built-in flash (which acted both as fill and controller). I further adjusted light output on the two flash heads by varying flash-to-subject distance and with the use of different light modifiers. One thing I should point out: don't mount heavy accessories on the flash head when in a raised position—the Di622 Mark II lacks a locking mechanism and gravity may take its toll if the flash is jarred suddenly.
Unless I really needed all the additional features found in Nissin's top-of-the-line Di866, I'd opt for the new Di622 Mark II. And the price is a respectable $229, about two-thirds the price of the larger unit with less than one-third the complexity. While the 622 Mark II may not offer all the bells and whistles of an OEM speedlight, it still proved itself a very capable TTL shoe-mount flash.
For more information and a full list of technical specifications, visit Nissin's website at: www.nissindigital.com.