Nikon's D70 D-SLR
A Smooth Transition To The Digital Realm Page 2
1

2

3

(1) The range of color and tonal value recorded by the D70 in this scene in New York's Bryant Park were impressive. The 3D Color Matrix Meter can be trusted under most lighting conditions--this one was fairly complex, made with shutter-priority exposure mode in JPEG Fine format. The JPEG compression is a bit under 7:1 at the Fine setting, fairly high, but saving as TIFF right after editing limits the loss.
(2 and 3) We did note some tonal "flatness" on the highlight side on some images, almost all of which were made in Adobe RGB. In other words, when the image was opened the highlight indicator on the histogram did not fill the gamut. This is not, to us, a bad thing, as this resulted in well-textured highlights and gave us the option of just moving the slider over to fill the gamut. This is a boon for street work, where careful readings are not always possible. Some cameras always deliver full gamuts, and sometimes the practical result is losing control of highlights. When we opened this image the bright white area in the background was flat (see Levels histogram) but pushing the highlight slider to the left a bit gave a perfect highlight rendition.
Features Of Note
Other features worthy of mention include a depth of field preview; the ability to input up to 36 characters to be stored in the EXIF header, which "travels" with the image during download; and FAT 32 compatibility, which means it can handle the highest capacity CompactFlash cards available today, including Lexar 4GB cards. And the D70 is designed to fully exploit Lexar's WA (Write Acceleration) technology, for pretty fast write and download speed. For those who like to print directly from the camera, the D70 works with all PictBridge compatible printers. It can also be used with the Nikon ML-L3 remote, great for long exposures and candid photography. Along with the D70 comes the newest DX-Nikkor lens, the AF-S DX Zoom Nikkor 18-70mm IF-ED (28-105mm equivalent), which we used in our test shoots, and a new Speedlight, the SB-600, which when used with the built-in Speedlight on the D70 offers wireless TTL functionality. Many kits offered will have the 18-70mm as the stock lens.
In The Field
We worked with the Nikon D70 on the streets of New York City and made images that were in tune with what we'd shoot with any SLR--candid and fast. Unlike digicams, where shutter lag holds you back, or high-end digicams, where EVFs (electronic viewfinders) sometimes make composing a chore, this is a camera that lets your shooting instincts guide you without getting in the way. For those who've worked with digicams and are looking to step up this is a profound change in terms of "connectedness" with your vision. One change you'll notice right away is that the LCD cannot be used for viewing for composition, and it's strictly a Review device. But in the bright light of a New York summer there's often little point of composing through the LCD anyway. All in all, those used to even higher end digicams will find the D70 a welcome change.

Perhaps the most important thing for SLR shooters these days is the ease of working in the field--the ability to change settings on the fly without having to dig through sometimes-obscure menus. True, the D70 has many, many options that sit within the menu, including things like sharpness and saturation, but just about every field shooting change you'd want to make can be accomplished right on the camera body. It's as easy to change exposure modes, AF options, and metering patterns as it is on any film SLR. Yes, you can change those "photo" options easily on the D70, but you also have similar ease of access right on the camera body to "digital" options, including ISO, White Balance, and Quality settings (resolution and file format). And, if you desire, there's a very N80 feature, the On-Demand Grid Lines for those seeking Rule of Thirds and horizon line guidance.

We shot JPEG at the lowest compression ratio and NEF files, the latter being the choice when we wanted to work with 12 bit and not have parameters embedded in the image file, but in truth we got well-exposed
and very sharp images from both file formats. (By the way, the debate of raw format vs. high-res, low compression JPEG will not be settled here, but clearly raw files contain more information. On the other hand, it always depends on what you want to do with the images later and how much time you're willing to spend processing those raw files. At first enamored with raw, we find more and more that quality JPEG images are often good enough for what we want from a particular shot or scene.)

On review, the images shown on the LCD screen display flashing bits of the scene if we were overexposed (the bane of digital images) and/or a histogram of the image file, helpful for overall image evaluation. It can also read out all the image information you could desire. This sort of feedback allows you to reconsider exposure, and sometimes composition, to help solve problems that might ordinarily only become apparent when you open the image on your computer screen later. You can zoom in up to 4.7x on the LCD for fairly critical inspection of images, as well as set the playback to run a slide show to pass the time over a fresh cup of coffee between shooting sessions.
4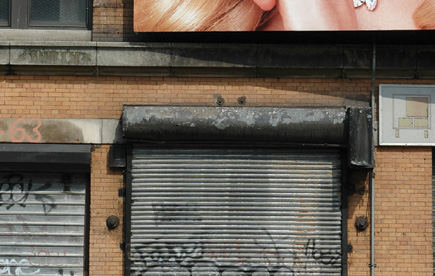 5
(4 and 5) The D70's 3D Color Matrix Meter and the accompanying AF-S Nikkor 18-70mm f/3.5-4.5G ED lens performed very well when it came to sharpness, exposure, color fidelity, and control of highlights. This billboard and building were photographed at the 70mm setting (about 105mm equivalent) using raw (Nikon NEF) format. After conversion, a section of the building was enlarged to 5x7 with no sharpening. The details on the "riot gate" and bricks tell the tale.

Any criticisms? While the LCD viewer offers many options, it is a bit small to be a practical judge of overall image quality, especially when you're trying to read the fine print of the image characteristics. I guess we've become spoiled by the large LCDs found even on digicams these days. We kept the LCD's protective cover on to prevent scratching when we tossed the camera in and out of our camera bag while shooting (this is New York) and this sure didn't help the LCD visibility in bright light. And, while the command dial on the back of the camera protrudes enough to be operable, the one on the front seems a bit more recessed than we'd like. No doubt designed to prevent accidental changes, we'd still like to have it more accessible. And the included PictureProject software had us heading straight for ACDSee and Adobe Photoshop CS. We're strictly card reader downloaders, so can't comment on the file transfer speed from camera to computer. But one thing we can't complain about is battery life. One charge on the lithium ion battery allowed us to work an entire week straight without worry about losing power, even when shooting with flash.

At a $999 street price (body only), the D70 represents an excellent transition to digital for those who already own Nikkor optics and Nikon accessories. They should find the way smooth. For those who have been tempted by a digital SLR and don't have the investment in glass, the D70 opens the door to a very extensive and world-famous brand that has always taken a full-system approach to their line, which this camera folds into neatly. And anyone stepping up from a digicam will find the digital SLR experiencea revelation.
Technical Specifications
Effective Pixels: 6.1 million
Image Sensor: RGB CCD, 23.7x15.6mm; total pixels: 6.24 million
Sensitivity: 200-1600 (ISO equivalent) in steps of 1/3 EV
Storage Media: CompactFlash Card (Type I and II) and Microdrive
LCD Monitor: 1.8", 130,000 -dot, low-temperature polysilicon TFT LCD with brightness adjustment
Picture Angle: Equivalent in 35mm [135] format is approx. 1.5 times lens focal length
Shutter: Combined mechanical and CCD electronic shutter, 30 to 1/8000 sec in steps of 1/3 or 1/2 EV, bulb
Autoexposure Bracketing: Two or three frames ±2 EV in 1/3 or 1/2 steps
Built-In Speedlight: Auto flash with auto pop-up[P], [S], [A], [M]: manual pop-up with button release Guide number (ISO 200/ISO 100, meters): approx. 15/11 (manual full 17/12)
Dimensions (WxHxD): Approx. 5.5x4.4x3.1"
Weight: Approx. 21 oz without battery, memory card, body cap, or monitor cover
Price: Body only, list $1099 (street approx. $999)

For more information, visit Nikon's website at: www.nikonusa.com.

LATEST VIDEO

SPONSORED VIDEO