Nikon's D70 D-SLR
A Smooth Transition To The Digital Realm
All Photos © 2004, George Schaub, All Rights Reserved
After having spent a few weeks with the Nikon D70, and teaching at workshops where students arrived with the camera fresh out of the box, it's clear that Nikon has fashioned a camera that will appeal to both those new to digital SLR photography and those already converted eager to use their Nikkor lenses from their film SLRs on this new digital body. With a 6.1 (effective) megapixel chip and the ability to shoot in JPEG at various resolution levels, raw (Nikon's 12-bit NEF), and JPEG Basic plus raw (look Ma, no TIFF), the D70 design strikes a very good balance between camera and digital controls. Indeed, anyone who has worked with a recent Nikon SLR will be on familiar ground with this camera. In addition, those digital controls most often used are accessible from the camera body itself, a very good thing when you take this camera into the field. If the aim was to create a cozy comfort level for those making the switch, Nikon has succeeded.


While the lens we worked with is of the new DX breed (providing an image circle that covers less than a 35mm frame, thus not useable on film SLRs, but just right for the D70 sensor) the D70 comes with the benefit of Nikkor F-mount lens line compatibility, although AI and AI-S lenses will not work with the metering system. The D70 sports i-TTL built-in flash control and new software, PictureProject--Nikon's Capture 4.1 (optional, plus $99) editing software can also be used. The quite lightweight camera body features a high eye-point optical viewfinder and an LCD monitor. There's no perceptible lag when you're ready to shoot and after the shot images pop right up on the screen. Speed of response is aided by Nikon's new five-area Multi-CAM900 AF system, with capture speed of up to 12 JPEG Fine/Large images at 3 frames per second.
Image Quality
At the heart of the D70 is Nikon's Large Scale Integrated Circuit (LSI), which controls Auto White Balance, Auto Tone Control, and Auto Color Control with real-time processes that also have the benefit of diminishing digital "noise" common in long-time exposures. The D70 offers three TTL autoexposure modes, including Nikon's 3D Color Matrix Meter with its 1005-pixel RGB sensor, and Center-Weighted and Spot. The default ISO is 200, but you can easily change sensitivity in the field using the on-body ISO button and turning the command dial for speeds up to ISO 1600. Shutter speeds range from 30 seconds to 1/8000 sec, with 1/500 sec flash sync speed available, and there's easy access to autoexposure bracketing as well.

The Auto White Balance and Auto Tone Control offer the ability to customize the "look" of an image, as does the choice of three color "spaces"--sRGB, Adobe RGB, and the so-called "Landscape sRGB," for higher color saturation than standard sRGB. Most folks recommend Adobe RGB for those images you might want to print, but in fact we found sRGB works just fine. The Landscape sRGB is just too juicy for most shots, and frankly we preferto do our color saturation in Photoshop, thank you.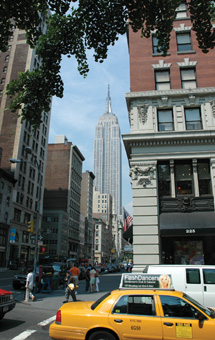 The range of tonal values the D70 can record is quite impressive, making spontaneous shooting--the forte of an SLR--rewarding and easy. Despite the usual summer smog up Fifth Avenue, all the values here came in without any selection of dodging or burning work.
The Digital Advantage
While the standard aperture and shutter-priority, manual, and program exposure modes are available, Nikon has created seven new Digital Vari-Programs (DVP) that take Scene modes to a new level. Not only do they set up aperture and shutter speed for scenarios such as sports, portraits, etc. (like the Vari-Programs or Scene modes in amateur SLRs and point and-shoot cameras), they add a digital twist by extending the programming into the image processor. Now, you might find that these work for you or that they don't, and keep in mind that any Scene mode operation is only an opinion about how images should look. But they're fun to try and can help you if you are stymied about settings.

These DVPs now incorporate white balance, sharpening, tone, color saturation, and hue instructions tailored to individual DVP selections. For example, Portrait DVP delivers the usual shallow depth of field of a Portrait scene mode, but adds processing for enhancing skin tone and texture. Each of the DVP selections, including Landscape, Sports, Night Portrait, and Night Landscape, offer specific image parameters designed to optimize and match the subject and scene. Like we said, it's the program's opinion and you should take them for what they're worth. It's an impressive piece of engineering, but, for those who know how to attain image effects without such modes and who want to add them in software later, they are for the most part digital candy that may or may not be sweet to your taste.

LATEST VIDEO

SPONSORED VIDEO