Nikon Announces 24.3MP Full-Frame D750 DSLR, Nikkor 20mm F/1.8 ED Lens, and SB-500 Speedlight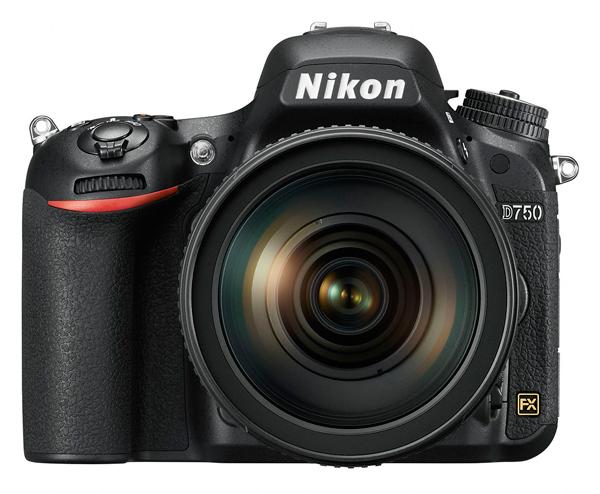 Nikon filled out its full-frame digital SLR line this morning in announcing the new D750, which uses a 24.3-megapixel FX-format sensor. Nikon also announced two new photo accessories this morning: the AF-S Nikkor 20mm f/1.8G ED lens and the SB-500 Speedlight flash. All three products will go on sale on September 25th.
We got some hands-on time with a prototype of the Nikon D750 and shot several dozen photos of the new DSLR camera but Nikon later told Shutterbug that we would not be not permitted to run the product images. (It was not explained why.) Included with this story are product images supplied by Nikon. (Editor's Note: As with seemingly all major photo gear in recent years, news and info about the Nikon D750 has leaked out ahead of this morning's launch, and Nikon's reluctance to let us run product photos they initially approved seems to be in reaction to those leaks.)
The Nikon D750 will sell for $2,299, body only. There will also be a kit lens option for the D750, which will come with the 24-120mm VR kit lens, but pricing for this package had not been announced at press time. The Nikon D750 will slot between the 24.3MP D610 "entry-level" full frame camera ($1,999.95) and the pro-level 36.3MP Nikon D810 ($3,299) and it's specifications are pretty much where you'd expect: nestled closely between those two models. In our brief time with the camera, it also feels like mid-tier, full-frame DSLR that sticks to the "Goldilocks principle" of new products: i.e. not too big and not too small.
The choice of the full frame sensor in the D750 also doesn't seem to take too many risks. While Nikon says it's a "newly designed" CMOS chip, the 24.3MP of resolution is the same as in the D610 and it comes equipped with a low pass optical filter. (The D810, on the other hand, has no low pass filter, in an effort to increase resolution, sharpness, and dynamic range.)
Here's a rundown of the key specs on the D750 which, in model name at least, is a follow-up to the Nikon D700 from way back in 2008:
• Advanced Multi-Cam 3500-FX II, 51-point AF focus system
• AF system uses 15 cross-type AF sensors with 11 cross-type sensors that are functional up to f/8.
• AF system can lock on to subjects in as little as -3 EV illumination, which Nikon says is a first for its DSLRs.
• 3D Color Matrix Meter III
• 6.5 frames per second shooting speed in either FX (full-frame) or DX (cropped) formats
• Along with normal, wide area, face priority and subject tracking AF modes, the D750 also features the new Group Area AF mode
• 3.2-inch, tilting, vari-angle LCD screen with 1229K-dots of resolution. (This is Nikon's first full-frame DSLR with a tilting screen.)
• EXPEED 4 image processor
• Dual SD Card Slots
• ISO range of 100-12,800 that's expandable to (Lo-1) 50 to (Hi-2) 51,200.
• Highlight Weighted Metering feature that's designed to prevent blown-out highlights in photos and video, such as when shooting a stage performance
• Same video features as the D810: full 1080p HD (1920x1080 resolution) at 60/30/24p, Power Aperture feature, headphone and microphone jacks, Zebra stripes to spot overexposed areas, as well as the ability to select frequency ranges for the internal stereo microphone.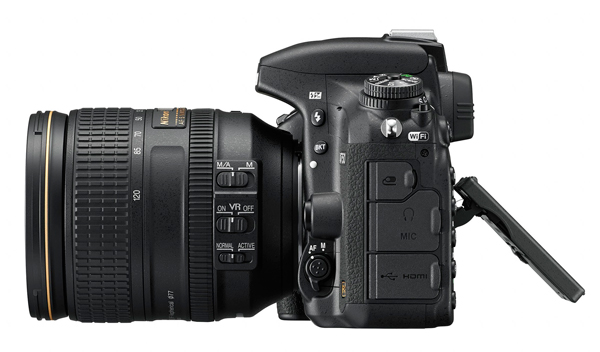 In our time handling the D750 prototype, Nikon made a big deal in emphasizing the DSLR's "monocoque" camera build, which uses carbon fiber for the front body and cover and magnesium alloy for the rear cover and top cover. While it didn't feel unusually lightweight, it was sturdy but not hefty, balanced and ergonomic: more like a pro DSLR than the D610. (According to Nikon, the D750 is actually 750 grams lighter than the D610 and 10mm narrower, which was sort of surprising to hear.)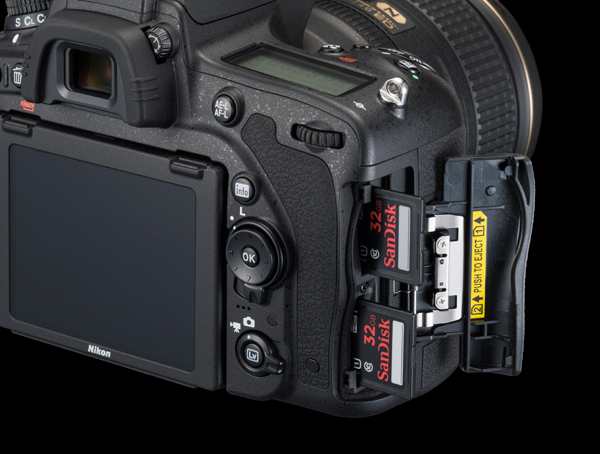 The D750 is gasketed and sealed to prevent dust and moisture and the shutter is rated at 150,000 cycles. It's viewfinder offers 100% frame coverage and the camera has built-in WiFi.
AF-S NIKKOR 20mm f/1.8G ED Lens
The AF-S NIKKOR 20mm f/1.8G ED lens, which will sell for $799.95, offers a 94-degree angle on a full-frame (FX) camera and is designed for landscape, architecture, street photography and wide-angle photojournalistic work. The lens is designed to be extremely quiet with fast autofocus from an internal focusing design. It features Nikon's Nano Crystal Coat, which is designed to reduce ghosting and flare in images.
SB-500 Speedlight
The SB-500 Speedlight is a compact little flash that doubles as an LED video light, offering a wide 16mm/24mm range of coverage. It will sell for $249.95. Controls on the SB-500 are simplified, but you still get full control over illumination. The SB-500's head offers a 90-degree vertical swivel to help you bounce light off ceilings. It also rotates 180 degrees. For remote lighting, the SB-500 Speedlight can be used with a CLS system with two-group/two-channel control. The LED light offers 100 lux of illumination and can be operated independently. The SB-500 Speedlight is powered by two AA batteries.

FEATURED VIDEO