Nikon AF-S 300mm f/2.8 Lens and TC-20E III Teleconverter
Nikon Inc. has announced two new NIKKOR optics: a fast aperture AF-S NIKKOR 300mm f/2.8G ED VR II super telephoto lens and AF-S Teleconverter TC-20E III.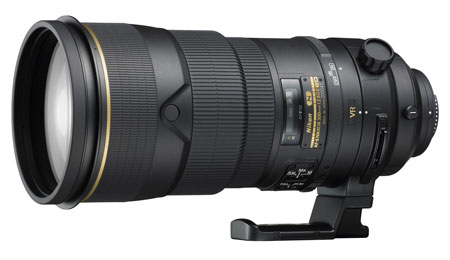 Continued refinements and new technologies such as Vibration Reduction (VR) II and optimized autofocus (AF) modes in the lens enhance functionality and improve performance for discerning FX and DX-format digital SLR photographers. The new 300mm lens effectively leverages a host of Nikon core technologies, including Nikon VR II image stabilization, specifically engineered for each lens design for maximum performance. This professional lens is constructed of die-cast magnesium for maximum durability and is strategically sealed to resist dust and moisture, with protective Meniscus glass to safeguard the lens' front element. The optical formula features three Extra-low Dispersion (ED) glass elements for superior sharpness, color and image quality, while minimizing chromatic aberration. The lens also features Nikon's exclusive Silent Wave Motor (SWM) technology. Nikon's exclusive Nano Crystal Coat prevents instances of ghosting and flare for even greater image clarity.
The AF-S 300mm f/2.8 lens features a host of professional focusing features that further enhance functionality. Photographers can now select from three focus modes to match shooting conditions, including manual mode (M) and autofocus with manual priority (M/A) mode, and the new A/M mode. The A/M mode enhances AF control with fast, secure switching from automatic and manual focus to adapt to personal shooting preference and techniques. Additionally, users can also activate the AF Recall Mode at the press of a button that allows for instant return to a predetermined point of focus to capture anticipated shots confidently.
Nikon's professional grade teleconverters, including the new AF-S TC-20E III are ideal companions to the new NIKKOR 300mm f/2.8 and other select lenses to create an affordable and portable gateway to extended telephoto photography. The new TC-20E III effectively doubles the focal length of select lenses, and is the world's first teleconverter to feature an aspherical element to virtually eliminate coma and other aberrations even at wide apertures.
The AF-S NIKKOR 300mm f/2.8G ED VR II lens is scheduled to be available at Nikon authorized dealers with an estimated selling price of $5,899.95. The Nikon AF-S Teleconverter TC-20E III will be available for estimated selling price of $499.95. Availability of both products is scheduled to begin in January, 2010. For more information, please visit www.nikonusa.com.

LATEST VIDEO