nik multimedia's Color Efex Pro 2.0; …With A Focus On B&W Effects Page 2
"I started with a broad range of different effects which I got from old photographs that were from between 1880 and 1910," Kokemohr said. "In doing so, I concentrated less on different techniques and more on different styles of old photographers."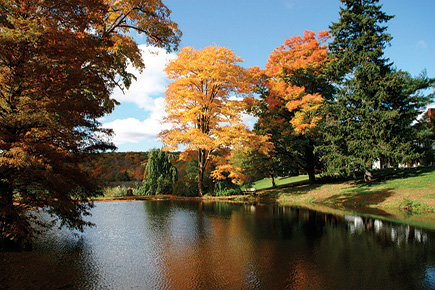 Image of trees at Ringwood Manor State Park in New Jersey (no filter).
All Photos © 2005, Jon Sienkiewicz, All Rights Reserved
Each quarter of the image was processed with the Spectrum slider set to a different position.
Image of trees using nik's Infrared: Black and White filter at default setting and option "x."
Infrared: Black And White
There are four Basic Controls that can be applied to the Infrared: Black and White filter. There are three sliders labeled Brightness, Contrast, and Lighten Highlights, and a drop-down menu that includes four infrared methods.

"Basically, Methods 1 and 2 are `robust,' that is they always create reliable results, even on poor images (JPEG compression, bad light)," Kokemohr explained. "However, on some images that aren't compressed and that are `good' nature shots, the Methods 3 and 4 can create an even better infrared look, resulting in the typical unnatural contrasts that are only found in infrared photography."
Image of trees processed with nik's Paper Toner filter.
Paper Toner
Similar to above, the Paper Toner filter offers eight options and a slider that controls the Strength for each. This provides a variety of techniques that differ not only in the color used but also in the distribution of saturation, particularly in the shadows.
User interface for Paper Toner filter.
Duplex: Monochrome
Sliders control the Color, Diffusion, Saturation, and Contrast of the Duplex: Monochrome filter, making it one of the most interesting filters of all. Adjustment of these four parameters gives the user nearly infinite control over the output image and enables the creation of everything from high-key portraits to moody monochromes.

The nik multimedia Color Efex Pro 2.0 filters do much more than black and white conversions and effects, of course, and in every instance the user gets the highest quality results while exercising maximum control. The effects are replicable and can be applied to different images to obtain results that are consistent and professional looking. The Complete Edition, which consists of 75 traditional and stylizing filters, has a list price of $299. Smaller configurations are available also. If you were limited to just one set of filters for Photoshop, Color Efex Pro would be your best choice.
Original image (no filter).
Monochrome filter at default settings.
For more information, contact nik multimedia, Inc., 7588 Metropolitan Dr., San Diego, CA 92108; (619) 725-3150; www.nikmultimedia.com.

LATEST VIDEO

SPONSORED VIDEO