A New Year And A New Start; Featuring More Readers' Websites This Year! Page 2
www.blackwoodphoto.com
Peter Blackwood is a photographer who lives in and photographs my favorite part of the U.S.A., the Finger Lakes region of upstate New York. His no-nonsense site includes images made there along with trips to the Adirondacks, Florida, and the Southwest. Blackwood's photographs are collected in four galleries, including "New Images," "Animals," "Landscapes and Plants," and "The West." There's also a gallery collecting the images displayed at five different library exhibits. I suggest you start with "New Images" because the photos it contains represent a microcosm of Blackwood's interests, including a wonderful astrophotograph ("Canyon Milky Way"), landscape ("Forked Lake Sunset"), and delicate flowers ("Mimosa Flower"). "The West" gallery contains four additional sets, including one for Bryce Canyon that features an image of the canyon made by moonlight, so he's not afraid to work hard for his shots. The same can be said for his image of a rainbow over the canyon at dusk that, like the rest of Blackwood's photographs, features deeply saturated colors (although there are a few monochrome shots), strong composition, and care and passion for his craft. The big surprise is the variety and quality of the images in his themed library exhibits and is yet another good reason to visit your local library (see the December 2009 issue of Shutterbug). Blackwood's site is powered by Gallery (
http://gallery.menalto.com
), an open source web-based photo album organizer.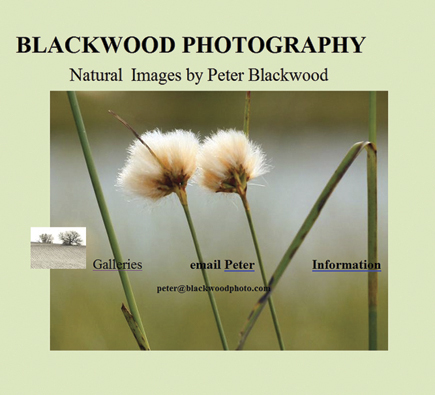 © 2009, Peter Blackwood, All Rights Reserved
www.doloresfrank.com
The final Reader's Homepage this month is from Californian Delores Frank, a retired pharmaceutical consultant and a gifted photographer. Her site is powered by the Artist Presentations Community (http://artistpresentations.com) and contains nine collections, a list of her exhibits, and blog. The collections are subject based and I started with "Favorites" to get a sense of what Frank likes to photograph and was impressed by her cool professionalism. For openers, her architectural photography exudes a sense of space along with a strong sense of design and color. Frank's flower images are subtle and delicate and are more than just pictures of plants but design exercises where she applies the same strong skills that she does to buildings, an exciting concept to be sure. There are no photographs of people anywhere so I hopped over to her "Venice" collection only to find photographs of people during Carnival—wearing masks! Frank portrays these masked denizens in luxurious backgrounds, beautifully combining place and, not surprisingly, architecture, creating truly magical images. For a change of pace, I bounced over to her "Iceland" collection to see Frank's deft handling of landscape and wildlife with the drama of her stark, cool fjords balanced against whimsical images of puffins. Frank is clearly someone who takes photography seriously and her captivating images—be sure to look at all the collections—are not to be missed.
© 2009, Delores Frank, All Rights Reserved

LATEST VIDEO

SPONSORED VIDEO
Testing Tamron's SP 150-60mm G2 lens while capturing birds and alligators in Apalachicola, Florida.