New Vistas For My New iMac; A Delicious Assortment Of Utilities And Digital Goodies Page 2
Your Toast Is Ready
While I was setting up the iMac, I decided to add a second optical drive to my Mac Pro. Other World Computing sells one for $30 and installation is literally plug-and-play, although you have to snap the front fascia from the sliding CD tray to make it fit through the Mac Pro's optical drive slot. No biggie, though. The nest step was installing Toast 9 Titanium from Roxio (www.roxio.com), the best ever CD/DVD burning software. One new feature I really like is the option of avoiding splitting a file across two discs when burning multiple discs, something that can create unpleasant surprises for people who you send/give the disc. Some users just don't know what to do with it; now you have the option of not splitting files. Keep that option checked!

Toast's other disc burning options include Blu-ray and the now dead-on-arrival HD DVD media. It also has lots of new features, including compressing, copying, and converting video for viewing on those ubiquitous mobile devices. For example, Toast 9 lets you trim unwanted segments, capture streaming audio from any source, even automatically add title, artist, and other tags, and then enjoy it on your iPod.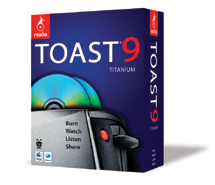 Keeping It Clean
La Fresh's Tech Pack (http://lafreshgroup.com) is a compact mini travel bag that contains individual towelettes for keeping all of your digital gadgets clean while on the road. They're great for glasses, screens, lenses, telescopes, cameras, PDAs, cell phones, or laptops and there's no need for a liquid cleaner or separate applicator cloth. The La Fresh Tech Pack includes four Wet & Dry Dual Action Screen Cleaning towelette packets, three Lens Cleaning towelette packets, and three Anti-Bacterial towelette packets. All of the towelettes are biodegradable! The Tech Pack is travel friendly and meets TSA regulations so they can be carried onboard a plane for your next trip. Tech Pack is the perfect size for your camera bag and costs less than $10.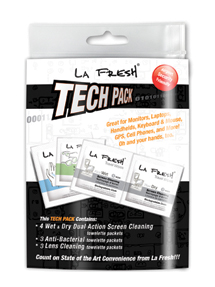 Vista Screen Grabs
The best-in-class Windows screen capture software has always been TechSmith's (www.techsmith.com) SnagIt and I've been happily using it since 1991. SnagIt 9 features major improvements, including multi-image capabilities, a new media library, visual search pane, and user interface. SnagIt 9's multi-image capability lets you capture, edit, and share multiple images in any order or all at once, without workflow constraints. The media library offers a flexible image-editing environment because every screen capture is automatically saved and made available for when you want to edit and share via e-mail or FTP. You can even print multiple images at the same time. SnagIt 9's visual search pane lets you find and view images, videos, and text captures by date, folder, keywords, or even by application or the website. New custom tagging options allow users to prioritize, flag, and tag image files using captured words. All this is wrapped around a sleek user interface that lets you find the commands you want faster, apply edits quicker, and with the most used tools placed front and center.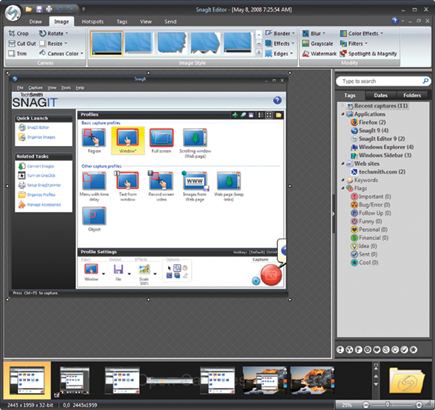 LATEST VIDEO

SPONSORED VIDEO