New Tools For Enhanced Imaging Page 2
Got noise? Imagenomic's (www.imagenomic.com) Noiseware 4 includes support for dual-core processors, effectively doubling the single-core processing speed. This Photoshop compatible plug-in accelerates noise correction to an average of 1 megapixel per second for 16-bit images. Noiseware 4's self-learning mechanism automatically calibrates a precision noise profile and chooses the optimal noise removal settings for each processed image with no need for camera-specific profiles. This latest version allows detected noise levels, as well as noise suppression levels, to be adjusted by tonal and color ranges.
Corel Corporation (www.corel.com) unveiled the Painter IX.5 update adding support for Rosetta, enabling users to run Painter on the new Intel-based Apple hardware. Corel's Painter IX.5 is available now as a free download to registered Corel Painter IX customers. New enhancements, including Underpainting, Auto-Painting, and Restoration, work together to help users kick-start the process of creating a hand-painted artwork from a photograph. Rosetta support for Intel-based Macs also includes compatibility with Wacom pen tablets, including the Intuos3 and 6D Art Pen.

Corel Corporation also announced a partnership with Lexar Media, Inc. (www.lexar.com) to provide customers with an automated solution for transforming photos downloaded from a memory card. Corel's Paint Shop Pro X and Corel's Photo Album 6 software now support Lexar's ActiveMemory System (AMS)-enabled memory cards for digital cameras. By storing their Paint Shop Pro X automation script on a Lexar AMS-enabled flash memory card, customers can download and preprocess their photos in a single, seamless process. See Jon Canfield's PMA coverage in the June 2006 issue for more details on happenings in the world of memory cards.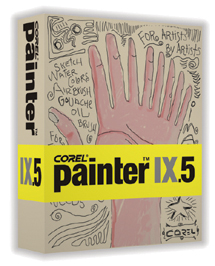 Logitech (www.logitech.com) introduced its NuLOOQ Professional Series that consists of the NuLOOQ navigator hardware device and the NuLOOQ tooldial software, a customizable menu that appears at the end of your cursor on demand. The NuLOOQ navigator is an elegant control device that complements your mouse and keyboard; while NuLOOQ tooldial is a customizable software interface that simplifies day-to-day workflow. Together or separately, they work to improve control and creativity. Navigator and tooldial currently work with Adobe's Creative Suite 2 versions of Photoshop, Illustrator, and InDesign. It's not a mouse replacement and gives your left hand something to do, or right hand if you're a southpaw. Navigator has the feel of a precision instrument that has customizable "triggerpoints." Tap the triggerpoints to simulate commonly used keystrokes, keyboard shortcuts, or even launch NuLOOQ tooldials. I predict that these two tools will shortly become the de facto standard for creative professionals. Currently the software is Mac OS only but a Windows version is planned.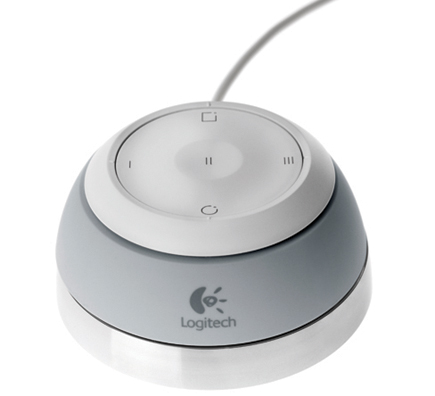 Lost your photos? Lost your mind? Try PhotoRecovery (www.lc-tech.com) to recover images, movies, and sound files from all types of digital media. It's compatible with Memory Sticks, SmartMedia, CompactFlash I and II, Microdrives, Secure Digital/xD cards, multimedia chips, floppy disks, and most other forms of digital film. Simply insert your digital film into the reader, run PhotoRecovery on the media, and then save the pictures off to another location--hard drive or recordable media. PhotoRecovery also lets you create a back-up image of your card, and allows recovery from your backup!
Separated At Birth?
By now you've probably heard about Adobe's Lightroom. Lightroom (http://labs.macromedia.com/technologies/lightroom) consists of four modules: When you launch Lightroom it opens in Library module for photo management. There's even a digital loupe to check sharpness and a comparison feature that lets you select the best shot and assign a rating to your faves. Lightroom supports more than 100 camera raw file formats, DNG, TIFF, and JPEG. After importing your photos, they're placed into a "Shoot" and displayed on the left panel.

The Library module includes a Quick Develop palette that lets you make minor corrections on color balance, brightness, and contrast along with a Convert Photograph to Grayscale that's a lot better than what's built into Photoshop. If you want to add effects or tweak the image file in more depth, click into the Develop module where you can perform image adjustments, which unlike Photoshop includes some built-in image tweaks.

A Slideshow module enables you to create slide shows for on-screen viewing and exporting, and includes an interface with controls that let you create slick presentations as good as PowerPoint and easier to assemble. The Print module provides many ways to set up your output, offering a set of templates as well as control palettes that exceed Photoshop's built-in capabilities. So far so good, but what about its twin?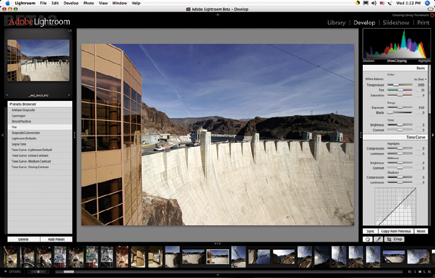 What twin you ask? ExpressDigital's (www.expressdigital.com) Darkroom uses a modular approach to help photographers capture, manage, and enhance their images. It's available in three versions: Core, Pro, and Assembly. Darkroom is designed for the pro specializing in portrait, wedding, sports, or event photography. It has the expected ability for one-click editing and enhancement and lets you post and sell photos online with PhotoReflect.com. The Pro version adds features such as a template builder, green screen shooting, on-screen presentation modes, direct capture, color management, network capabilities, and more. You can also send orders electronically to professional photo labs.

As you can see, the programs are different in their approach to imaging but have an interface whose similarity is nevertheless striking. Lightroom is currently Mac OS only but will be cross platform when it ships later this year. Darkroom is Windows only. Speaking for Mac OS users everywhere, it's a shame.
Manufacturers/Distributors' addresses can be found online at: www.shutterbug.com/manufacturers.

LATEST VIDEO

SPONSORED VIDEO
Testing Tamron's SP 150-60mm G2 lens while capturing birds and alligators in Apalachicola, Florida.