New Tools For Enhanced Imaging
Many new software products are breaking new ground for digital photographers. In case you might wonder what more anybody could do with digital imaging software, the recent crop shown at PMA 2006 answers that question with a combination of innovative, practical, and fun products from diverse sources.
Windows Software
VicMan's (www.vicman.net) Photo Toolkit integrates directly into the Microsoft Windows operating system and provides access to many editing options. These include the ability to fix redeye, correct colors, remove artifacts, create caricatures, and add lighting effects, all with just a couple of clicks. The big advantage of using Photo Toolkit is you can edit and enhance your photos while viewing them in Windows Explorer or Windows Picture and Fax Viewer. Photo Toolkit costs $19.95 and can also be used as a stand-alone application. You can download a free trial on their website that will edit up to 10 images. While at the VicMan site, you might want to take a look at their clever Photo Editor 7.9; it's free!
MemoryMixer from Lasting Impressions (www.memory mixer.com) is a digital scrapbooking product that lets you combine photographs, video, music, graphics, narration, and even scanned memorabilia, such as report cards, diplomas, and drawings, into a single, multimedia experience. MemoryMixer files can be output to DVD, CD, hardbound book, or paper, to which traditional scrapbook elements like brads, buttons, and bows can be added. You can make the process easy or customize it to suit your leisure time.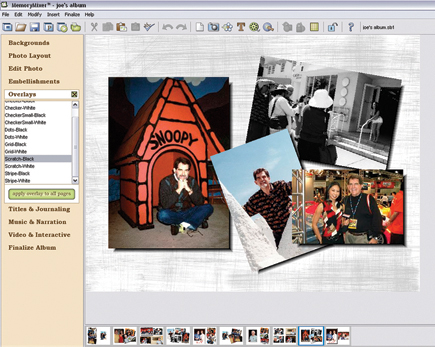 Bellamax's (www.bellamax.com) UpShot is aimed at the photo hobbyist and includes one-click automatic correction tools, an intuitive user interface, along with embedded tutorials. Fast Fix analyzes the photo and does segment correction for skin tone, sky, foliage, and other memory colors to optimize the photo. Most redeye is automatically removed with Fast Fix. UpShot's editing tools allow hobbyists to make adjustments from cropping and straightening to enhancements like color, brightness, and saturation. There is also a suite of cosmetic tools for correcting skin tones, blemishes, and wrinkles, and even a tool to whiten teeth. UpShot provides seamless integration to photo-sharing websites such as Webshots, Flickr, Shutterfly, HP's Snapfish, SmugMug, Photobucket.com, ImageShack.us, and others. And now for the really good part: UpShot will be distributed via the Internet and offered free for the first three months of its release.
New and still in Alpha, a public beta may be available by the time you read this, Sharpcast Photos (www.sharpcast.com) is an image cataloger and management tool that includes mobile integration. As soon as you put your pictures into Sharpcast Photos, you can start seeing your entire collection from any other computer or your mobile phone. You can manage and edit your photos as if they were stored right there--without having to leave your home computer turned on. Instant backup is made when mobile phone pictures are automatically sent to your desktop and the web, allowing you to recreate your collection just as you left it.
In the too-cool-to-be-true category, you'll find ClickFrames (www.clickframes.com), a software package that lets you design and print custom frames--including the picture--using your inkjet or laser printer, making it easy to display and share your everyday photos. After printing, ClickFrames stand upright on a desk or can be folded to fit standard envelopes. The software included in the $14.99 all-in-one-kit contains clip art, photo-realistic frames, and hundreds of design elements. You can add logos, clip art, and lettering to any frame or photo.
Pixmantec's (www.pixmantec.com) RawShooter essentials 2006 and RawShooter premium 2006 1.0.2 offers many new features and is compatible with most digital SLRs, including the Nikon D200; Canon EOS 5D, EOS-1Ds Mark II, and EOS-1D Mark II N; Sony Cyber-shot DSC-R1; and other brands and models. RawShooter essentials 2006 continues as a free download. The update of RawShooter premium 2006 includes the ability to make side-by-side comparisons of similar images taken seconds apart. It has an Integrated Image Downloader that quickly transfers raw files from a card reader or other source to a target directory for instant viewing and color correction.

The Image Formatting Toolbox allows photographers to correct skewed horizons with "Horizon Straighten," rotate images as required and crop. Other features and functions include: Interpolation, Noise Suppression, Batch Renaming, and Vibrance and Color Balance Correction Tools. A FastProof feature quickly (approximately 1 second per raw file) produces low-resolution proofs for approval by clients or to just send some pictures to family and friends. FastProofHQ creates high-resolution, proof-sized TIFF and JPEG raw conversions in as fast as one file every 2 seconds.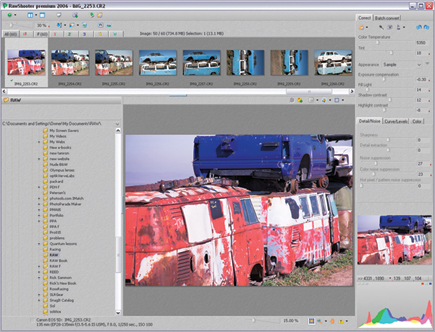 Muvee's (www.muvee.com) autoProducer 5 is a fast, easy, and fun way to combine video clips and still photographs into slick presentations. The latest version includes features such as magicSpot that provides more control over photo transitions. The autoProducer 5 software supports a wide variety of photo formats, including the ever-popular BMP, JPEG, GIF, and TIFF. It handles video formats, including MPEG1, MPEG2, WMV, AVI, DivX, and MOV (a.k.a. QuickTime). The program allows you to blend music and soundtracks and supports popular music formats such as WAV, MP3, WMA, and AAC audio. The autoProducer 5 software features integrated DVD authoring, allowing you to burn muvees onto VCD, SVCD, or DVD.
ArcSoft's (www.arcsoft.com) PhotoImpression 6 combines media management and search capabilities with tools for enhancing digital photos. It's designed for a wide range of users from beginners looking for an easy way to organize, print, and share their photos to experienced users who want a higher performance media manager. The newly designed interface supports video and music and lets you do image tagging, batch processing, as well as optimizing images for e-mailing. PhotoImpression 6 supports 48-bit TIFF image as well as raw image files.
Moon Valley's (www.moonvalley.com) Twisted Grille is a one of a kind Windows-only image editor with a built-in blogging client that lets you spice up your photos by adding hilarious clip art and other fun accessories to faces. Twisted Grille takes the trouble out of hosting and posting your personal creations on the web. After twisting your photos you can Auto Post blog them to your favorite blogging site such as MySpace (www.my space.com).
Mac OS And Cross Platform
While seemingly designed just for Nikon (www.nikonusa.com) users, Nikon's Capture NX software created by Nik Software (www.niksoftware.com) works with JPEG files from any camera and might just be a harbinger of things to come from the newly renamed Nik. Capture NX continues the raw (NEF) processing capabilities found in Nikon Capture 4.4 and combines these with Nik Software's U Point technology. Not just for NEFs (hint, hint), Capture NX also makes editing and processing of JPEG and TIFF files created by "virtually any digital camera" simple and easy. U Point technology enables edits of portions of an image, or an entire image, without manually masking the area. U Point technology uses "Control Points" that are digital zones that can be placed anywhere in an image and can be instructed to affect specific characteristics of the image.
LightZone from Light Crafts (www.lightcrafts.com) presents a new way to edit and correct digital photographs using light values and shapes. The program's ZoneFinder analyzes and displays an image in shapes and tonal values, just as Saint Ansel intended photographers to previsualize their finished prints. The ZoneMapper lets you adjust the light and tonal values of an image and set the optimal points for highlights and shadows, and to correct contrast. The StudioZone is an image viewer and file browser that lets photographers view, print, and publish their images using a "true digital negative format." An integrated raw converter provides a seamless transition from camera media to LightZone. Transformations are saved in a way that tells the application how to display or print the modified image, so you can create multiple versions of an image without duplicating files or using up large amounts of hard drive space. LightZone costs $249.95.
DxO Labs' (www.dxo.com) DxO Optics Pro Starter Edition is on sale for $79 via the company's e-store (http://store.dxo.com). It's specifically designed for advanced--non-SLR--digicams, including Sony's Cyber-shot DSC-H1, DSC-R1, and DSC-F828; Canon's PowerShot Pro S2 IS; Kodak's EasyShare P850; Olympus' SP-500; Nikon's Coolpix 8800; and Panasonic's DMC-FZ30. Additional camera support is expected be added in the future.

DxO Optics Pro Starter Edition automatically improves images by optimizing exposure and dynamic range to reveal shadow details, improving backlit images, and giving images more snap, crackle, and pop! It removes noise to the point where it seems to achieve a two-step ISO gain, plus fixes optical defects such as lens distortion, vignetting, chromatic aberrations, and (shades of the artist formerly known as Prince) purple fringing. Using Starter Edition is simple: Just drop images into the program and press Start, and let DxO Optics Pro automatically make all the image enhancements.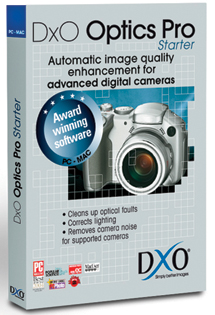 Bibble Labs' (www.bibblelabs.com) Bibble 4.6 Professional Workflow and RAW Conversion software is designed to maximize the quality of images captured from 70 of the most popular digital SLR and EVF cameras as well as most raw formats. Bibble 4.6 (it's named for the founder's cat) now includes PictureCode's Noise Ninja technology. Version 4.6 now runs natively on Intel-based Macintoshes. Users of Canon cameras will be pleased to find that while Bibble is the fastest way to convert their files, the new version is now 1-2 seconds faster per file. Bibble is available in Pro ($129) and Lite ($69) versions for Windows, Mac OS X, and Linux. You can download a fully functional 14-day trial version to try it yourself.
SeeFile (www.seefile.com) showed a major upgrade to their software package that's aimed at photographers, designers, and graphic arts shops looking for a way to promote their work and interact with customers on the Internet. New SeeFile 2.0 features include support for EXIF and IPTC headers as well Adobe Bridge/XMP metadata. A streamlined new user interface includes custom user interface "skins." The SeeFile 2.0 system costs $995, including hardware that gives you a web server on an affordable platform. Once plugged in, it provides instant web access for any images stored on the system.
Attention Digi-Mart shoppers, if you're looking for bargains, for a limited time only the awesome image management program iView MediaPro (www.iview-multimedia.com) and equally amazing Capture One PRO (www.phaseone.com) will be available for purchase together for $499--$199 less than if each application were purchased separately. The offer will be available as a download from each of the companies' respective sites. A raw workflow guide detailing how the two programs can be used together is also available for download.

LATEST VIDEO

SPONSORED VIDEO
Testing Tamron's SP 150-60mm G2 lens while capturing birds and alligators in Apalachicola, Florida.