New ShootSmarter DVD - VitalSkills for Photoshop Users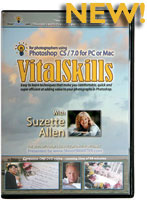 The MAC Group has announced the release of yet another exciting educational DVD title from the ShootSmarter DVD series.
Today, more and more digital shooters are getting frustrated with what seems like endless hours preparing images for various uses. When you think about the time spent on image retouching and the hours spent learning how to do it, there is little time for photography.
Will Crockett, founder of ShootSmarter.com and producer of educational DVDs has teamed up with Adobe Photoshop expert Suzette Allen to bring digital photographers the best from Suzette's popular four-day Photoshop classes.
This 88-minute DVD is chock full of Photoshop tips, techniques and advice to efficiently maximize the power of this program and its time saving capabilities. VitalSkills shows you how to unlock the hidden time-saving features of Photoshop and how you can make it work for you instead of the other way around. A must for any photographer, this DVD covers setting up the Photoshop workspace, preferences, presets, shorts cuts and much more. Also learn about Layers, Masks, Action Tools and how to handle your image files. There's even a section about managing image files and how best to organize them.

To learn more about ShootSmarter educational DVD's visit www.ShootSmarter.com.

FEATURED VIDEO