New Photo Printers
As the price of D SLR's, high-end digicams and film scanners has declined substantially, an increasing number of photo enthusiasts are able to make high resolution images. At some point, most will recognize that their current printers are due for replacement. Frankly, many existing machines cannot provide the optimal quality -- or the large output sizes -- that high resolution image files can support. Consequently, we're seeing a trend to superior photo printers in letter size and especially in larger formats.
With more photographers doing more of their own printing the issue of print permanence was certainly a hot topic, encouraged especially by Hewlett-Packard who, at the recent PMA show, featured Henry Wilhelm as a speaker. President of Wilhelm Imaging Resource, an independent stability testing lab, Wilhelm is certainly an expert in all issues relating to archival issues. He recently made news with the announcement of a new standard for print life, the WIR Display Permanence Rating. Many existing photo printers and papers should qualify for this Certification program, which requires a minimum on-display life of 25 years. Do note, however, that some manufacturers may prefer to wait for standards to be published by the international ISO or the American ANSI organization. This could be a long wait, according to some insiders.
New Printers We've Seen
Employing the UltraChrome Hi Gloss pigmented inkset originally designed for the (letter size) R800, the new Epson Stylus Photo R1800 uses the Gloss Optimizer coating to produce beautiful 13x19" (or longer) prints on glossy papers. Another fast machine, this one can also make an 11"x14" color image in less than two minutes thanks to Advanced Micro Piezo ink jet technology with 180 nozzles per ink. The Stylus Photo R1800 offers resolution up to 5760 x 1440 optimized dpi and it can print on sheet and roll paper or onto inkjet printable CDs and DVDs. (Street price $549.)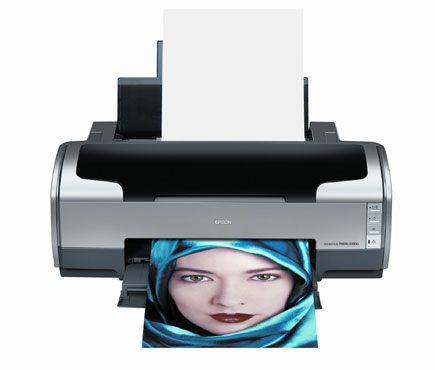 New HP Inks and Printers
Hewlett Packard is also seriously targeting pros and advanced photo enthusiasts with an entirely new (dye-based) ink system already employed by two HP printers. Their products were developed in consultation with some well known professional photographers. The new inks are called Vivera, denoting extremely long life. According to Wilhelm Imaging Research, color prints made on HP Premium Plus Photo papers are rated for 100 years (on display) while monochrome prints are lightfast for 115 years. When stored in archival albums, the photos will resist fading for over 200 years.

HP Photosmart 8750: The 13x19" format HP Photosmart 8750 is the first consumer-grade printer to employ the Vivera inks, a full nine (in three cartridges), including the new blue for an extended color gamut. According to Hewlett Packard, "nine-ink printing with the HP 101 Blue Photo Inkjet print cartridge provides up to 25% more blue chroma than eight-ink printing" and provides a color gamut that more closely matches the sRGB color space used by most computer monitors.


In sample landscape prints, skies were deep and vibrant for a stunning effect and all colors were richly saturated. The 8750 produces beautiful color outputs of all types of subjects, including people, with a very wide tonal range, remarkable distinction in color nuances and truly neutral grays and blacks. The monochrome prints were just as beautiful with high contrast, truly neutral grays (thanks to two grey inks), rich dark blacks, pure whites, good shadow detail and a pleasing tonal gradation overall. Prints made on uncoated fine art papers look great too; they are not as archival, but "image permanence is quite good, on par with traditional silver-halide prints", according to HP.

Other noteworthy features include 4800 optimized dpi resolution, PhotoREt Pro layering technology, support for thick (11.5mil) media, built-in wireless Ethernet connectivity plus slots for memory cards for direct printing. When printing from a computer, a 13x19" print should be completed in four minutes. The HP Photosmart 8750 provides a wide range of advanced color management solutions (including Adobe RGB and sRGB support and ICC color management) developed in cooperation with GretagMacbeth. It's also said to be highly ink efficient without heavy consumption for head cleaning. (Street price $499.)

HP Designjet 90: This is the second new HP printer to employ Vivera inks "for a wide range of colors, deep blacks, continuous tones, and gloss uniformity". Do note that this machine uses only six inks, in six individual tanks of varying sizes. In spite of this difference, the prints are archival, with a permanence rating of 82 years, when made on HP Premium Plus papers. The sample color and monochrome prints shown by HP were certainly of gallery quality, fine performance for one of the most affordable large-format printers on the market ($995.) Capable of making 18x24" prints on sheet paper, at up to 2400dpi resolution, the Designjet 90 can generate prints as long as 150 feet on roll paper when equipped with the optional (approximately $150) roll feeder.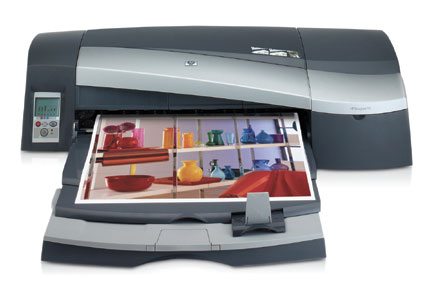 In addition to a wide range of color management tools (some optional), the HP Designjet 90 features Press simulation for professional pre-press proofing, USB 1.1 connectivity and Centronics standard Open EIO for adding the printer to a network. Wireless capability can be added with an optional HP Jetdirect LAN card. Hewlett Packard provides a great deal of additional information for professionals at www.designjet.hp.com, well worth reviewing if you're in the market for a relatively affordable large format printer.

Contacts: www.hp.com
www.epson.com

LATEST VIDEO