New Gear And Gadgets
After having attended the PMA trade show for 38 years I'm still surprised with the number of new, useful, and interesting photographic gadgets that keep showing up in various booths everywhere on the show floor. Somebody always thinks of a new gizmo or gadget that will assist in making some facet of photography easier, simpler, and more fun. Since most of these are new items, your local photo retailer might not yet have the items in stock, but they'll be hitting the stores soon. Here, in alphabetical order, is what I discovered.
Versatile Panorama Camera
Alps-Widepan Cameras imports a Chinese 140Þ panorama camera that can be adapted to shoot on 120, 220, or 35mm film. But in this same small booth I found that they also will have a bunch of lens adapters which will permit using one brand of lens on another camera. These items are just starting to come into the country, so not much information was available. But we always have a number of readers interested in using one of their existing lenses of one format or brand on another format and/or brand of camera, so these adapters should prove to be helpful.
Micro-Fiber Cloth
At the Argraph booth we learned of the Bandust brand of lint-free, scratch-free cleaning/dusting cloths. First is a very soft, lint-free Micro-Fiber Cloth for wiping away dirt, oil, fingerprints, and smudges on lenses, etc. It lists for $4.95 and is washable. Also new is their Anti-Static Cloth which contains interwoven carbon threads that safely remove static electricity and dust without need of chemicals or radioactivity. It is washable and lists for $2.49.
BKA Cornucopia
BKA introduced a broad line of Visual Pursuits brand magnifiers offered in a range of sizes and powers for most any situation requiring an enlarged image for closer inspection. There are round pocket units, folding; self-standing; folding handle; stand loupe; tweezer; hands-free (that hang from a neck strap); retractable; ruler; and illuminated units. They look nice and should be functional.

Kinetronics is the brand name of a series of optical-quality cleaning cloths, solutions, chammies, and similar items. The new Stratos Mini Bracket was designed specifically for small digital cameras. It folds up to become very compact (about 4x1x1.5") for carrying and opens into a tripod socket-attachable bracket with a shoe for raising any external flash or other shoe-mount accessory above the camera lens. It will be available in several colors.

Pelican Camera Protectors come in sizes for use with 35mm SLRs and medium format cameras. Each has a lens opening and a clear window over the LCD panel. They are intended to keep the camera warm in cold winter outdoor conditions and also provide soundproofing for using cameras in situations when normal camera operating noise might be disturbing.
Dot Line Distributes...
Dot Line offers some new small accessories. Lenmar Mac 1 is a speed charger for camcorder and digital camera batteries that completely charges them in just 30 minutes. Kenko adapters are designed to allow filters to be used on some of the many digital cameras that don't have lens threads. Naturally, they also offer a broad variety of small diameter filters that can be used in these adapters.
e-Pods
At the Hakuba booth I saw an extensive selection of camera bags and tripods. One small new tabletop tripod caught my attention. Called the e-Pod it folds down to a very portable 7.5x 2.75x2" at its widest portion. The thin legs fold out to a broad 9x7" triangular spread. A small tilt-top has a quick-release tripod socket. It should easily support a small digital or compact camera when timed exposures are being made. They also had the new Mono-stand 10, which is a combination of a tabletop and monopod, plus a series of digital media storage cases.
Digital View Aids
Hoodman Corporation is the appropriate name for the firm making a variety of soft, flexible hoods designed to minimize glare shining into lenses or onto LCD screens of digital products. Hoodskins is a new line made with self-adhesive transparent material, available in four sizes to fit all 1.5-4" LCD screens. Simply place one over the digital or video camera LCD screen to protect them from harmful dust and fingerprints. They have a new pleated, rectangular hood with a magnifier that fits over the LCD on the Nikon D1 digital camera for easier viewing outdoors. A pop-up hood, called the Eclipse by Hoodman, will shield the display screen of most sizes of laptop computers when used outdoors in bright lighting situations.
Chargers, Heads & Pods
HP Marketing had many new items. Ansmann introduced a high tech Energy 16 charger that first determines the battery strength then discharges and recharges, or simply adds to an existing charge. It accepts up to 16 batteries in any combination of AA, AAA, or 9v and lists for $140. The Ansmann pocket flashlight is very small, exceptionally bright, and lists for $50. Under the broad Novoflex line they showed an interesting line of bellows with adapters that permit using a practically unlimited variety of 35mm or medium format camera lenses with bodies of different makes of cameras. There are also new Novoflex small ball heads and quick releases suitable for use with most tripods. The Giotto brand of tripods includes a new small U-Pod with a panhead, pistol grip, and tabletop tripod combination that lists for $40.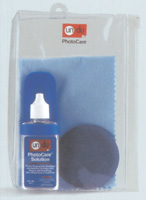 Active Chest Strap
Lowepro showed the new Dewit Jones chest strap primarily intended for use with cameras and binoculars under active situations such as hiking or climbing. The strap stays around the user's chest and has a quick-release touch fastener strip for holding the camera or binocular tightly to the chest when not in use. It lists for $19.

Protective Bags
Omega Satter has a new line of bags and lens wrap accessories called RoadWired. It's an advanced protection system containing a proprietary material called Corrosion Intercept. This acts like copper to attract gases and other environmental elements before they can reach the metal parts of the contents. Cameras and other electronic devices stored inside are thus protected from corrosion. The bags and wraps also feature foam interlocking for shock absorption plus a water-repellent exterior. In addition to traditional camera bag configurations there are also wraps for media cards plus larger sizes of similar material suitable for use as a wrap for lenses or other accessories. Prices start at $13 for a 12" square wrap. POD is the name of a new rectangular, vertical, small camera case with an unusual set of three zippered, fold-down flaps for storing a variety of accessories for quick access. Cloud Dome is the name of a new diffusion dome designed for soft, shadowless, diffused lighting of small reflective products such as jewelry, elec tronics, currency and coins, and sports collectibles. This 15.5" diameter translucent white, non-yellowing, Plexiglas dome has a bracket on the top beside a lens hole that accepts a variety of SLR or digital cameras that will shoot straight down into the dome. Any type of light can be aimed at the exterior and will be softened and diffused for even lighting with minimal harsh reflections. The basic dome lists for $225 and extension collars for adding additional height are available.
Mobile Media Storage
OP/TECH USA introduced several new carrying units for digital camera media cards. The small media holster is a neoprene pouch that easily slides onto a camera strap or belt. It will hold either spare media cards or two extra AA-size batteries. In addition, they offer several sizes of Media Mate cases for carrying extra cards plus batteries. Their quick-release fashion strap (a wide, removable, camera and/or binocular strap) is now offered in a patriotic flag version.
Panasonic Power
Panasonic showed their newly developed AA-size, nickel-zinc battery, which was designed to provide longer lasting power than high-drain alkaline batteries. They are intended for satisfying the demands of US digital still cameras. Tests indicated they surpassed the useful lifespan of competing batteries by 27-47 percent.
Quest Batteries/Chargers
Quest Advantage is the brand name of a line of batteries and chargers that is distributed in the U.S.A. by Minolta. Recently introduced is the Q2 Plus one to three hour charger. It will deliver a larger amount of charge into each cell in a shorter time. It allows individuals using high-drain portable products such as digital cameras, CD players, and PDAs to quickly recharge and reuse their batteries. This charger has four independent microprocessor controlled charging circuits that can charge both AA and AAA-size batteries in any cell combination and handles from one to four cells at one time. It signals with a "beep" and the display changes from a red LED to green to inform that the battery is fully charged. A kit with four Quest Platinum AA Ni-MH batteries, charger, 110v AC and 12v auto adapter lists for $50.
Cleaning Products
A company called un-du Products, Inc., introduced their new PhotoCare family of products. The PhotoCare Kit contains Solution, Microfiber Cleaning Cloth, PhotoSponge, and removal tool. The solution cleans and removes fingerprints, smudges, and adhesive residue from photos and negatives. The solution temporarily neutralizes adhesives, is acid free and 100 percent photo safe. This solution is particularly adept for assisting in the removal of cherished photos from old generation magnetic albums, which did not use photo safe materials.
Varta Chargers
Varta showed the new Vanson V-100 ultra-fast two-hour charger for Ni-MH/NiCd rechargeable batteries. It comes complete with AC and car charger cords and will list for $30. Also new is the Vanson V-6833 overnight charger for two AA-size cells that sells for $20.

List of Manufacturers/Distributors

FEATURED VIDEO