New Gear For 2007: PMA Report; Portable Storage And Digital Display: Portable Hard Drives, USB Flash Drives, And Digital Photo Frames Page 2
USB Flash Drives
USB-powered flash drives (also known as thumb or pen drives) are ubiquitous these days. They are made to be easily ported from place to place, and many come in very clever designs. Unlike the conventional memory card (there are flash cards that double as USB flash drives), the typical flash drive simply plugs into a computer's USB port, most commonly USB 2.0. All power is derived from the host computer. Capacity on these tiny solid-state drives may even vie with some of the smaller portable hard drives.

Prices on many 1 and 2GB flash drives have come down dramatically while our data storage needs have risen by leaps and bounds, making it more practical in some cases to hold off buying a bargain and just buy that one larger-capacity USB drive. Look at the higher-capacity flash drive as a master key: it's much easier to carry one key than many, especially if you have a tendency to lose or misplace them.

Dane-Elec introduced possibly the strangest pen drive with an oddly unimposing moniker, Digital Pen & USB Flash Drive. Write or draw with the pen on any piece of paper (it uses regular ink) and the flash drive, which remains in contact with the paper, will automatically record and store what you wrote or drew as a file your computer will readily recognize (currently Windows support only).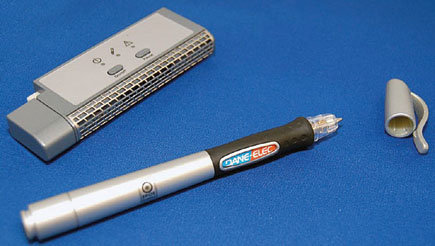 Dane-Elec Digital Pen & USB Flash Drive
The latest USB flash drives to come from Imation include the Pivot Flash Drive with 256-bit encryption for added security and the Clip Flash Drive with up to 4GB of capacity for even more storage of important data files. At the same time, under the Memorex brand name, this company previewed the TravelDrive, a USB flash drive featuring a pivoting, capless design, and it comes with bonus software (Windows Vista compatibility). Also new is the sleek 12GB Mega TravelDrive, a USB portable hard drive with a gun-metal finish that measures just 2.6" long, 1.5" wide, and only 0.5" thick.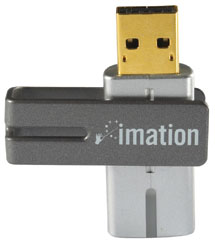 Imation Pivot Flash Drive
Kingston Technology debuted their latest marvel, the DataTraveler Reader, a USB 2.0 flash drive in 1 ($19), 2 ($34), and 4GB capacities--but with something extra. What makes this thumb drive so special is that it incorporates an on-board Secure Digital/MultiMediaCard expansion slot for reading nine different flash memory card formats, including SDHC. It is compatible with Mac and Windows, including Vista.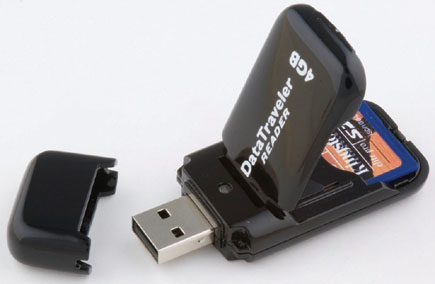 Kingston Technology DataTraveler Reader
Norcent introduced the new PDB series of USB pen drives with a capless spin-to-open feature (sensing a trend here?), in 1, 2, and 4GB capacities. A power-saving mode reduces power consumption. Last, but certainly not least, Ritek USA/Advanced Media showcased a very interesting product, the RiDATA Fun EZ Drive Character Series with two-port hub functionality.
These USB flash drives come in fun designs and let you daisy chain other USB drives. Each unit features an advanced partition and security function for users to create password-protected sectors for sensitive materials. The Yego drives also serve as a USB hub, offering similar features in a more staid yet fashion-forward design.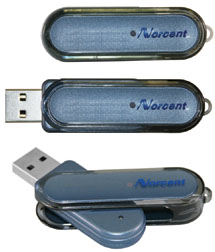 Norcent PDB USB pen drives
Ritek USA RiDATA Fun EZ Drive
Digital Photo Frames
Digital picture frames are springing up everywhere. These are strictly display devices, many with card readers. A remote control is routinely provided. (Note: sizes given are for viewable/display area.)

Braun division of HP Marketing Corp. debuted the Braun DigiFrame 7000 and 8000 (7 and 8", respectively), each with 32MB storage (JPEG, JPEG AVI, and MP3). The frame supports CompactFlash, Secure Digital/MultiMediaCard, Memory Stick/Pro/Duo. Digital Foci added to its collection of digital picture frames with the Image Moments 6 (Model IMT-062: $159), which features a 5.7" LCD screen. Image Moments 6 supports all popular memory cards and plays JPEG, MPEG, and MP3.
Digital Foci Image Moments 6

LATEST VIDEO

SPONSORED VIDEO