New Gear For 2007: PMA Report; Imaging Software Page 2
Tribeca Labs officially announced Photobot, a zero-click photo correction program that brightens dark images, reduces redeye, and gives pictures more vibrant color. After installation, Photobot is always on, constantly searching your hard drive for photos. When "he" finds them, "he" automatically optimizes picture quality to deliver vibrant, lifelike colors and uses FotoNation's Red Eye to reduce redeye. Photobot's technologies are adaptive and only makes adjustments to images if they're needed, and then only to the degree necessary to achieve optimal results. The software automatically uploads image files to a user's optional Swiss Picture Bank account where they are protected from hard drive failure, accidental deletion, theft, and other disasters. Photobot costs $29.95, including a free introductory account at Swiss Picture Bank.
ArcSoft's Panorama Maker 4 Pro is for professional-quality photo stitching, turning any series of overlapping photos into a panoramic image. While similar to ArcSoft's Panorama Maker, the Pro version is designed for professionals and advanced amateur photographers and provides raw format support, allowing you to create horizontal, vertical, 360Þ, and tiled panoramic images. It automatically orders and stitches photos, then lets you manually align and adjust the stitching path to create seamless results. There are also fine-tuned controls for adjusting brightness and contrast and the ability to add frames, titles, and copyright. Panorama Maker 4 Pro costs $79.99 and existing Panorama Maker users can upgrade for $29.99. I like it even better than the improved Photomerge feature found in Photoshop CS3.
ArcSoft's Panorama Maker 4
DxO Labs' Optics Pro 4.2 has a new intelligent color feature called SmartVibrancy that intensifies the colors in an image while avoiding undesirable side effects. SmartVibrancy acts selectively on different colors, preserving key values and can be decreased to rescue images where the original displays oversaturation, especially in skin tones. A free plug-in allows automatic Internet login, tagging, and uploading of processed images to the Flickr photo-sharing website. The software is available for Mac OS and Windows, including Vista, and is a free upgrade for owners of DxO Optics Pro v4.0 or later.
DxO Labs' Optics Pro 4.2 SmartVibrancy
Based on detailed analysis and calibration of the originals, DxO FilmPack 1.1 enables photographers to add the effect of more than 20 slide, black and white, and color negative films to their digital images. DxO FilmPack even permits users to combine the color rendition and grain profiles of different films. This latest version also adds a range of "toning" renditions and can be applied to any digital image in JPEG or TIFF format, regardless of source. When used within DxO Optics Pro, it can even be applied to raw images. Version 1.1 is available as a Photoshop plug-in, a stand-alone application, and an add-on to DxO Optics Pro 4.2 or later.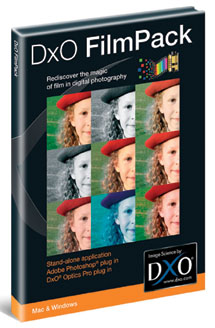 Imaging software is lots of fun, but there are other kinds of programs that can be indispensable in saving images on memory cards from being lost. Lexar's Image Rescue 3 recovers most lost or deleted photo, video, and audio files from flash memory card formats, including CompactFlash Type I and II, SmartMedia, Memory Stick, Secure Digital, Secure Digital High Capacity, MultiMediaCard, and the never popular xD-Picture Card. Image Rescue 3 has a step-by-step interface to walk users through the image recovery process and offers live online customer support chat. Image Rescue 3 is available for download free with the purchase of Lexar's Professional and Platinum II memory cards and is compatible with Windows 2000/XP (or later) and Mac OS 10.2 (or later). Image Rescue 3 is available at photo specialty stores or for download (http://lexar.com/software/image_rescue. html) for $29.95.
Image Trends' DustKleen is an automatic dust removal program with manual touch up controls for images scanned from any media, including negatives, slides, and prints, by identifying defects that are not part of the image and removing them without harming the image. The automatic correction portion of the program gives the user the ability to set Size, Amount, and Aggression sliders for optimum dust removal. If additional correction is necessary, a Manual Touch Up mode provides advanced controls to adjust the brush to the dust size.
SensorKleen has a semiautomatic SmartBrush that removes artifacts created by dust using camera and lens metadata to differentiate between content and defects. The "SmartBrush" technology removes only artifacts while restoring underlying image content. Initially, the products are Windows-based but Mac OS versions will follow. Priced at $49.95 each, free "try before you buy" downloads are available at www.imagetrendsinc.com. SensorKleen will be followed later in 2007 by the fully automatic Pro version and a credit for the original purchase price will be applied to purchasers of the Pro version.

For the latest in plug-ins see my Digital Innovations column in the August issue.
Manufacturers/Distributors' addresses can be found by visiting the Instant Links section of our website at: www.shutterbug.com/currentissuelinks/.