New Gear For 2007: PMA Report; Imaging Software
It's not just hardware but software that's fueling the digital imaging revolution. Even the firmware inside cameras and printers is really software that tells the device what to do and how to do it. Adobe's Photoshop, which has become a virtual economy unto itself, generating its own trade shows, software add-ons, and an entire book industry has gotten so BIG--how big is it?--that's it's now available in two different versions. Three if you count Photoshop Elements. At PMA 2007 there were lots of different kinds of imaging software on display; I tried to get around to as many of them as I could.

The 800-Pound Gorilla Department
In addition to Photoshop CS3 software for designers and photographers, Adobe will deliver Photoshop CS3 Extended, a new edition that includes everything in regular Photoshop CS3 but adds 3D and motion graphics along with image measurement and analysis for architectural, engineering, medical, and science professionals. Further details will be disclosed (after deadline for this report) at the formal launch of Creative Suite 3 in late March, but the software will not ship until "later in spring 2007."

At long last, Adobe's Photoshop Lightroom is here. Lots of photographers love it, some don't. Others like me don't care. Lightroom was designed for professional photographers and although Adobe doesn't say so, I'd like to add those pros who shoot lots of pictures. Lightroom works with Mac OS or Windows and with JPEG and TIFF images or more than 140 raw formats. You can use Lightroom to transfer raw photo data from camera to computer, manage and adjust large volumes of photographs, and present photographs as prints, slide shows, or on the web. To perform detailed image editing, you can switch to Photoshop, much as you now bounce back and forth between Bridge, and then return to Lightroom and see the changes automatically applied in Library. Final estimated street price is $299.
Adobe Photoshop Lightroom
ExpressDigital, makers of the best professional photographer's software that nobody has ever heard of, introduced Darkroom 8.8 that includes connected pro services, enhanced template-making elements, and new retouch tools. The addition of Pro Services to the Windows-based software includes connection to more than 200 professional labs providing real time information on pending orders and fulfillment costs. The Template Workshop lets you create custom calendars for any desired month or year format. Design grids have snap-to-grid functionality to make creating new borders easier. Pan and zoom tools have been added and templates can now have multiple graphic elements. A new healing brush has been added to Darkroom's Retouch Workshop, joining the other nine tools designed specifically for professional photographers to edit and enhance their images.

Camera Software
Nikon released an upgrade to its Capture NX software that increases performance and adds support for Intel-based Mac OS X computers and optimization for Microsoft's Vista. Capture NX 1.1 now sports a simpler user interface with re-sizable palettes for histograms as well as curves and levels adjustments. The program works with Nikon's raw (NEF) format files but can also be used with JPEG and TIFF format images from any source. Capture NX 1.1 is available for $149.95 as a boxed version or downloadable key but current users can update to Version 1.1 at no cost. In the U.S.A., a limited-time upgrade will be offered to owners of Nikon's Capture 4 software for $89.95. A 30-day trial version can be downloaded at www.nikonusa.com.
The EOS-1D Mark III D-SLR is supplied at no additional cost with the latest versions of Canon's software applications, including Digital Photo Professional 3.0 and EOS Utility 2.0, which now support the camera's Remote Live View and Dust Delete Data functions. Also included on the CD are new versions of Canon's ZoomBrowser EX and ImageBrowser software for browsing, viewing, printing, and archiving with Mac OS X, Windows XP and Vista.

Useful Imaging Programs & Utilities
Smartparts Inc.'s new OptiPix software is included with all of their way-cool digital picture frames with internal memory and is available as a free download to all Smartparts customers via the company's website (www.smartpartsproducts.com). With OptiPix installed and a USB frame or memory card reader/writer connected to their computer, users can copy pictures to their frame's memory or a memory card with just a few mouse clicks. This $49.99 software makes it easy to find pictures, create copies of the originals, optimize the images for better viewing, and help users transfer their selected pictures to a digital picture frame.
SeeFile Software, a former PMA Best of Show, launched the third generation of its web-based collaboration tool that allows sharing, annotation, and online sales. SeeFile 3.0 permits JPEG, raw, and other media files to be saved to a local hard disk while the software automatically creates thumbnails and watermarked previews and displays them in a web interface. You can also apply Athentech's Perfectly Clear technology that manages a photograph's dynamic range to reveal the intrinsic data within the image without adding, clipping, or distorting anything. The files can be remotely accessed from anywhere on the Internet via standard browsers. SeeFile 3.0 includes side-by-side image comparisons, on-screen annotations, and color-coded collections for each user.

Smith Micro's Active Watermarks Pro adds invisible watermarks, graphics, and copyrights to your JPEG files that can be temporarily or permanently removed with the company's Active Key technology. After you create and enter any one of the different watermarks and save the image, the protections can only be removed if a password is entered with the Active Key application. In a commercial environment the buyer of the image can download the full-resolution image with watermarks. After they pay for it, they can download the Active Key application to unlock it.

Sharpcast Photos is a software/service combination that replaces the tasks of uploading and downloading photos through a browser, manually backing up photos to a storage device, and managing fragmented photo collections across various devices with a simple, desktop software application that connects to the Internet in the background and takes care of all these tasks by itself. Sharpcast Photos desktop software creates a secure and private mirror image of the desktop application on the web, so photographers can view, share, and manage their collection from anywhere. When installed on multiple computers it automatically stays in sync, so users can have their same photo collections on both home and office computers.

FotoTime's FotoAlbum Pro 5.5 software features Vista support and raw file formats from all the leading camera manufacturers, including Canon, Fuji, Nikon, Olympus, Panasonic, Pentax, and Sony. FotoAlbum Pro lets you maintain a database that includes albums, keywords, captions, ratings, dates, and EXIF/IPTC metadata and offers photo editing, batch processing, slide shows, and print ordering capabilities. The program's synchronization technology replicates photos and videos to portable devices as well as the FotoShare service for online image sharing. FotoAlbum 5.5 costs $29.95 for new customers and is a free upgrade for existing customers.

The most improved software interface award goes to Corel's Painter X. This latest version is the most accessible yet and tosses away all of the bad old stuff while keeping some of the old good stuff. Painter X gives photographers a natural painting and illustration experience that offers new compositional tools and a RealBristle painting system that provides an organic painting and illustration experience down to individual brush bristles. Corel's Ulead DVD MovieFactory 6 Plus is the first consumer entry-level product to offer HD DVD burning capability with HDV, DivX, or AVCHD, and output in HD DVD, Blu-ray, DVD-Video, or VCD. Corel's Snapfire 1.2 provides users with access to all the tools they need to enhance and share digital photos.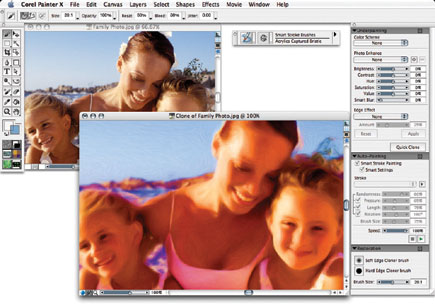 Purchasers of select Lexar Professional series flash memory cards, including the Professional Secure Digital High Capacity (SDHC) cards, will be able to download a real working (not demo) copy of Corel's Paint Shop Pro X for free. Buyers of select Lexar Platinum II and Standard series flash memory cards can download the standard version of Corel's Snapfire Plus SE to create slide shows with customized transitions set to the music soundtracks of their choice.


LATEST VIDEO