New Gear For 2007: PMA Report; Digital SLRs
It's not the tools that capture the images; it's the photographer's vision that does the job. Nonetheless, here I am at the annual hardware orgy that is PMA, where smiling PR people try to put the best possible spin on the organized chaos that is the photo industry. Everyone has realized that digital imaging is not just another version of the widely ballyhooed disk camera that their predecessors tried to sell unsuspecting writers at another PMA long, long ago in another Las Vegas far, far away.

Leica Or Not
I'll confess. I drank the Kool-Aid and fell in love with Leica's DIGITAL-MODUL-R, going so far as buying an R8 body to install the back when I could afford one. I don't know when that'll happen now that Leica says the DIGITAL-MODUL-R has been phased out but "are optimistic about digital developments in the R System in the near future," or as my hero Jerry Pournelle used to intone, real soon now.

The Leica story continues with the PMA announcement of new firmware updates (Version 1.092) for the blown-way-out-of-proportion "magenta highlight" problem that's plagued the M8. Shipments of free UV/IR filters to M8 shooters is continuing apace but "the planned adjustments for using the filters has not been included in 1.092." Version 1.10 should be available by the time you read this and will, along with the UV/IR filters, correct the offending color problems.
The Big Enchilada
For many, the big SLR news at the show was the launch of Canon's EOS-1D Mark III with a 10.1-megapixel sensor measuring 28.1x18.7mm, about the same size as sensors in the EOS-1D Mark II and Mark II N, so it has more pixels, slightly smaller chip size, and a focal length conversion factor of 1.3x.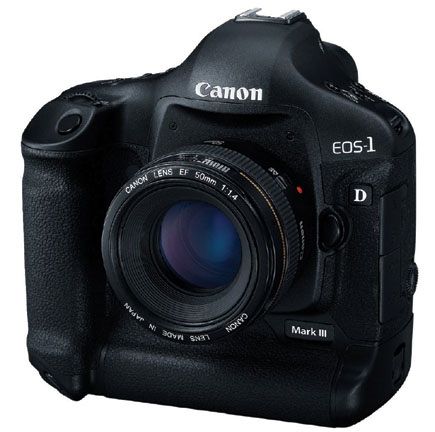 Highlights of the Mark III include a 10 frame per second (fps) burst for up to approximately 110 JPEG, 30 raw, or 22 raw+JPEG files. A Lexar representative told me their new 300x could more than double the JPEG burst to 230 files, but Canon could not verify this. The Mark III also offers "sRAW" that has 1/4 the resolution and approximately 1/2 the file size of conventional raw images. Do we need yet another file format? Maybe.

The camera has an ISO range of 100-3200 or 50-6400 with ISO expansion enabled. The low-light possibilities seem interesting but so does the ability to shoot big files at ISO 50. The Mark III has a 3" LCD screen with Live (à la Olympus Live View) mode that lets you focus and compose on screen, magnifying the image five or 10 times. Since Live View shooting mode lifts the reflex mirror out of the optical path in advance of exposure, it will help reduce vibration and improve image quality at slow shutter speeds. The camera can be connected to a computer with a USB 2.0 cable and EOS Utility 2.0 software lets you view what the camera is seeing in real time, plus control its operation. If you want to mount the Mark III in a remote location the camera can be operated wirelessly with the new WFT-E2A Wireless File Transmitter that lets you view images directly off the camera's sensor in real time, with the ability to adjust camera settings on the fly.

The new CMOS image sensor is sealed around its edges to help keep out dust and has an infrared absorption glass cover that vibrates for 3.5 seconds when the camera is turned on or off. During the process the shutter fires three times so dust is shaken off the shutter curtains, too. The final piece of the anti-dust puzzle is software that records the location of any remaining spots as Dust Delete Data and appends it to the raw or JPEG file in the IFD portion of the file header. When using Canon's Digital Photo Professional 3.0 software (free with the camera) any spots are automatically erased.

But wait, there's more. Dual (I expect this to be part of a trend) DIGIC III image processors provide all the good stuff you might expect coupled with NASCAR levels of performance while processing large amounts of image data. The dual DIGIC III processors allow analog-to-digital conversion to improve from 12 to 14 bits per channel; this means that tonal gradation for raw images is now divided into 16,384 separate levels per channel. There's also a new 45-point autofocus sensor with 19 high-precision cross-type AF points. While the 1D has long had two card slots it now has automatic switching between them. When the current recording medium becomes full, the camera automatically switches to another without interruption.

The camera uses a LC-E4 lithium ion battery pack, making the weight of the Mark III eight noticeable ounces lighter than my Mark II N. Shooting capacity has improved to approximately 2200 shots under "normal" shooting conditions. Oh yeah, there's a new Speedlite 580EX II flash. The price tag is (get this) similar to the EOS-1D Mark II N D-SLR, making it a bargain for serious shooters.

Nikon Strikes Back
Nikon announced the new D40 in November 2006 as "the smallest and easiest-to-use Nikon digital SLR"...ever. Just before PMA, Nikon supplemented this compact 6.1-megapixel D-SLR with the new 10.2-megapixel D40x.

Nikon's D40x D-SLR maintains the D40's form factor but adds an improved Nikon Image Processing Engine, 3D Color Matrix Metering II along with wider ISO sensitivity (100-1600). The D40x powers-up in 0.18 seconds and can shoot up to three pictures per second for a burst of up to 100 shots. The back of the D40x has a 2.5" color LCD screen displaying everything from menu options, pictures in Playback mode, and Nikon's new information display system that presents camera and shooting information in a user-friendly way. The D40x's Digital Vari-Program modes include eight presets, including a Flash Off that shuts off the camera's flash while boosting ISO so you can take pictures in places where flash photography is not permitted, such as museums.
My favorite part of the D40x is its Retouch menu that includes D-Lighting to brighten dark pictures and correct redeye. Image Trim allows for creative cropping and creates smaller files for easy e-mailing. Other options include Image Overlay, Small Picture, Monochrome (black and white, sepia, and cyanotype), and Filter Effects (skylight, warm, color balance). A D40x body costs $729.95 or $799.95 with the 18-55mm f/3.5-5.6G ED II AF-S DX Zoom-Nikkor lens.

FEATURED VIDEO