New Concepts In Album Design
48 8x10s Does Not Do It Anymore
This is an example of one of the new templates used for album design. There are eight different photos. This is an actual page a bride ordered that has yet to be put in the book. You can either slip it in an album or have it flush mounted. As you can see, all these photos are detail shots that the couple would like to have yet not use a whole page on each one. These "multi-image" pages are great for uses like this.
Photos © 2002, Steve Bedell, All Rights Reserved
It's really great to be involved in photography these days. I've seen more changes in the last five years than the 20 before it. And not one sector of the imaging world remains unchanged by the continuing onslaught of printers, cameras, scanners, and even new films. As a veteran wedding photographer, I'd have to say that the wedding field has seen some of the most dramatic changes. The days of shooting 10 rolls of film and handing a stack of proofs to your clients are long gone. Today's clients are more discriminating and demand more professional than posed photos and proper exposure. They are looking for creative imagery that not just captures the events of the day but also the emotion. And they don't want the finished product to look like their mother's album. They want imaginative design and layout in their wedding album that matches the caliber of the photography. With that in mind, let's take a look at what's in store for the 2003 bride.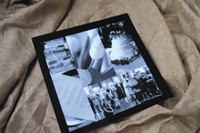 Another example from the same wedding.
First a caveat. There are many album companies out there with great books and bindings. You can get traditional leather or contemporary glass and metals and many other unique choices. That is the subject of a different article, one that I've seen covered before. This article is not a comprehensive listing of album companies and covers but what's available to you, the photographer, to enhance your work between the covers. We'll leave exterior design to others, but we've got a lot to say about what goes on inside.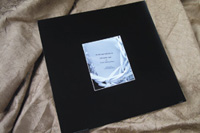 In this instance, a small photo of the wedding invitation with a large border makes a dramatic statement for the opening page.
The Traditional Route
First we'll take a look at the traditional way of doing things. That means picking out photos, deciding what size they'll be, and buying and assembling the inserts and mattes to put your album together. This is time consuming and restricts your album design to standard sized prints. The new designs are a little more flexible than the all 8x10 albums of the past, but still rather boring. Brides looking for cutting-edge album design are not likely to be impressed.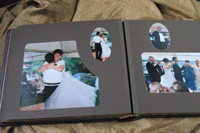 This is an example of a scrapbook"-style album where I had the company send me an album with blank pages and I cut and pasted each photo. Notice the irregular-sized prints that are possible.
Contemporary Design
Now there are three main ways to inject a more contemporary design to your album pages. The first is to use a "scrapbook" technique. This involves having the prints made any size you want and then somehow manually "sticking them" to the album page. You accomplish this by buying an album with blank pages, making the prints any size you like, and then arranging them in whatever order you see fit. I have done this for years in my competition albums and for those clients who want something a little different and will pay for it. It's still a valid technique today but it's very labor and time intensive. You can also dress up the pages with fabrics from the wedding gown, ribbons, and calligraphy--just about any item that is appropriate, flat, and won't ruin the photos. I use regular double-sided tape and have had albums for years that have held up well.
One of the new "multi-image" pages shown in a slip-in book.
The second method is by far the easiest and most popular. It gives your work a custom look but uses templates. Here's how it works. Send your film or digital files to the lab. If it's film, the lab will scan it for you. They return to you a CD with low-resolution images and keep the high-resolution images on file at the lab. If you used film, you never need to touch the film again. When you're ready to order the album, insert the CD into your computer and pull up the ordering software. My lab (www.lustrecolor.com) uses Kodak Studio Lab Link. This feature is also offered in Kodak ProShots software, and I believe Fuji now markets a comparable product. One of the album companies, Zookbinders (www.Zookbinders.com), offers their own album design software through labs that they deal with. It's $100 with a $100 rebate toward the lab services. The other products are free.
A "scrapbook"-style book with a 7x7 image.
With your CD inserted and the software pulled up, you simply drag and drop the photos you want into the layout you want. Of course, the sky is now the limit with page design. My lab currently has at least 200 and is constantly adding more. The page background can be white or black and most of the designs feature a border around the photos.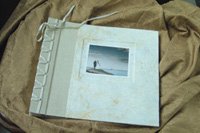 Don't neglect innovative design on the cover! This is a digital print on the cover of a Waterhouse Books album (www.waterhousebooks.com).

By the time you read this, instead of having to settle for a black or white background, you can use one of your own photos as a background however you like. For example, use a photo of the bride's bouquet as the background image. Change it to black and white at 25 percent opacity for an elegant look. It's as easy as a few mouse clicks. I expect there will be continuing improvements to these software programs that will give the photographer more options and easier ordering capabilities. Once your pages are in from the lab, you either slide photos into the pages or send them to the album company for mounting. The flush-mounted books by Zookbinders, Capri (www.Caprialbum.com), and others look very elegant.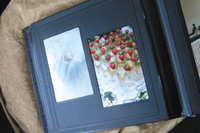 The "old way" of doing things. Notice how the mattes slip into pages. You are limited to standard-sized prints and the designs from your album company.
The third way of spicing up your pages for a unique look appears terrific but involves much more work--isn't that always the way? Here's what you have to do. You do the entire layout and design work, pick out a suitable paper for your ink jet printer, and design and print the pages yourself. Then you send the pages off to your album company of choice and they assemble the book and send it back to you. I know White Glove Books (www.wgbooks.com) offers this service and I'm sure there are others. This is a good method if you are a "high-end," low-volume studio, since it is very labor intensive. Your clients will like it because each album is unique.
The next step. By the time you read this, my lab (www.lustrecolor.com) will have templates available so that you may use your own images as backgrounds. This example is from White Glove Books, www.wgbooks.com.
I hope this primer on album design has inspired those of you who may still be using the "old-fashioned" methods. Your clients will appreciate the new look and you will undoubtedly book more work based on the design improvements alone.
A photo from a page of an album designed by Chris Beltrami. This is the "hard way." Each page is laid out and printed by the photographer then sent out for binding.
For more ideas in your e-mail, sign up for my twice monthly newsletter at: ephoto@stevebedell.com.

FEATURED VIDEO