New b-grip EVO Accessories
The b-grip EVO, made in Italy by CPtech, provides a strong, safe support for your DSLR. The base attaches to your waist belt (or to the belt provided), while the quick-release plate attaches to the camera tripod socket. A quick release mechanism provides instant access to the camera when required. The b-grip EVO is clad with a brand new sleek design, additional fastening points and safety features. New accessories for the line include a Universal Tripod Adapter, a Handstrap and a Travel Kit.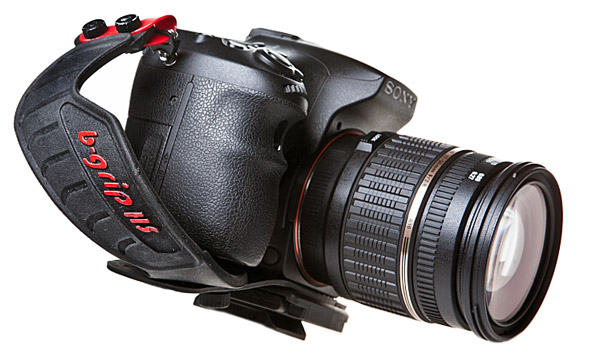 Simply attach the Universal Tripod Adapter on your favorite tripod and make it fully compatible with all b-grip camera accessories. Fits every tripod brand and model.
The b-grip HS+ Handstrap is very innovative. It is the only one of its kind with a built-in tripod plate that can be mounted on every tripod through the accessory b-grip TA. The plate itself has many innovative features; screw safety stopper, flipout platform and full compatibility with all b-grip line products. The unique "S" shape of the strap is ergonomically designed to keep the fingers free to operate the camera. This "Memory Form", always open position, allows easy in and out access with the safety of a strong, non-slip rubber grip in case your hand accidentally releases the camera. Also available, the HS Handstrap, which does not include the tripod plate for current b-grip owners who already own it.
The b-grip travel kit allows you to attach your camera directly onto your backpack shoulder strap. The most comfortable way of carrying the camera when traveling with a backpack! Do away with annoyingconventional neck straps! The b-grip TK guarantees to keep the camera close to the body without exposing it to dangerous swinging. The included waterproof cover provides useful protection for the camera against rain anddust.
Manufactured in Europe to exacting standards, b-grip EVO and accessories are constructed from high quality materials and will provide years of reliable service. The b-gripEVO Line may be found at photo specialty stores Nationwide. Visit www.OmegaBrandess.com to find a dealer.

FEATURED VIDEO