New 35mm And APS Compact Cameras
Smaller, Lighter More Affordable Models
Because many consumers still consider digital cameras as "too expensive" or "too complicated," the lens/shutter 35mm and APS zoom cameras continue to sell quite well. The trend is toward smaller and lighter cameras at ever decreasing prices. In order to maximize simplicity and affordability, most of the new models are quite basic, at least when compared to cameras of the late 1990s with their multitude of buttons for creative controls plus some esoteric features.
Unless otherwise stated, all of the following models are Program-only cameras with built-in multimode flash and motorized film advance. (Prices provided are generally MSRP, unless specified as Street Price.) Although I'll discuss significant points about each new model, do visit the manufacturers' web sites to review the full specifications for any camera of interest for information on all of its capabilities, maximum apertures of the lens, as well as size.
Fuji Models With Long Zooms
Two nearly identical cameras in a stylish silver-tone casing with silver trim, the Fujifilm Zoom Date 160EZ ($279) and Zoom Date 140EZ ($229 street price) differ only in lenses. The first includes a long 38-160mm lens while the other is equipped with a 38-140mm zoom. Very compact until their lenses are extended, these models include a particularly versatile Multi-Programmed Flash and infrared sensors to determine how much additional flash light is required. By automatically adjusting flash output and shutter speed to match subject distance and the ambient light, they ensure "ideal illumination" so the photos appear natural. Another nice amenity is the oversized and illuminated LCD data panel on the camera back, and convenient digital style controls including a four-way thumb pad. Equipped with passive autofocus (the type used in SLR cameras) these cameras should take great pictures with maximum simplicity.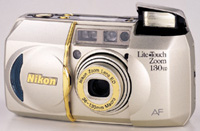 Nikon Cameras With ED Lenses
Many of Nikon's compact 35mm cameras are equipped with zoom lenses with ED (Extra Low Dispersion) glass, included to produce sharp images with clean, vivid colors. The two most recent Lite-Touch Zoom models include a 38-150mm ED zoom (the 150ED, $299) and a 38-130mm ED zoom (the 130ED, $255) and are similar in many respects. Both are encased in a compact body of clamshell design with a protective sliding lens cover and titanium finish. They employ a passive autofocus system with a wide-area sensor that allows for quick shooting with subjects that are not centered in the frame. Extra amenities include a diopter adjustment control to compensate for near- or far-sightedness and a multilayer-coated viewfinder with anti-fog eyepiece to provide a clear view. The 130ED offers a panorama mode for long/narrow pictures. Both weigh around 7 oz and are pocket-sized for great portability; the 130ED/QD is said to be "the world's smallest 35mm camera with a sliding lens cover and 3.4x zoom."
High Tech Canon Duo
Canon's Sure Shot 115u and 105u are compact 35mm cameras with some sophisticated features in a compact polycarbonate body with aluminum front cover. The 115u ($170) is equipped with a 38-115mm zoom while the 105u ($160) includes a 38-105mm zoom. These cameras buck the current trend, offering more capabilities than most of their competitors. Both include the same feature sets: an eyepiece diopter correction dial, a typical Full Auto mode plus four subject-specific Programs and exposure compensation options (+1.5 EV and -1.5 EV). The passive AF system is quite sophisticated, with a five-point sensor that provides a very wide focusing zone. This system is great for quick shooting, even with subjects that are far from the center of the frame; a single (central) sensor point can also be selected for pinpoint control. Very well equipped, these cameras are also quite affordable and lightweight at 6.9 oz.
Olympus Splash-Proof Duo
Among the few compact cameras with an All-Weather rating, the Olympus Stylus cameras have been best sellers for years, because they can resist rain as well as sand and spray at a beach. The latest models include lenses with aspherical and low dispersion glass elements for sharp images with little distortion. The Stylus 120 with 38-120mm zoom ($170) and the Stylus 105 with 38-105mm zoom ($150) are fully automatic cameras, but include advanced capabilities: two light metering patterns (three-zone and spot), and a new, passive, 11-point autofocus sensor that allows the camera to focus on a small subject most anywhere in the frame. A new camera shake indicator provides a warning when faster film should be used while a new autoexposure system promises even better exposures than previous models. Considering their capabilities and prices, these lightweight (7.2 oz) cameras with clamshell design are "best buys" in the Olympus Stylus line.
New Pentax ESPIO Series
Sporting a new series name, the latest Pentax compact cameras are the first US models to bear the ESPIO logo, instead of the familiar IQ Zoom symbol. Encased in a compact body with an aspherical 38-140mm zoom and protective sliding lens cover, the ESPIO 140V is surprisingly small for a camera with such a long zoom. The passive wide-area autofocus system assures focus on off-center subjects while spot AF can be selected for pinpoint control. For a clear view, the viewfinder includes a diopter correction dial. A fully automatic camera, the ESPIO 140V's multi-data LCD panel offers a wide range of useful information at a glance and facilitates fast operation ($149).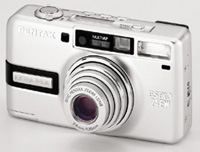 If you prefer a camera with a shorter lens for true wide angle effects, check out the new ESPIO24EW DATE, with its 24-105mm aspherical zoom. This is the only compact camera with a 4.4-times zoom ratio and a 24mm focal length. Made of aluminum for visual and tactile appeal, this lightweight (7.1 oz) camera fits into a shirt pocket or a small purse. Its passive, seven-point autofocus system ensures focus accuracy on most any subject type while spot AF allows for focusing on a single, small element.

Other features include a viewfinder diopter adjustment control and a panorama mode that allows for mid-roll switching from standard to long/narrow picture format, useful in a camera with such a wide angle lens. While the multi-pattern light meter should often be successful, an exposure compensation dial is also available, for biasing exposure toward darker or lighter effects. The bulb-timer feature allows the user to preset exposure durations from 1 second to 5 minutes, great for pictures of fireworks and city skylines at night. Although more expensive than the more typical types of cameras ($249), the ESPIO24EW DATE is well worth considering because of its "extra wide" lens plus some uncommon capabilities.
Ultralight Vivitar
Vivitar recently announced five compact 35mm cameras, including one basic autofocus 35-70mm model (PZ2370 DB) that sells for under $100. Frankly, I found their PZ3815 DB model to be the most appealing, because this one is equipped with a 38-150mm zoom lens. A fully automatic camera with active single-sensor autofocus system, this one is truly decision free. It will be most appropriate for snapshooters who appreciate the benefits of a long lens for frame-filling images. At 5.92 oz this is also one of the lightest cameras of its type. (Street Price: $199.)
Samsung Maxima Series
Samsung offers a vast line of compact cameras, including some high-end models with Schneider lenses. Their latest Maxima models--all with Samsung Super High Definition (SHD) lenses--all fall into the affordable category. The most "expensive" ($149) model, the Maxima 1400Ti QD, is also the most noteworthy. This camera is equipped with the best SHD lens, a 38-140mm zoom with aspherical elements for better image quality. An uncomplicated camera with single-sensor active AF system, the 1400Ti QD includes a few "extras": viewfinder diopter correction control, Continuous Shooting mode, Portrait Zoom to maintain a constant subject size as you change shooting distance, and Bulb mode for very long exposures. This silver-tone camera is not the smallest, thinnest, or lightest (8 oz) in its category but it fits into a jacket pocket and would be appreciated by those with large hands.
Cameras For Under $100
Minolta makes many compact 35mm cameras, but their latest model offers the best value in the entire line at $99. In spite of the low price, the 110 ZOOM Date is equipped with an aspherical 38-110mm zoom lens and a sophisticated single-point active autofocus system that's said to be very fast. It should also ensure very sharp images, thanks to its 1000 focusing steps for ultra-fine control of the exact point of focus. This lightweight (6.5 oz) shirt-pocket size camera, in metallic-silver finish, is a fully automatic point-and-shoot model, without extra features or buttons, so it will not confuse even the novice. Those who wear eyeglasses will appreciate the "long eye relief," a feature that makes it easy to see the entire image area. This would make an ideal first "serious" camera for children or teens who are ready to graduate from single-use models.
Now marketed by Concord, the Polaroid line of 35mm cameras also targets the first-time buyer with new models starting at under $50 (PZ1800 with 28-50mm zoom and fixed focus). The top of the line PZ3080 AFD model sells for $99 and includes a 28-85mm zoom lens, great for wide angle effects and tight portrait photos, with active autofocus, plus selectable date/time imprinting.
While some industry analysts consider the APS format to be close to extinction, both Kodak and Fuji report increasing sales for their inexpensive 24mm models, particularly among teens. My own 17-year-old daughter wants one, too, because several of her friends use a "cool" Kodak Advantix model with flip-up flash. (Kodak claims that 13 percent of households already own an APS camera.) Interestingly, neither company seem to have any plan to design more advanced APS cameras and Kodak will not be producing the Advantix Easy Share--a hybrid, combining the benefits of film and digital imaging--that was shown as a prototype at PMA 2002.
To meet a continuing, strong demand in the low price range, Kodak introduced four new APS models ranging from the basic T20 ($25) to the T70 with a 24-40mm zoom and flash, to sell for $69 in a gift pack, including Advantix 400 film, batteries, strap, and a processing coupon. A Fuji rep was equally enthusiastic about their line of $50 APS cameras (Street Price). In order to increase sales, the Q1 line will be "freshened" this year, with entirely new colors in packaging "with a pop art look that appeals to both moms and their teen daughters." Since most teens receive a camera as a gift--as an economical long-term alternative to single-use cameras--the marketing approach used by both companies (and some other manufacturers) should assure the long-term success of the APS format.

Manufacturers/Distributors'

FEATURED VIDEO