Jill-e Unveils Smart Bags with Built-in Power for Mobile Devices; Compact Camera Bag Launched
Jill-e Designs has teamed up with Joey Energy to enhance its line of "Smart Bags," which power your mobile devices while you're on the go. Jill-e also unveiled a stylish new Compact Camera Bag as well.
Jill-e's Smart Bags come equipped with the protection and organization amenities familiar to a Jill-e bag, and now integrate a Joey T35 power supply, designed to fit neatly inside the bag providing convenient on-the-go charging capabilities for smart phones, tablet computers and other handheld devices.
The Jill-e Designs Smart Bags (paired with the lightweight Joey T35 feature set) allow the power supply to be integrated into the bag. The battery is tucked inside a zippered pocket along the bag's sidewall, secure and out of the way. Meanwhile, the Dashboard (user access point) sits near the top of the bag for quick/easy access to the USB ports (for charging) and the LED's that indicate the power and charging status.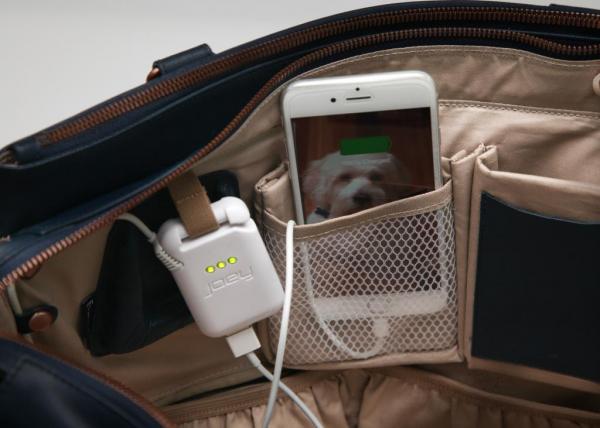 The Joey Energy's T35 model power supply allows the new Smart Bags to provide you with the ability to charge any smartphone, tablet, Kindle, Bluetooth device, GoPro or other cameras on the go right from the pocket of the smart bag. The Joey Energy system is designed to completely charge your smartphone up to three times before it needs a charge, and it will also provide partial charges to your other devices, allowing you to use them longer.
This new line includes a backpack, a tote bag, a tablet bag, and a smart phone bag in high quality leather in colors such as Patriot Blue, Mesa Rose and Port Royale (in the Marsala color family). The range of styles ensures that any carrying and style needs are met. These products will be available soon and you can find them at select retailers and the Jill-e Designs website.
The Jill-e Designs Compact Camera Bag
Featuring a stylish and durable, weather-resistant microfiber exterior with top-grain leather trim, the Compact Camera Bag offers a protective padded interior with adjustable dividers, double zip top opening for easy access to your photo gear, an interior zipper pocket for small valuables and an outside pocket for easy access to keys and smart phone.
The adjustable leather strap allows you to carry the bag cross-body style or on your shoulder. It measures: 9.50x3.25x7.00", weighs just 1 lbs., and is available in red. It is large enough to safely hold a compact system camera body with 1-2 small interchangeable lenses and a smartphone. It sells for $49.
More info on Jill-e Designs here.

LATEST VIDEO