The NEC SpectraView II Color System; Is This The Best System For The Price? Page 2
Working With The NEC SpectraView II System
I inserted the NEC application CD and installed SpectraView II, connected the display, and in a very short time I was in the process of setting the software and beginning the adjustment, calibration, and profiling process. The results looked good, very good, and were hard to distinguish from some much more costly LCD displays I have used in the last year. If you, like most, have a display made by one company and calibration and profiling software with colorimeter from another, there is quite a bit of manual display adjustment as well as software processing to do, and what works best is often learned by trial and error. With NEC and SpectraView II, it is all clear, easy, and efficiently effective and you are ready to get some real image work done. It's so good when the display software talks directly to and adjusts the display directly; it's easy and you know it is done right.

So now the real work began, first by selecting a range of images. I also used a new Epson Stylus Photo R2880 printer so I could critically evaluate the print results from all of my work with image files with the NEC P221W display. The result was that I found that the greater color gamut and refined image screen reproduction made it possible to very significantly improve final image output both on screen and in an inch thick bundle of prints made with the Epson R2880.
Retouching facial features demands sharp reproduction of fine image detail as well as distinct separation and accuracy of subtle complexion tones. The NEC P221W makes that challenge easier and the result satisfying.
Photos © 2009, David B. Brooks, All Rights Reserved
With a black-and-white grayscale image, the reproduction quality of the NEC P221W is equally an advantage, helping you to adjust the balance of highlight, shadow, and mid-tone contrast to bring out the full range of detail and complexity of the image, here a night shot of Reno, Nevada.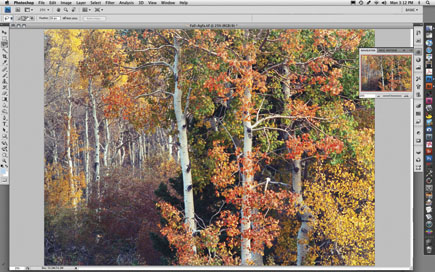 Fall colors can be tricky to balance and adjust to produce a print image that captures the reality that inspired the shot. I have done this Raw image file several times in the past but never got it so effective as with the NEC P221W. Getting the white of the aspen trunks with just the subtle variation between sky blue and leaf gold alone is a challenge.
I have used good LCD displays the last few years and have generally obtained satisfying color-managed print output. I was not unhappy with the work I had done but I was surprised just how much the NEC P221W and SpectraView II allowed me to see even greater and different image possibilities. The better on-screen image results had to be attributed to the NEC display and SpectraView II. All I can say is that if you can see it, then you can make it better, and I was seeing more in my images than in the past.

I also had an experience that solidified and confirmed previous experiences. I usually make my screen shots for the test and get them on file, so I immediately went through the adjustment, calibration, and profiling with SpectraView for a second time. The results were improved, which shows me that every bit of refinement helps. In other words, the first time a new display is adjusted, calibrated, and profiled, after a few hours of running, a second run through the process with the hardware settled in seems to refine the result. This has occurred before with other products and setups, but with this integrated system it confirmed that, particularly with new equipment, a second immediate adjustment, calibration, and profiling obtains a better result. By the way, I set up with a white luminance of 90.0 CD/m2 and produced files that printed dead on in both density and color fidelity to what I had on screen. This gives me even further assurance that this somewhat arbitrary white luminance setting I have been suggesting really works effectively across a broad range of systems for producing color-managed prints.
Some years ago I grew some Asian lilies in pots on my balcony. The flowers were really gorgeous, so of course I made more than a few photographs. But not one of the images really satisfied me so I cropped out the flower image from several and rearranged them to make a composite on a white background. I've made and I hope pleased a few friends with prints of this image, so it was a good one to test the density and color matching between the NEC P221W and the Epson Stylus Photo R2880 printer. Never better.
© 2009, David B. Brooks, All Rights Reserved
Conclusions & Recommendations
My work over the last few years has involved a lot about displays, and a good portion of the e-mails I receive from photographers includes questions about what displays to get or how to fix one to make it work. That is consistent with my belief that you can only control and work with what you can see, and if you can't see everything in a photographic image file, then your results might be a little off, or out of the park. My experience with NEC's new SpectraView II and their very affordable MultiSync P221W 22" LCD display was very positive and I can recommend it as a very good solution. True, you can spend more and get a little more, but you can't get an all-around, easy, good, high-quality performance in digital photographic image reproduction for less. This NEC package of display, software, and colorimeter is definitely professional-level quality in every dimension, while at the same time being easy to install, set up, and use effectively and efficiently.

I do, however, disagree with NEC about their recommended white luminance aim point; 140.0 CD/m2 is bright and will result in too-dark color-managed print output. The only other concern one might have is that although SpectraView II will work with at least 27 different NEC display models, it is a proprietary system and will not work with other makes of LCD displays. If you choose NEC and X-Rite with SpectraView II, you have joined a family that is somewhat exclusive, but definitely good company to keep.

For more information, contact NEC Display Solutions of America at: www.necdisplay.com.
David Brooks can be reached via e-mail at: goofotografx@gmail.com.

FEATURED VIDEO