Nature's Rejuvenation: After The Fires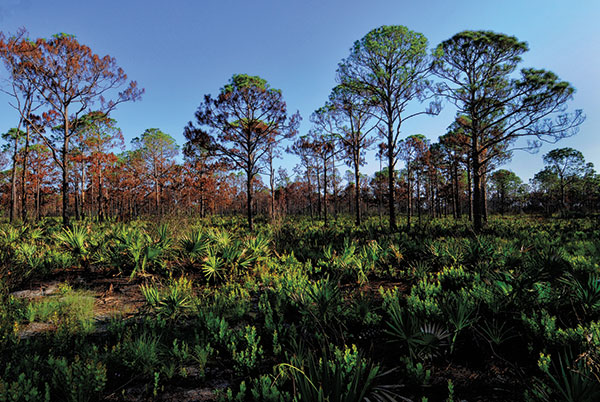 Last year, I decided to take on a challenge focusing on the unique natural beauty associated with wildfires in a Florida scrub ecosystem, one of the most rare ecosystems in the state. Florida is no stranger to wildfires. Nationwide, Florida has the second highest number of wildfires annually. In 2011, it was estimated that 300,000 acres of land was burned due to over 4800 wildfires. My project was centered at Indrio Savannahs Preserve, where a 120-acre wildfire was ignited by lightning in March of 2013.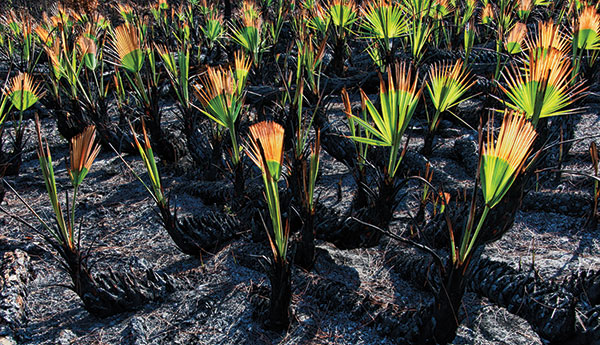 Since that wildfire, I have visited the preserve on six different occasions. During each visit I have altered the time of day for lighting purposes (early or late daylight, backlighting opportunities) and taken into account whether the area has been dry or received recent rain. During each visit I have been amazed at not only how fast new growth appeared, but just how resilient the ecosystem is. Florida's scrub vegetation evolved as a fire-dependent ecosystem. This means that native scrub plants are meant to be burned by wildfires periodically. After a wildfire is extinguished, the nutrient-rich ash becomes fertilizer for new plants to grow. These new plants lure herbivores back into the scrub ecosystem which will attract the carnivores. At the same time, other dead or dying vegetation will continue to decay which will provide food for other fauna (e.g., insects) and flora (e.g., fungus). Hence, there is a plethora of subjects to photograph.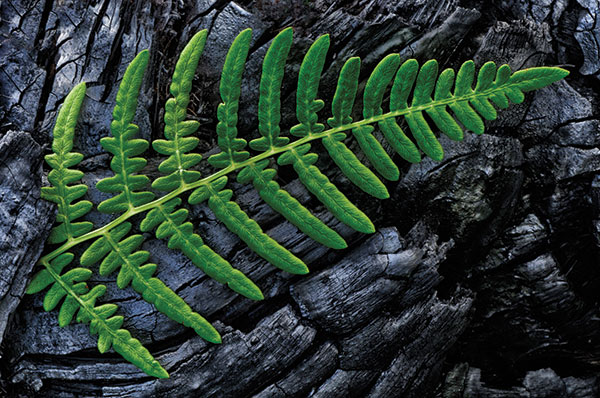 What initially attracted my eye in this burned area is the blackened landscape. The different shades of gray and black provide a fantastic backdrop against the emerging new growth. The different colors associated with the new growth against the dark background provides excellent contrast and really makes the subject pop. I sought out interesting and contrasting textures between burned vegetation and new growth.
Outside of the vegetation, scrub ecosystems have a variety of unique fauna to offer. Like plants, animals display a range of abilities to cope with fire, but differ in that they must avoid the actual fire to survive. Although birds are vulnerable when nesting, they are generally able to escape and have the ability to recolonize burned areas quickly. Mammals are often capable of fleeing a fire or seek shelter if they can burrow. Similarly, amphibians and reptiles may avoid fire by burrowing into the ground or using burrows of other animals, while some have the option of taking refuge in water or wet mud. During my numerous visits to the preserve I was fortunate enough to observe and photograph a federally threatened Florida scrub-jay, as well as a gopher tortoise and a corn snake.
No matter how well you prepare yourself and visit these biomes, you never know for certain what you may encounter in these ever-changing and evolving ecosystems. That is part of the intrigue and mystery of these burned ecosystems.
Safety First
First and foremost, safety should be your number one priority. Never enter an area that has not been officially reopened. Fire is extremely fast and unpredictable, smoke and toxic gases kill more people than flames do, and heat generated by fires is more threatening than flames. In addition, you don't want to hamper any firefighting activities as lives and property are at risk. To be honest, I did get frustrated because it was weeks after the wildfire had been extinguished before the preserve was reopened. However, after talking with county officials, I was informed that hotspots had occasionally reignited, which caused the delay in reopening the preserve. As badly as I wanted to enter the preserve, leave firefighting to the professionals and respect their decision.
Gear, Photo and Otherwise
As you might surmise, an area recently burned is a messy environment. To protect my body I wore both long pants and shirt, and a floppy hat. The hat provided some protection from ash and other debris from falling on my head and camera. In addition, a moistened washcloth enclosed in a sealed Ziploc® bag came in handy to clean my hands during my excursion. Since both wind and footsteps can easily kick up ash that can coat any exposed equipment in short order, I was vigilant in protecting both my camera and lenses. My Think Tank pouches and harness provided just the protection I needed. Because the Think Tank harness was positioned around my waist, pouches and equipment never had to be placed on the ash-laden ground, where ash was in some instances several inches thick. If additional protection is warranted based on environmental conditions, individual lenses can be placed in Ziploc® bags or, in the case of the Think Tank pouches, I enveloped each pouch with the integrated rain cover.
Because of the ash-filled environment, I kept my camera equipment to a minimum. I brought one camera body, three lenses (12-24mm, 105mm macro, 100-300mm), a tripod, filters, a diffuser, and a few incidentals. The use of only three lenses reduced the frequency of having to swap them out. When switching lenses, I turned the camera off and changed out lenses as fast as possible while positioning my body against any wind. At the end of each outing, all equipment was thoroughly cleaned and the camera sensor checked for the presence of any debris.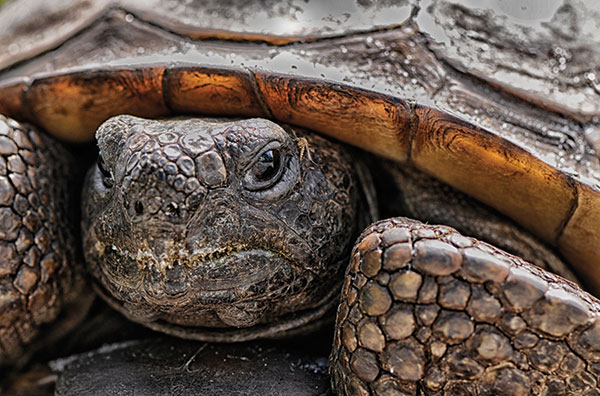 Although the use of a small diffuser was necessary in order to reduce harsh shadows for macro work, I learned very quickly that a good circular polarizing filter was necessary. If you've never closely examined a recently burned and charred piece of vegetation (e.g., tree trunk) it might surprise you just how much shine/sheen exists. I discovered that a good polarizing filter is the only thing that aids in this situation. Don't rely on post-processing to come to the rescue.
To see more of Jeff Howe's work and to check out his blog, visit http://jeffreyhowe.zenfolio.com.

FEATURED VIDEO