My First Photographic Show: Tales From A Solo International Exhibition
"The opportunity to publicly display your work will give you a new skill set and allow others to enjoy your creativity."
You have invested in camera equipment. You have sharpened your photographic skills. You even have a gallery of your photos online. Now what? The next step for many photographers is a public exhibition of their work. It is a way to be seen, to promote and market yourself and your work, and maybe, if you are lucky, even a way to sell a print or two.
If that sounds appealing to you, then the next questions usually are, "How can I get my photos in a gallery or exhibition?" and "What is involved in organizing a photographic show?"
From the start, I'm no expert on the subject of photographic exhibitions. Actually, Visions from La Morra was my first show, and it came about quite by accident. Between 2010 and 2012 my wife and I traveled from our home base in Lake Como, Italy, to the Piedmont area of Northern Italy to attend the annual white truffle festival held in the town of Alba. The area is a photographer's delight, with medieval hilltop towns and terraced vineyards that begin in the valleys and climb to meet the walls at the top of the hills. The area is abundant with rich architecture and vineyards displaying vivid colors and textures, and that famous Italian light, making it nearly impossible to take a bad picture.
With that as our backdrop, we stayed in a vineyard apartment just below the historic town of La Morra. Returning for our visit in 2012, we gave the owners of the apartment (now our friends) several 24x36-inch prints from photographs I had previously taken of the surrounding area.
Having a fine art printing business (Bay Shore Fine Art Imaging) and a Canon iPF8300 printer allowed me to make large prints of the HDR photos I had taken in 2010 and 2011 with my Canon EOS 5D Mark II. After framing the prints, our friends showed them to officials in La Morra who operate the town's wine center ("Cantina Comunale"). The Cantina, located in a historic 17th century building, also contains a community exhibition space. After seeing the prints, the officials asked me in late November 2012 if I would be willing to exhibit my work at the Cantina during the 2013 truffle festival. I thought about the offer (not knowing what I was getting into), and after several e-mails, we finally arrived at agreeable dates (September 28 – October 11, 2013) and Visions from La Morra was born.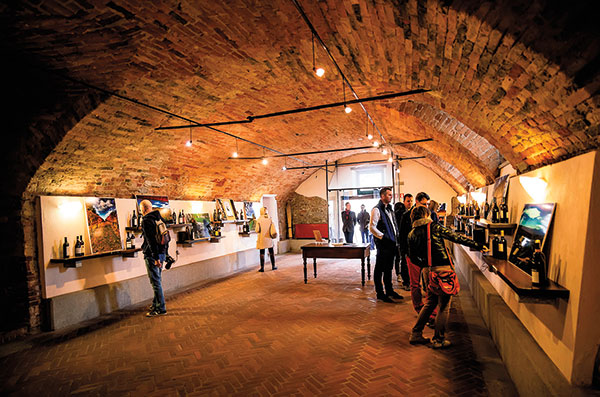 Selecting A Theme
Photo shows normally have some sort of theme. Choosing the theme for my show was easy. It featured 12 photographs of what are common vineyard, architectural, and landscape views in and around La Morra, which, in my mind, reflected the basic essence of this wonderful area. Luckily, from our earlier visits, I already had HDR images stored on the hard drive of my Canon printer. During our visit in 2012, I shot with a RED Scarlet Camera, so I was able to use frame grabs from the motion sequences, which I converted to TIFF files, for the remaining images for the show.
Show Preparation
Once the photos were selected and processed for printing, the next step was to build a show website. Using "Photocrati" and "WordPress," in two weekends I had my show website, www.visionsfromlamorra.com, up and running.
I also decided that note cards and postcards would complement the show. For the note cards, I used Red River Pecos Gloss note cards and a Canon PIXMA PRO-100 printer. I selected two images for the postcards and had 100 of each image printed by Overnight Prints.
The show prints were printed by me on my Canon iPF8300 printer at 24x36 inches using LexJet Sunset Photo Metallic Paper. The combination of the Canon's rich colors and the metallic photo paper gave the images a sense of depth and realism, while highlighting the unique colors found in this area of Northern Italy.
The real challenge was how to get 12 prints mounted in Italy. Using an Italian frame shop was cost prohibitive, and I preferred more of a "poster mount" rather than a traditional frame mount. Having the prints mounted here and then sent to Italy would have required a specially constructed shipping crate, and that was equally expensive. Our Italian friends contacted a printing and graphics design firm in a nearby town. They understood what I had in mind. They were able to mount all 12 prints on a material called "polistirolo," which is similar to 1/2-inch foamcore, but with rigid surfaces. The 12 prints were then mailed to Italy rolled in tubes for mounting. It cost about 300 euros to have all 12 prints mounted, which was a considerable savings.
The Show
The show was scheduled to open at 6:30pm on September 28, 2013. However, on Friday, the 27th, the Cantina asked me if all the prints could be arranged by 10:30am the following morning. A private wine tasting had been scheduled at 11:00am on the 28th and the Cantina wanted the exhibition room fully decorated with the prints for the tasting. However, the Cantina wouldn't open until 9:00am, which gave me very little setup time. Somehow, my wife and I were able to get all the prints hung in proper order with the correct description cards in about 1 hour and 20 minutes…giving us 10 minutes to spare! As the wine tasters came in the front door, we made a quick exit out the back door.
The scheduled opening was at 6:30pm on the 28th and it was well attended. Much to my surprise, the show was favorably reviewed by descriptive articles in Tanro Sette, a regional newspaper, and in il Corriere, a national newspaper. No doubt, that helped boost attendance during the run of the show. From the statements recorded in my guest book, and from messages received through the show website, visitors from all over the world had warm and positive comments about the images.
Was It Worth It?
That's the obvious question. From a financial standpoint, I almost broke even. Ten of the 12 pictures found new homes; the note cards sold out; and a large quantity of postcards were sold. But, the costs and expenses of putting on a show in a foreign country are considerable. And, don't forget, I was able to do my own printing and control those costs.
If I had to pay "retail" for printing, then the show would have resulted in a significant loss! However, on the other hand, the show received regional and national Italian newspaper coverage; the website received a lot of views; and I even had an order for a print waiting for me when I returned home. Yes, it certainly was a learning experience.
All in all, it was also a rewarding and enjoyable experience. So, I would have to say, yes, it was worth it. While many of you may never have the opportunity to do a solo show in a foreign country, if you are prepared to try, holding your own show is something that can be done by almost anyone. You certainly don't need to go to a foreign country to do it. You can easily participate with a local photo club, or offer your work for viewing in a community center, library, restaurant, or a coffeehouse "art space." The opportunity to publicly display your work will give you a new skill set and allow others to enjoy your creativity. And, as I said, "maybe, if you are lucky, you might even sell a print or two."
Author Bio
While providing fine art printing services to other photographers and artists (www.bayshorefineartimaging.com), occasionally Wm. E. Szczepaniak finds the time to take and print his own photos. To see the photos from the La Morra show, please visit www.visionsfromlamorra.com.

FEATURED VIDEO