At The Movies; Motion Picture Still Photographers Page 2
www.jasinboland.com
Jasin Boland is an Australian-based motion picture still photographer who has worked on The Matrix, Ghost Rider, The Bourne Supremacy, and Dark City, a film that you've probably never heard of but should. A list of his recent films is front and center on his site, although you can also click on the thumbnails to see large images from each film. The site provides a little on-screen tutorial window that tells you how to navigate through them and can be closed once you get the hang of it. I've often been critical of websites that don't show images large enough, but Boland's fill your screen with his eye-popping photographs and prodigious talent.

I looked at Aeon Flux first because I think that the images created on turkeys like this are often better than the movie itself. Aeon Flux has a Rotten Tomatoes (www.rottentomatoes.com) rating of 10 but that didn't stop Boland from capturing photographs that range from sci-fi spectacular to a romantic portrait of a brunette Charlize Theron that will set your hair on fire. Next I peeked into the Green Zone gallery, knowing that images of Matt Damon would set my wife's heart atwitter and she wasn't disappointed. Boland captures some wonderful action-oriented images from this war film, including some showing the director and star at work in the desert.

Want something lighter and more family friendly? Check out Boland's images for the 2003 live-action Peter Pan, especially his colorful and moody images of Harry Potter's Jason Isaacs as Captain Hook that are truly magical as are all of his images for this charming and underrated film. Boland is clearly a versatile set photographer who is equally comfortable crafting images in the Moroccan desert or Neverland.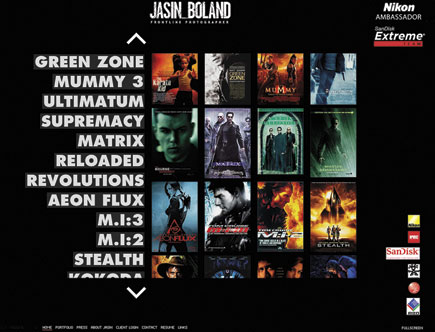 © 2010, Jasin Boland, All Rights Reserved
http://pattiarpaia.com
Patti Arpaia's straightforward website is full of the kind of warm, friendly movie images that are her hallmark. Instead of space aliens, explosions, or violence, you'll find photographs that celebrate family, but even her images from Headhunter (a.k.a. Protecting the King) appear fairly tame, perhaps due to the fact that the only person with a gun is an Elvis impersonator. Proving that great photographs (and soundtracks, too) can originate from unlikely movie sources, be sure to check out her images for The Hottie and The Nottie, not a film that I saw, yet her portraits of Paris Hilton, even the unposed ones, are simply amazing and may be the best photographs that I've ever seen of her.

Treasure of the West is a modern western that gives Arpaia a chance to work with horses and dramatic lighting and she delivers striking images that fit the underlying family theme of this film. In Set Apart she delivers wonderfully composed and executed images of modern working cowboys a-riding and a-roping, yet makes time to deliver tender portraits of the film's principals, including Richard Roundtree. You'll find lots of great-looking images on Arpaia's website, so much so that you will want to see more.
© 2010, Patti Arpaia, All Rights Reserved

LATEST VIDEO