Movement And Emotion; The Dance Photography Of Jeffrey Dunn
It's challenging to get the right combination of true color, composition, and light playing on figures who are moving in unprecedented positions at a rapid rate of speed. The dancers are theatrical, sassy, and innovative, and this is where Boston photographer Jeffrey Dunn shines as he photographed America's Ballroom Challenge for Public Television's presentation stills. Dunn's assignment was to freeze a split second of beauty, range, and movement as world championship ballroom competitors move across the stage, capturing a fragment of time with glory and speed. Above all, he must create an exquisite series of photographs.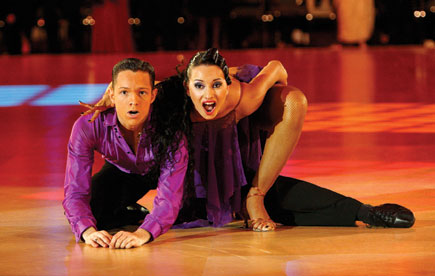 All Photos © 2007, Jeffrey Dunn, All Rights Reserved
Some of the images are close-ups while others might show the crowd of onlookers to give a feel of what's going on. "I'm there trying to pan my camera in between all those people who paid a lot of money to be there and I need to try and work crouched between them," Dunn says.
"Beginning at four in the afternoon and running until well after midnight, my goal is to shoot as many couples as possible while the event unfolds and hope I get those who make it to the finals. I document the entire event, as I'm never sure who the winners and the losers are going to be."
| | |
| --- | --- |
| | |
Starting with 12 couples on the floor, the competition narrows to six and finally to an individual couple. "Some couples stand out as more interesting because of their costumes or the angles and shapes they form that I see when they dance by, but I also try to catch their expressions when they're looking at the camera. Often I focus closer when I see a particular facial expression I like. In another shot, which has been used as a post card, their shapes are complemented by the television lighting. The floor is lit and the dancers are directly in the light."

How does Dunn catch the decisive moment? "Just luck, or holding my breath and capturing them at that instant when they are switching from one position to the next. There are times though that I don't look for a sharp image but rather one that is about speed and drama."
| | |
| --- | --- |
| | |
His favorite example is one being used for the poster of this year's event. Close to the grand finale of one dance, the image shows a male dancer holding his partner aloft. It creates a spirit of an effortless-looking move; it pictures the dancers' bodies in a classic and simple pose of beauty. "This image stands out for me," Dunn says. "It was an elegant moment and represents the entire event, showing the ability and flexibility of the dancers and the way they compliment one another on the dance floor."


FEATURED VIDEO