More Than Just Capturing The Image; Computers And Digital Imaging In Perspective
"There are no rules here—we're trying to accomplish something."—Thomas A. Edison
I've always felt the most important photo accessory you can own is the bag that holds your gear. That's why I worked with Adorama (www.adorama.com) to develop the Joe Farace Reporter Backpack and the smaller Mary Farace Daypack. Recently the Reporter backpack was slightly enlarged to hold larger laptop computers, including 17" HP models. The new model is called Reporter II and costs just a few more bucks than the original model's $74.95 price. That extra few inches in height also provides additional room for photo gear inside and there are a few cosmetic improvements that, I'm guessing, only owners of the older bag will notice. The zipper pulls are different as is the hardware that attaches the shoulder straps to the bag. The biggest difference is an interior that not only looks better but also is more functional, allowing you to place the movable partitions wherever you want, not just in specific areas. The Reporter II replaces the smaller Reporter, which I'm told could be brought back if there was a demand.
© 2008, Joe Farace, All Rights Reserved
Picture Perfect Retouching
Portrait Professional (www.portraitprofessional.com) has long been my favorite retouching tool for portraiture. In Version 8, the program extends its "intelligent" airbrushing design to include 80 custom controls that are designed to enhance different aspects of your subject's face. If the face has a heavy jaw, the "jaw slider" control can be used to reduce it or, conversely, if the jaw is weak, the changes in the slider will subtly enlarge it. Portrait Professional 8 will eliminate skin blemishes and reduce or remove wrinkles. You can also get rid of shiny skin highlights, brighten eye color and enhance whiteness, whiten and recolor teeth or reshape lips, as well as thicken, color, or smooth hair. You can even improve the portrait's lighting to make it more flattering.

Best of all, you don't have to be a pro to do any of this because of the program's easy-to-use interface. After a simple mark-up stage where specific areas of the subject's face are defined, you can instantly enhance most aspects of the portrait by moving a few sliders or just leave it alone, accepting the defaults, as I do most of the time. Portrait Professional 8 is now available in two versions: The standard version works with JPEG and TIFF files and the premier version, Portrait Professional 8 Studio, can directly enhance 16-bit raw files. Portrait Professional 8 is now available for the Mac OS as well as Microsoft Windows. If you are really serious about portrait photography you should be using Portrait Professional 8.
© 2006, Joe Farace, All Rights Reserved
Got The Time?
Do you bother to set the clock on your digital camera? The EXIF data that setting the clock provides is such a handy tool for knowing when and how a digital photograph was made that I always make sure to set the time on any new camera, but sometimes forget to adjust it when changing time zones. Sometimes there are camera problems that can reset the time to the camera's default, such as January 1, 1900, and all of your images end up with strange dates and times stored in the EXIF data. That's when you need software such as Photime (www.hammondjdh.com), which was designed to operate in situations where hundreds of photos have bad dates/times that need correction. Photime lets you simultaneously edit blocks of photos and is also useful for photos where the metadata has been lost, when you want to add copyright or description information, or would like to export metadata to a spreadsheet. It's a Windows-only program that only costs $14 and works fine on my iMac running Microsoft's Vista via Apple's Boot Camp.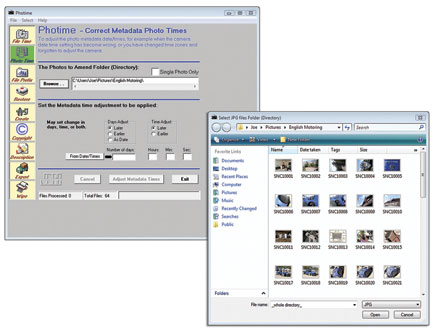 Sweet Plug-Ins
Photoshop compatible plug-ins have the power to accomplish several things. They simplify techniques that may require multiple steps within the host program, providing a controllable interface that makes it possible for anyone to produce expert-looking effects. They also allow you to do something you couldn't otherwise do in Photoshop—extend the program's capabilities. Some do both. For example, onOne Software's (www.ononesoftware.com) Plug-In Suite 4 software includes six essential plug-ins—Genuine Fractals 5 Print Pro, PhotoTools 1.0 Professional Edition, PhotoFrame 3.1 Professional Edition, Mask Pro 4.1, PhotoTune 2.2, and FocalPoint 1.0—in an affordable combination that contains everything a photographer needs to make their images look their best.


LATEST VIDEO