More Than Just Capturing The Image; Computers And Digital Imaging In Perspective Page 2
I've written about most of these plug-ins; if you'd like to read specific details about how I feel about a product, use the Shutterbug website's Search feature to find related stories. Plug-In Suite 4 costs $499.95; all would cost $799.75 if purchased separately. Users of previous versions can upgrade for $199.95, and customers who own one or more of the products in the suite should visit onOne Software's website for upgrade details. While this may be a substantial investment, even if you only need two of these useful and amazing plug-ins, you'll wonder how you ever lived without the rest of Plug-In Suite 4's components. I rate it as this month's best buy!
© 2006, Joe Farace, All Rights Reserved
Did Somebody Say Pancakes?
Olympus' (www.olympusamerica.com) Zuiko Digital 25mm f/2.8 is a lightweight, pancake-style lens that's shaped more like a Southern-style beaten biscuit than a pancake. The lens has an overall length of less than an inch so that when mounted in Olympus' wonderfully tiny E-420 D-SLR it makes for a truly pocketable package. With a focal length equivalent of 50mm, the 25mm f/2.8 lens provides a natural field of view that's close to that what your eyes see, making it useful for everything from snapshots to portrait to landscape photography. Double-sided aspherical lens components are used to reduce the lens length and provide optimal aberration correction, producing tack-sharp image files.

Close-up shooting is possible at a minimum focusing distance of 5" from the front of the lens. The screw-on lens cap is made from aluminum, providing a delightful retro touch, and the whole megillah weighs a little over 3 oz, making it a perfect companion to the E-420. A lens hood is optional. The Zuiko Digital 25mm f/2.8 sells for less than $250.
Paper Chase II
Pictorico's (www.pictorico.com) Pro Hi-Gloss White Film (think of it as media, not paper) provides a luminous gloss even in areas of the image with heavy ink coverage and exhibits a high brightness level that makes your images seem to jump off the page. It's also fast drying and water-resistant. The media's substrate is coated on one side and you should be careful to print on the side where the notched corner is located on the upper right-hand side. Old sheet film users will feel right at home.
Tip: The super glossy surface of the Pro Hi-Gloss White Film is easy to fingerprint—but not smudge—so be sure to wear cloth Mickey Mouse gloves when handling the material, especially when it just comes off the printer.

Pictorico's Gekko inkjet paper is inspired by the Gekko fine art paper sold in Japan for traditional wet darkroom processing and is specifically designed for printing black and white photographs. The paper's names can be confusing so let me explain: Gekko Black has a matte finish applied to a resin-coated photo base that has the look and feel of a silver halide print and is compatible with dye and pigment inks. Gekko Blue has a luster finish on a resin-coated photo base, produces deep blacks, and is compatible with dye and pigment inks. Gekko Red is a 100 percent cotton paper base inkjet media with a soft, textured surface that's well matched to pigment inks. Perfectionists can download profiles for printing on Canon, Epson, HP, and Lexmark printers; prepare to be amazed.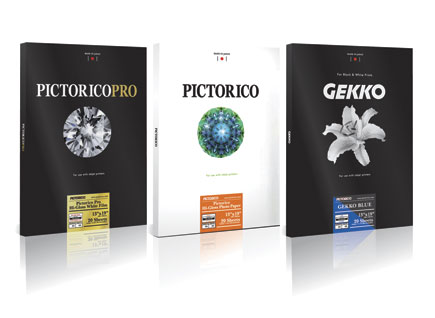 LATEST VIDEO