More Details and New Photo Emerge for Upcoming Pentax Full Frame DSLR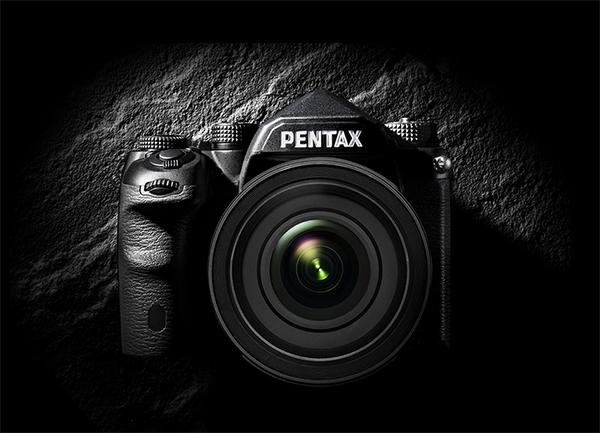 Pentax/Ricoh Imaging has been rather coy about its forthcoming, full frame DSLR, posting a series of slightly changing camera teasers on its website. The latest teaser adds a new photo of the DSLR along with some text that seems to be a clumsily translated press release about the camera and the lineage behind it.
The new Pentax full frame DSLR photo (which is at the top of this story) and the press release about the camera (which is posted below) come on the heels of the company briefly displaying a prototype of the forthcoming model (under glass) at the PhotoPlus Expo show in October, only to remove it later.
The new Pentax full frame DSLR is slated to come out in Spring 2016, according to Pentax/Ricoh Imaging.
Here's the press release, which was posted on the Pentax website yesterday.
PENTAX New-format SLR Camera

PENTAX LX was launched in 1980 to commemorate the 60th anniversary of Asahi Optical. The world's first dustproof, weatherproof replacement-type finder system, direct meter automatic exposure, titanium-blind focal-plane shutters. These features make for SRL cameras of the highest order for professional use.

PENTAX has always been a unique brand of camera. Never one to imitate other makes, PENTAX has stuck to its pursuit of original value to create high-performance cameras used and loved by pros and amateur photographers alike.

Let's look back on the history of PENTAX, going back to its origins at Asahi Optical Co., Ltd. The company was established in 1919 as Asahi Kogaku Goshi Kaisha. It manufactured eyeglass lenses and cine lenses. In 1952, the company began camera production with its Asahiflex 1, the first single-lens reflex camera made in Japan. In 1954, this model evolved into Asahiflex IIB with a quick-return mirror. The Asahi Pentax AP, which came out in 1957, was the first camera to come equipped with a pentaprism—a five-side optical glass element—as well as a quick-return mirror. This was the first time the name PENTAX appeared. These models were followed by many other cameras—exclusively SRL—equipped with unique features that were the first of their kind, both in Japan and in the world. In 1964, the Asahi Pentax SP was the first SRL with TTL (through-the-lens) metering. Asahi Pentax ES, launched in 1971, was the first with TTL full-aperture metering and automatic exposure control.

Not all PENTAX cameras used 35 mm film. In 1967, the maker put out the first medium-format SRL with built-in TTL exposure metering that used 6 cm x 7 cm film. The camera was aptly named PENTAX 6 x 7. A medium-format camera using 6 cm x 4.5 cm film, the PENTAX 645 (1984). Not only did PENTAX mobilize the medium-size camera world with 35 mm cameras, but it also launched the first medium-format interchangeable AF lens camera, PENTAX 645NII (1997), achieving both high-quality pictures and mobility. The camera has been used and loved by photography lovers of all kinds.

As for digital SRL cameras, in 2003, PENTAX *istD was unveiled as the smallest and lightest weight camera in the world. PENTAX K100D (2006) was well-received as the first PENTAX digital SRL to have built-in image stabilization. The same year, PENTAX K10D was released. It had the same functions as K100D as well as the first dustproof and weatherproof structure, and achieving a reputation for overall excellence in an SLR camera. It received 3 major international camera awards: TIPA, Camera of the Year, and EISA. In the years that have followed, the maker has continued to release unique cameras, such as the digital SRL with the well-known medium-format 645 mount, PENTAX 645D.

Coming up in spring 2016!

PENTAX is launching a digital SRL with a brand-new format.

Reliability rooted in history and technology. Incomparable originality. These are all unique and attractive cameras that only PENTAX can offer. A new chapter in the PENTAX is about to begin!
(Via Photo Rumors)