Mixed Media; The Art Of Jeff Berman
New developments in digital technology have given the artist new tools; digital cameras and software programs with incredibly creative options have allowed artists in all media to advance their work beyond the ordinary. While Jeff Berman, whose work appears on these pages, admits that new technology has opened creative doors, he also knows that at the heart of any work is an eye that combines understanding the new and drawing upon the past. "The word new is a misnomer," Berman says. "All good work is based on tried and true concepts regardless of the media used to create it. Collage, mixed media, digital art, and conceptual art have all found places in the art world. They have their roots in design, composition, and color, the foundation of art and photography."
Bowen McCauley
All Photos © 2006, Jeff Berman, All Rights Reserved
Berman is a trained traditional artist who studied with master painters for 20 years at the Art Students League in Manhattan. He combines digital technology, photography, pastel and watercolor techniques to produce his award-winning art work. He has produced images for the Brooklyn Academy of Music and posters for the International Dance Festival New York for Dance Inc. in 2004 and 2005. He also worked with Dr. Chiara Ajkun of the Ajkun International Ballet Company at the New York City Center to produce his classical ballet series. The Soho Photo gallery in Manhattan has had several solo exhibitions of his work.
The Leap
Berman relies on a number of different cameras for his work, with the Fuji FinePix S2 Pro being his main workhorse. "The Fuji allows me to shoot in low light without flash at the various theaters in which I work; the amount of noise in these photos is minimal." He prints his own work, using the Epson 7500 and 4000. His choice of papers are those produced by Ink Press Paper, including their latest warm- and cool-tone art papers. Berman says, "These papers are reasonably priced and are high quality. Papers by Ink Press are very compatible with the Epson 7500 and 4000 and the profiles can be downloaded online. For my photographic work I use the Ink Press New Luster paper, which gives my images a very rich look."
Ajkun International Ballet 1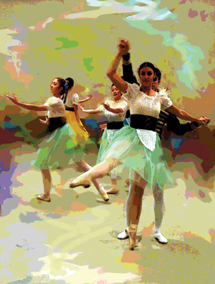 LATEST VIDEO