The Megapixel Race Heats Up...
The New Class Of 8Mp Digital Cameras Raise Expectations & Issues
Like with all technology driven product segments, "bigger is better" now applies to the digicam marketplace. While 5- to 6-megapixel cameras dominated 2003, this year will be when 8-megapixel cameras battle for supremacy. While the pace of change in the industry has pushed megapixel counts higher, there are some cautionary notes, which will only be resolved by getting our hands on these cameras, most of which were not available as we went to press.

With 8 megapixels residing in sensor sizes that now hold 4, 5, or 6 megapixels, less light/photons are collected at each of the pixels, thus the signal to noise ratio decreases. This, we are told, will be offset by better in-camera image processing. Another problem might be in optical resolution, and how the lens will be able to perform with these smaller pixel structures.

In general, digital SLRs have pretty big sensors, at least in relation to "digicam" models. That means pixels at 7-8 microns for SLRs, a density that should result in fairly good light collecting capacity and capability. The picture is very different for the new crop of 8-megapixel digicams. Here the pixel size gets as small as 2.7 microns and the manufacturers have to fight many conflicting optical issues. Some have 7x to 8x zooms, which is an optical challenge onto itself. There might be a problem with optical aberrations (most notably chromatic aberration), which can result in purple and green fringing in the image corners at high contrast edges. There can also be problems with lens distortion, blurring and vignetting, unless some radical optical intervention (or software intervention) takes place. All this makes it quite unclear whether you really can get betterpictures from the 8-megapixel digicams than from well implemented 5- or 6-megapixel cameras.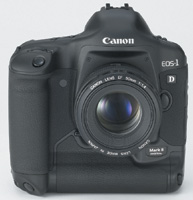 Despite these apparent drawbacks we don't think this trend toward higher megapixel counts will stop. Before we have a look at the current crop, let's do a quick review of some of the issues that these, and all digital cameras, have to deal with.

1) Shutter lag: This is the time it takes from when the shutter is pressed until the image is really taken. Digital SLRs have a negligible shutter lag while digicams can be comparatively slow.

2) Viewfinder: Many of the new digicams with long zooms have electronic LCD viewfinders, a trend we see eventually overtaking the field. Right now, however, we consider them inferior to any optical SLR viewfinder.

3) Chromatic aberrations and color fringing: As mentioned, the new small pixel structures are a challenge, even when coupled with good optics. In our very preliminary tests with prototypes and preproduction models, some of the new 8-megapixel cameras show severe chromatic aberrations and/or color fringing. Generally speaking, chromatic aberration has to do with a change in focus and/or magnification as a function of wavelength. Lateral chromatic aberration is the change of magnification, that is, certain wavelengths being magnified differently than other wavelengths. This varies across the lens and is most noticeable at the edges. All traditional optical systems suffer from this to a certain extent.

4) Noise: The signal to noise ratio will be lower (higher S/N means more signal and less noise) in the smaller sensor sizes with more pixels than with bigger sensors. On the other hand, noise is less of an issue when smaller prints are made.

5) Raw file support: Raw files let you get the best image quality from your camera. But in our preliminary tests with the Sony F828, the raw processing in the camera is poorly implemented, making it less than practical. The Sony F828 takes about 8-10 seconds to write a single raw file, during which time the camera is blocked from making new shots. This might not affect you if you are photographing landscapes, but it is worthy of mention.

6) Auto white balance and color reproduction: On the plus side, our tests with the Sony F828 indicate excellent white balance and color reproduction. This indicates a very sophisticated image processing system.

As mentioned, these are from preliminary tests, but they do point out some of the issues the new crop of
8-megapixel digicams might face. We'll report on these new wave cameras as they become available. Now let's take a look at some of the cameras in this new group.
Digital 8-Megapixel SLRs
There is only one new digital SLR at 8 megapixels, the Canon EOS-1D Mark II. Canon has redefined the state of the digital SLR art for sports shooters and journalists with an 8.5 shots per second framing rate. But this 8-megapixel camera also has enough resolution to be used in a far more general fashion, with Canon aiming squarely at the portrait and wedding market as well. With new sensor improvements and better image processing it may deliver images that rival the Canon EOS-1Ds. We think that going from 8-11 megapixels (in the company's EOS-1Ds) won't make a very big difference, although the EOS-1Ds still has that full-frame sensor. This is clearly a
milestone camera.
8-Megapixel Digicams
All five of the 8-megapixel digicams presented at PMA use the Sony 8-megapixel CCD. The only difference is that the Sony F828 uses a so-called four-color RGBE sensor while the other manufacturers seem to use the more "classic" three-color RGBG. Some of the issues stated earlier for F828 may even be related to using the four-color sensor and may not affect the other digicams. Only testing will tell.
Sony F828
This camera was released to the market in December 2003. We own a Sony F828 and have mixed feelings about it. On the plus side it handles excellently, is well designed, and offers a very sharp Zeiss zoom lens in equivalent focal length range of 28-200mm. It has a very useful live histogram and color, white balance, and resolution are excellent. On the other hand, the electronic viewfinder could use some work, the noise is slightly elevated above ISO 200 and we did notice purple fringing in some cases. And, as mentioned, the raw files take quite long to write.
Canon PowerShot Pro1
We only had a sample in our hands for a few minutes. But Canon digicams have a good reputation. This time Canon added an lens that could limit any possible optics-related problems. Canon had the advantage to check out the F828 and tune their camera. We are sure that this camera will be a hot seller.
Konica Minolta DiMAGE A2
This camera shows many unique innovations. The Anti-Shake sensor will be especially helpful when using longer focal length lenses. The electronic viewfinder is an improvement over most we've seen, with a state of the art 900,000 pixels. This is more than 3x resolution over the competition. The swivel viewfinder seems quite handy, and there's an automatic switch to the viewfinder when you look into it. Happily, there's fast processing of raw files, and the camera can buffer multiple raw files while you shoot. This should be one of the more interesting of the 8-megapixel class.
Nikon Coolpix 8700
This is another camera we only had a brief time with at PMA. Nikon is known for their glass, and they seem to have spent a lot of effort in optimizing the integral 8x zoom. Nikon's ED glass should solve any potential optical problems. We expect the Coolpix 8700 to offer solid NEF (Nikon's raw file) support.
Olympus C-8080 Wide Zoom
The Olympus C-8080 will be a strong player in this field. The zoom range is 5x (28-140mm in 35mm equivalent). This is a smaller range than the other cameras, but also means that the optical quality could be high. Olympus has a long tradition creating this type of digicam, and their efforts resulted in the camera winning the DIMA Prosumer/Professional camera shootout at this year's PMA.
Summary
The 8-megapixel class opens up new possibilities, and creates new challenges for digital photographers. The question remains whether or not they will overcome certain technical matters to mount an effective challenge to the established line of quality 5- and 6-megapixel cameras. While we still believe that 5 or 6 megapixels is more apt for these small sensor sizes, we have seen how digital technology and innovation have overcome, and often surpassed our expectations. As these cameras become available watch Shutterbug for comprehensive reports.

Manufacturers/Distributors'

FEATURED VIDEO