Medium Format Update
Does 120 220 Offer The Best Of Film, And Digital
When it comes to image quality combined with convenience it's hard to match medium format. Simple physics tell the tale: the larger film size means less magnification to get to equivalent image sizes--in print or repro--than the smaller 35mm format. In addition, medium format cameras are, in general, made for pros, so lenses, accessories, and add-ons are made for demanding eyes and hands. These days medium format also means digital adapters, be they for scanning or "live" action photography, with CCDs of larger size and greater pixel count and thus larger file sizes for even bigger prints with finer resolution. And if you scan a medium format film you can get larger file sizes and subsequent prints with as much upscaling percentage as from 35mm. Given the right scanner (and the new ones are yielding higher resolution at lower cost) medium format film scans can yield higher quality images time after time.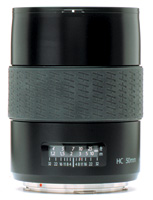 You'd think that if quality were the measure then medium format would have it all over other image-making tools, but sales figures these days seem to defy that logic. Ever since high-end digital SLRs made their appearance medium format has struggled to keep up, at least when it comes to sales. This may come down to simple economics--if you have to choose between buying a medium format camera and an advanced digital SLR, and everyone is telling you that digital is the wave of the future, which way would you go? And medium format digital backs have yet to enter the realm of the affordable for all but the busiest pros who can justify the expense with bookings.

Digital SLR cameras match right up against 35mm cameras, in many cases. While 35mm SLRs still have certain functions unmatched by many of the digital SLRs, image quality in the higher end models go head to head with their film counterparts. In addition, it's easier to justify a digital body when you have already invested heavily in compatible glass. In pure terms--namely image quality--can it be as easily said that digital SLRs can match quality with film (or digitally backed) medium format cameras? Unless you know something I don't, then the answer is no.

Digital is ecumenical, in that any image source can serve as the basis for digital prints. Those who scan know that working from a larger source negative or chrome will allow you to get larger and more consistently excellent results. Those who work in the chemical darkroom know this already.

This argument might lead you to consider larger formats than even medium format. But given the ease of use, the portability, the advanced features, and the incredible range of lenses available for today's medium format cameras, and their adaptability for digital backs, 4x5 and above seems like a cumbersome alternative. Indeed, some medium format cameras offer limited shift capability, enough for even demanding architectural and some tabletop functions. True, aficionados have the bragging rights when it comes to the amazing quality and experience of working with 4x5 and above, but medium format gives you all of the above with minimum compromise.

With these musings in mind I recently attended the Photo Plus show in New York in the hopes of finding new and wonderful cameras and lenses in the medium format realm. It was a fairly futile search. There are two new lenses for the Hasselblad H1 and a Leaf Valeo back (highlighted here for the Hasselblad H1 but available for other systems as well). Frankly, we've covered most of what was at the show before. So instead I decided to go window-shopping and report on some of the cameras and backs that caught my eye. This is by no means a comprehensive report, just a fanciful journey through some of what I consider the most attractive medium format cameras and accessories today.
New Hasselblad H1 Lenses
The "hybrid" Hasselblad H1 system has grown with the addition of two new lenses, which should be shipping by the time this report reaches print. The HC 50mm offers a moderate wide angle focal length with an aperture range of f/3.5 to f/22. This rear-focusing lens has a minimum focusing distance of about 2 ft. The 210mm lens is touted as being one of the best tele lenses Hasselblad has ever made, with an aperture range of f/4 to f/45 and a minimum focusing distance of about 6 ft.

By the way, if you'd like to try out the H1 the company is running a "test drive" promo through March 31, 2004. If you rent an H1 from an authorized Hasselblad dealer, Hasselblad will credit the daily rental fee, up to $125, toward the purchase of an H1 kit. The same goes for renting an HC lens, and the rental fee up to $100 will be credited toward the purchase of a lens.
In other news from Hasselblad, the company has announced the Leaf Valeo 22, a 22-megapixel digital back with a CCD measuring 36x48mm (nearly the exact full frame format of the H1) that eliminates lens factors. The huge 126MB 16-bit files produce over 65,000 levels per color channel. The Leaf back is said to be matched to the optical performance of the lenses designed for the H1 system.
The Leaf Portable Power Solution allows the system to operate with complete portability using the on-board Digital Magazine with the capacity to hold over 200 full resolution, uncompressed images. The battery-powered solution mounts directly to the bottom of the Hasselblad H1. The Leaf PD67, a large 6x7cm screen that acts as a "digital proof," offers an image preview.
Rollei's 6008 AF
While the Rollei 6008 AF can be used with all the lenses (20 in all) and accessories of the existing lenses and accessories in the line, albeit without AF functionality, three new lenses have been developed especially for the AF modes of the camera. These include the Schneider 80mm AF Xenotar f/2.8 HFT, the 180mm AF
Tele-Xenar f/2.8 HFT, and the amazing 60-140mm AF Variogon f/4.6 HFT. There's also a 1.4x AF-Longar tele-converter for these lenses. Rollei assures us that more AF lenses are on the way.
Fujifilm's GX680III
Offering one of the most extensive lens assortments around, Fujifilm's GX680-series cameras deliver a large 6x8cm format with a host of accessories that make this a true system camera. This system also features the exclusive Fujifilm bar-coding system; when used with the Film Holder N the film is automatically advanced to the first frame with data recorded on each exposure on the unused portion of the film. The holder also sports a large backlit LCD display for camera status. Two lenses that caught my eye are the 500mm f/8 (with a minimum focusing distance of 20 ft and a minimum aperture of f/64) and the 100-200mm f/5.6, with a minimum focusing distance of 1.64 ft and 3.67 ft at the shortest and longest focal length settings, respectively.
Contax's 645
The 6x4.5 format is very intriguing, offering portability, a wide range of lenses and accessories, and a film format that one-ups 35mm in terms of quality and enlargeability. One of the favorites of pros and advanced amateurs is the Contax 645. The appeal begins with the use of Carl Zeiss T* optics and follows through with autofocusing performance and a bright finder unmatched by many other systems. The ease of use is enhanced with a TTL pre-flash metering system, the option of spot or center-weighted metering, and auto film loading that makes it good for wedding and location work. There's also auto-bracketing, bar-code ISO setting (with films that offer same), and a shutter speed as fast as 1/4000 sec, with 1/125 sec flash sync. And yes, it will accommodate digital backs from almost every manufacturer of the same.
Bronica's RF645
While the lens assortment is not as impressive as other medium format systems, the Bronica RF645 is a fascinating camera that offers coupled rangefinder focusing in a lens/shutter medium format mode. The camera is pretty basic, with Manual, Aperture Priority, and Program AE modes and a shutter speed range of 1 sec (manual, 8 sec auto) to 1/500 sec, with sync at all speeds. It takes both 120 and 220 film, and the AE lock holds for a surprising five minutes after activation. (It can of course be canceled at any time.) There are three lenses available, a nice wide 45mm, a normal 65mm, and a modest 100mm tele (27, 39, and 60mm in 35mm format equivalence, respectively). If you want to shoot with the 45mm you get a finder for mounting in the hot shoe. There is a dedicated speedlight, the Bronica RF20. All in all, a basic unit that still has appeal.
Pentax's 645NII
While I still use my "Texas Leica" Pentax 67, the third generation of the Pentax 6x4.5 format, the 645NII, is probably more down most photographers' alley. Sporting a textured matte finish, the camera has a "Dual Six Segment" multi-pattern metering system that handles the light coming from both the entire field balanced by that coming into the center of the finder--this has been described as incredibly accurate by those I know who use the camera. The company's SAFOX IV phase matching AF system is also very much up to snuff. A built-in motor drive can handle up to 2 frames per second, and high-volume users will be happy to hear that the camera squeezes 16 frames out of 120 and 33 frames out of 220 film. The body is built for pro use, being constructed of rigid aluminum and protected by glass fiber reinforced polycarbonate. A nice touch is that all SMC Pentax 645-A lenses from pre-AF models can be used on the camera, albeit without AF operation.
Mamiya's 645AFD
One of the top choices for 6x4.5 shooters is the Mamiya 645AFD, an AF SLR medium format camera that, as the name implies, is all ready for digital backing. You can use the camera with film or digital backs, whatever strikes your fancy and budget, and still get a wide variety of exposure modes, metering patterns, and overrides. The camera handles speeds from 30 sec to 1/4000 sec, sync at 1/125 sec, and an auto shutter curtain open mechanism, which opens when the film magazine, Polaroid holder, or digital back is removed and closes when any of them is reattached. Flash exposure control is especially appealing, with TTL direct metering; film advance with the built-in motor is up to 1.2 frames per second.
Mamiya has made a real good effort in terms of "digitizing" medium format. The Leaf Mamiya ProDigital 6 is a marriage between the Leaf backs and the Mamiya cameras. It also works with the Leaf Portable Power Solution, mentioned earlier. The ProDigital system now also includes 12 and 22-megapixel versions. There's also a pretty good price promotion going on right now--check with your Mamiya dealer.

Another camera that always catches my eye is the Mamiya 7 II 6x7 rangefinder, which could be considered the ultimate stock photographer's film camera. Being a lens/shutter, flash syncs at all speeds up to the fastest 1/500 sec, and that rangefinder has auto parallax compensation. Having tested this camera a few years back I can attest to its great field functionality and startling image quality.
Just Add Lens
Without going into panoramic the largest medium format option is 6x9. Those who have worked with this format do so because of the incredible image quality and interesting aspect ratio, particularly useful for architectural work. Silvestri, distributed by Bromwell Marketing, makes three bodies that can be used with a wide variety of Schneider and Rodenstock lenses. Each has rise and fall capability, and one even comes with the capability to handle the Kodak DCS Pro Back. The model T30 offers 30mm front rise/fall with a reversible body and optional viewfinder; the H25 has 25mm rise/fall with reversible body and a coupled rangefinder; and the H has a 15mm rise and 10mm fall with a non-reversible body and coupled viewfinder. The Silvestri Bicam can be configured in any number of ways with either Nikon, Schneider, or Rodenstock lenses and can be fitted with a back adapter for Graflok-compatible rollfilm magazines, or a sliding back adapter for use as a viewing then digital back.
Panoramic Options
The spotlight on panoramic this issue goes to the Fuji 6x17 panoramic camera, with four lenses that are both stunning in their image quality and quite diverse in the subject matter you can cover. All save the 300mm have a minimum aperture of f/45, with the 300mm coming in at f/64. You can easily switch from 120 to 220mm, getting four shots on a 120 roll and eight on the 220. There's the very wide 90mm (f/5.6) and wide 105mm (f/8), the "normal" 180mm (f/6.7) and the tele 300mm (f/8). Use of a center filer is recommended for both the 90mm and 105mm lenses. If you can't afford one of these babies book a trip and find a pro shop to rent one.

Another option is the Horseman "wide angle" medium format cameras, the SW612, SW612 Pro, and SW6x9. The 612's have a horizontal viewing angle of 115Þ and offer interchangeable backs, shift movements, and mechanical operation.
Affordable Option
Aside from fishing around Internet auction sites for hopefully working medium format cameras (and buying a camera used by a pro is akin to buying a used car from a taxi driver) there are affordable options for those who want to play in the medium format realm. One is posed by the Seagull line of cameras, twin lens reflex models (where the viewing and taking lens are integral and separate) that are quite similar in look to the Rolleiflex of old. These are manual cameras in every aspect, including advance, and require a separate exposure meter for getting light readings. The Seagull 4A-109, which sells for about $229, delivers 6x6 (square format) images through a 75mm (standard) coated f/3.5 to f/22 lens. The camera has a folding waist-level finder and allows you to see your aperture and shutter speed settings without removing your eye from the finder. Shutter speed ranges from 1 sec to 1/500 sec plus a B setting for long exposure times. If you use flash you can sync at any and all shutter speeds, and there's even a self-timer for steadier shots. Coming in at about 2 lbs, 6 oz, the Seagull 4A-109, distributed by Phoenix here in the States, is great for students or anyone who wants a good medium format alternative at a more than fair price.
If you're looking for affordable options in the single lens reflex class the Kiev cameras are worth consideration. The Kiev line-up is available in square format as well as 6x4.5. The Kiev 88 (the square format) has a full line-up of interchangeable lenses, from 30-250mm and can be used with interchangeable film magazines (6x6 and 6x4.5), an instant proofing back, and a host of accessories. The camera has a bright finder, interchangeable eye-level penta-prism viewfinders with or without built-in full aperture TTL metering, 10 programmed speeds from 1/2 to 1/1000 sec, plus Bulb and an FP-X electronic flash sync. You can also get a Kiev 88 Series Kit that includes the camera with an 80mm f/2.8 lens, waist-level or TTL finder, a rubber lens shade, strap, tripod reducing bushing, a 62mm filter set, and the company's exclusive one-year warranty. Full details on this and their other cameras and accessories are available on the company's website at www.kievusa.com.
Digital Backs
For those with the budget to afford them and the jobs to justify them, digital backs for medium format cameras allow for incredibly large file size and image quality to match. Most must be tethered to a computer to handle the workflow and take a few seconds to write the image, so they are mostly for commercial work, although some adventurous types might want to try them for stunning location photography. We already mentioned the Leaf Valeo, but there were others at the show.

One is the eyelike M22 that mounts on various Hasselblad, Mamiya, and, with a Hasselblad adapter, view cameras. The M22 has active sensor cooling, said to reduce sensor noise to a minimum. The unit delivers either a 64MB, 24-bit file or 124MB, 48-bit file. Exposure time is 1/1000 sec to 32 sec and can be used with virtually any lighting source. It links to a computer via a 10 meter-long FireWire cable.
The Phase One H 25 can deliver up to 22 megapixels in a form that can fit a variety of Hasselblad (including their wide angle 903SWC), Mamiya, Horseman, and view camera bodies. It hooks up to Mac or PC computers via FireWire. The unit can be used in an ISO range of 50-400 and can be used in single or two-shot mode, up to 64-bit CMYK. It's said to have a dynamic range of 12 stops and delivers 16 bits per color.
While there is a lack of new models and products, at least this time around, there is a growing sense of a renewed interest in this most respectable format. Indeed, one maker told me that some photographers who tried digital SLRs for wedding work were dissatisfied and were returning to medium format film shooting. That makes sense, but then again you must consider the source. In general, some folks predict that medium format might be the first victim of the higher digital SLR pixel counts. But then again, that's what's been said of film all along, and it's still with us, and will remain so for many years to come.

LATEST VIDEO

SPONSORED VIDEO