MediaStreet Adds Large 15-Inch Screen To Line Of eMotion Digital Picture Frames
MediaStreet Inc is introducing its new "15-inch eMotion Digital Picture Frame." The announcement comes on the heels of the company's recent introduction of a Bluetooth-enabled digital frame, and soon to be announced WiFi Frame. The new 15-inch eMotion frame provides an extremely high resolution (1024 x 768), 15-inch (4:3 aspect ratio) Digital TFT LCD panel for clear, sharp picture quality.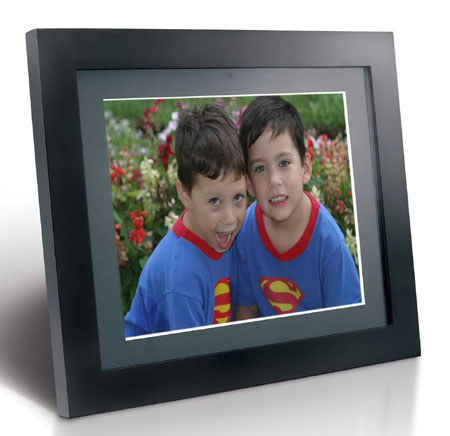 The new eMotion Frame offers consumers tremendous flexibility by supporting virtually all video, music and photographic formats including MPEG 1 / 2 / 4, AVI, MP3, WMA, JPEG and BMP. The camera cards that the frame supports are SD/SDHC, MMC, CF, MS and xD. In addition, the new digital frame provides a built-in USB port which gives users the ability to download images, music, video or photos from memory card readers or directly from their computer and USB Flash drives. The Frame has a desktop stand, or can be mounted to a wall with an enclosed wall bracket. MediaStreet's 15-inch eMotion Digital Picture Frame will be available June 25th and have a suggested retail price of $298.00.
The 15-inch eMotion allows the creation of customized slideshows -- with your favorite music -- by using a variety of special effect transitions. Users can also alter the transition speed between photos and can set the slideshow to play Random Picture Shuffle or just Favorites. Slideshows can be produced directly from images located on an external memory card or from the unit's 256MB internal memory.
Your home-made videos, as well as commercially available music videos and movies can be played on the digital picture frame. Supported formats include AVI and MPEG 1 / 2 / 4. By selecting "repeat," users can instantly create a video loop for continuous play of their favorite videos.
Music from nearly any audio format is heard crystal clear through the picture frame's built-in stereo speakers. Music can be listened to privately by inserting headphones into its audio jack.
By using the Color Adjustment function, users can easily adjust the Brightness, Contrast, Color and Tint to maximize viewing in nearly any environment. You can set the 15-inch eMotion to turn ON and OFF at any time from within the set-up menu. The Frame also offers clock and calendar functionality.
MediaStreet's 15-inch eMotion Digital Picture Frame comes complete with a stand, power adaptor, USB cable, remote control, User's Manual, and access to free professional photographic, music and art content at http://www.MyDigitalContent.com.

www.mediastreet.com.

LATEST VIDEO