MASKS Made Easy: "Lightroom's Most Powerful Tool" (VIDEO)
If you're a regular visitor to our website you know we frequently post shooting and editing tutorials from German landscape photographer Christian Mohrle. In the quick-and-easy episode below you'll see how Lightroom's Masking tools play a big part in his beautiful imagery.
Mohrle is emphatic that masks are "Lightroom's most powerful tool." And despite what you may think, this straightforward editing technique is easy to accomplish. In fact, it only takes Mohrle five minutes to demonstrate everything you need to know.


The lesson begins with a beautiful seaside scene with a wide range of tones that create several exposure issues, and you'll watch Mohrle works his magic to transform the photo into a money shot. We recommend downloading the Raw file using the link in the description beneath the video, so you can follow along and make the adjustments yourself in real time.
Mohrle's goal is to balance out the exposure while giving the image a warm, dreamy look. He does that by selectively applying masks to different portions of the image. Mohrle first makes a few global adjustments to the overall image to have a good starting point for applying the masks.
He begins by changing the camera profile to Adobe Standard, which immediately lessens contrast and softens up the shot. Then he adjusts color temperature for warmer tones. Mohrle also modifies the tint, opens up the shadows, increases the whites, and makes a few other very basic adjustments.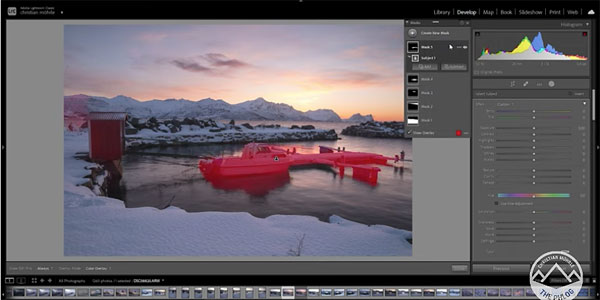 Now it's time for masking, the real meat of the tutorial, and you'll be surprised how easy this is to accomplish. After walking you through the step-by-step process, all that's left for a remarkable transformation is a bit of color grading, and some simple cleanup in Photoshop.
You can find many more helpful tips and tricks by visiting Mohrle's YouTube channel, so be sure and take a look.
And for another powerful Lightroom tutorial, check out the recent story we posted with a simple way to edit macro photos for maximum impact.

FEATURED VIDEO