Marumi Digital High Grade (DHG) Filters
Argraph Corporation has introduced Digital High Grade (DHG) Filters, the first optical filters designed specifically for digital cameras and lenses. Marumi Optical Company of Japan has designed the DGH range of lens filters to eliminate the flare and ghosting prevalent when the CCD or CMOS chips in digital cameras convert light into electrical signals. A newly developed ultra-low reflection coating increases light transmission. In addition the lens' outer rim is blackened to minimize internal reflection. The satin smooth, ultra thin, matte-black metal filter frame further minimizes refection. The new Marumi DHG filters are available in UV, Circular Polarizer, Star-Cross, Neutral Density-8 and Soft Fantasy varieties, and come in standard metric sizes from 49mm-82mm. There is also a Macro +3 close up filter available in sizes from 49mm-77mm.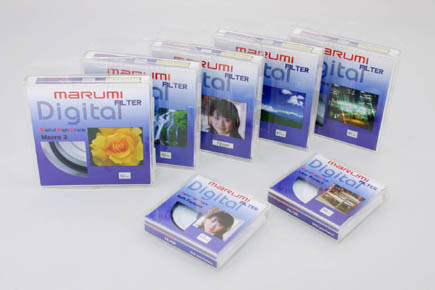 Additional information is available at www.argraph.com.

FEATURED VIDEO